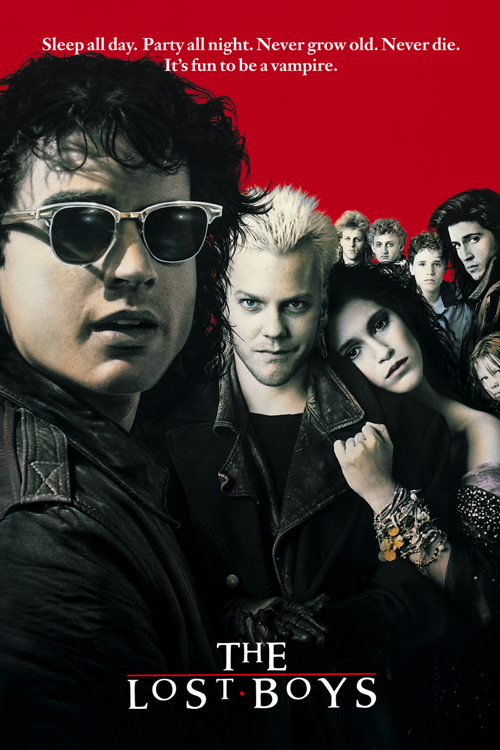 by Jeffrey A. Garoutte
Corey Heim and Corey Feldman work together for the first time in one of the greatest modern day teenage vampire movies of all time . . . The Lost Boys.
In 1987, the small coastal town of Santa Carla, California is being overrun by teenaged vampires, and when Sam's older brother is bitten by the bug (a hot girl and a vampire!), he takes it upon himself to join forces with the infamous "Frog Brothers" and try to eliminate the evil that shrouds the small town that they live in. Sam has one thing on his mind and that is to kill the head vampire and get his brother back. The film is riddled with teenaged emotion and adrenaline right up to the rolling of the credits. The Lost Boys created a cult-like following during the late 1980's and redefined the roll of vampires in modern day society.
The film is also backed by one of the greatest soundtracks of the 1980's including songs by INXS, Lou Gramm (Foreigner), Roger Daltrey (The Who) and Echo & The Bunnymen. Also appearing in the film is Alex Winter (who would later go on to play the role of Bill S. Preston Esq. in the Bill & Ted movies), Jami Gertz (who played Muffy in the 1980's television sitcom Square Pegs and also appeared in the movies Sixteen Candles and Twister) and Kiefer Sutherland (who has starred in such movies as Young Guns, Stand By Me, Flatliners and Phone Booth and is currently staring in the television sitcom 24). The film was directed by Joel Schumacher who also directed such blockbuster hits as St. Elmo's Fire, Batman Forever and Batman & Robin.