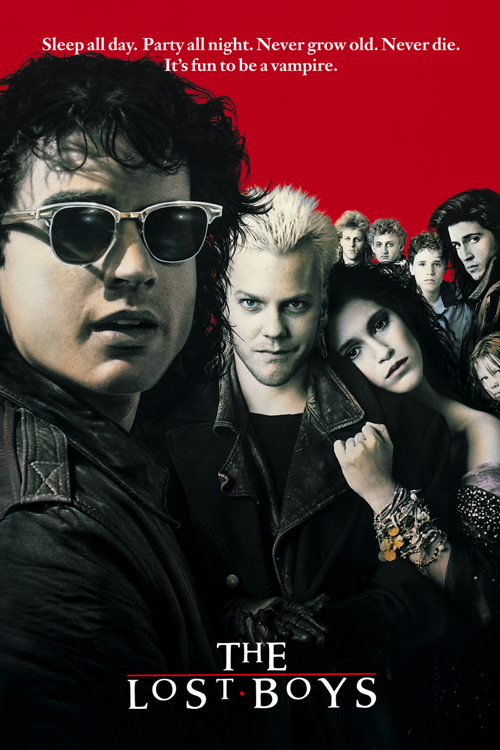 by Jeffrey A. Garoutte
Corey Haim and Corey Feldman worked together for the first time in one of the greatest modern day teenage vampire movies of all time . . . The Lost Boys.  These were the days before vampires could leave the lair during the day, and they certainly didn't sparkle in the sunlight.   Instead, they were scary, motorcycle-riding, night-terrorizing, day-sleeping-upside-down-by-horrific-toenails gangs of very bad dudes.
In 1987, the small coastal town of Santa Carla, California was overrun by teen-aged vampires.  Sam moves into town with his mom and older brother and is immediately aware that all is not right.  When Sam's older brother, Michael (played by a Jim Morrison-like Jason Patric), is smitten by Star (a hot girl and a half-vampire!), he becomes involved with her boyfriend's gang.  He is convinced by David, the leader of the gang (played by Kiefer Sutherland), to drink an initiation swig of 'wine' (not really wine, but blood.)  Despite Star's warnings, he drinks the blood, which starts his transformation into a vampire (can't stand the light, craves blood, gets on the wrong side of the family dog who can tell something's not right with Michael).  In an effort to save his brother, Sam joins forces with the infamous "Frog Brothers" (having met them in the local comic store) and tries to eliminate the evil that shrouds the small town. Sam has one thing on his mind and that is to kill the head vampire and get his brother back. The film is riddled with teen-aged emotion, adrenaline, and suspense (who is really the head vampire?!) right up to the rolling of the credits. The Lost Boys created a cult-like following during the late 1980s and redefined the roll of vampires in modern day society.
The film is also backed by one of the greatest soundtracks of the 1980s including songs by INXS, Lou Gramm (Foreigner), Roger Daltrey (The Who) and Echo & The Bunnymen (with a brilliant cover of The Doors' 'People Are Strange'). Also appearing in the film is Alex Winter (who would later go on to play the role of Bill S. Preston Esq. in the Bill & Ted movies), Jami Gertz (who played Muffy in the 1980s television sitcom 'Square Pegs' and also appeared in the movies Sixteen Candles and Less Than Zero) and Kiefer Sutherland, who starred in 80s movies such as Young Guns, Stand By Me, The Killing Time, and Bright Lights, Big City and is currently staring in the television sitcom '24.' The film was directed by Joel Schumacher who also directed such blockbuster hits as St. Elmo's Fire, Batman Forever and Batman & Robin.