Best 80s Song Poll – Results Are In with MJ on Top
We polled readers about their favorite 80s songs, and the results are in.  Thriller takes the top spot as the standout choice.  MJ was way out ahead of the cultural curve with this one, bringing zombies mainstream two decades earlier than any one else.
Thriller 

32%
Jack & Diane 

21%
Tainted Love 

15%
867-5309/Jenny 

15%
Sunglasses at Night 

6%
Relax 

4%
Safety Dance 

4%
Home Sweet Home 

2%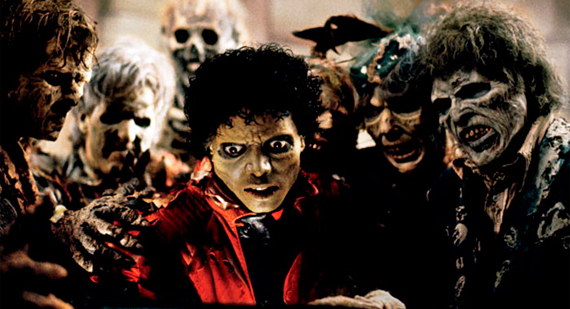 Isn't it fitting that on this 25th anniversary of the release of Thriller that the clear front-runner in our 80s poll about the Best 80s Song is MJ himself at 32% of the votes. His closest competition is the second place song by John Cougar (hey, he still used Cougar then) Mellancamp, "Jack & Diane." With thousands of votes submitted, this represents statistically meaningful data about the preferences of 80s music fans and the lasting stamina of specific 80s songs.
Released in 1983, Michael Jackson's album, Thriller sold somewhere between 50 and 100 million copies and quickly became the best selling record of all time. Recorded in 1982, this album had a production budget of $750,000 – now, I call that one heck of a return on investment. The album went on to win Album of the Year in 1984 and a record-breaking eight Grammies. While MJ has certainly had some problems since then, Thriller lives on. After re-watching the video of "Thriller" on YouTube, I was struck by the almost prophetic words he utters in the opening scene with his girlfriend before the music starts, "I'm not like other guys . . . I'm different." Truer words were never spoken.
Bringing up the rear with a frankly surprising mere 2% of the votes is "Home Sweet Home" by Motley Crue off their 1985 album, Theater of Pain. Clearly the folks from my high school must not have voted because Motley Crue was HUGE.
Thanks for all your votes – come back and make your voice heard on similarly weighty 80s issues.