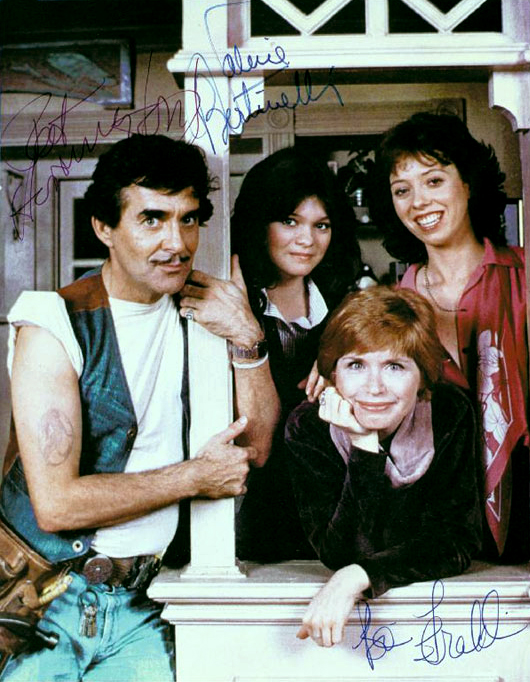 Wasn't TV so much better in the 80s? It definitely showcased more talent. I mean, anyone can get up in front of a camera on reality television and make a fool of himself. The TV shows of the 80s actually had scripts and plots! One of the best of these 80s TV shows was One Day at a Time. Arguably, this show was as much 70s and it was 80s (it ran from 1975 – 1984), but we'll claim it here at Like Totally 80s. It hit its height in popularity (#8 in the Nielson ratings) in its second season (1976-1977), but remained in the top 20 throughout its run.
One Day at a Time was a revolutionary show about a recently-divorced mom named Ann (played by Bonnie Franklin) raising her two daughters alone. The daughters, Barbara and Julie (played by Valerie Bertinelli and Mackenzie Phillips) were quite a handful and as a result, episodes of the show touched on some controversial issues including virginity, birth control, substance abuse and suicide.
Ann Romano was somewhat of a hero/role model for women of the 80s. She was independent (even started her own business), smart and successful without the help of a husband. While feminism wasn't a new concept in the 80s, Ann Romano was definitely ahead of her time. Alas, Ann didn't stay single and independent forever. She fell in love a few times and eventually married (as did her daughters).
The drama wasn't confined to the small screen. Mackenzie Phillips became addicted to cocaine and was forced to leave the show in 1980. She made a comeback in 1981, but it didn't last. She was asked to leave again in the show's final season. Off screen excitement was not confined to Mackenzie; Valerie Bertinelli married 80s rock God, Eddie Van Halen in 1981 during the show's 9 year run.
One of the most lasting aspects of the show was its very popular theme song, "This is it." Watch the video below of the opening scenes of the show with the theme song.