Help us identify this 80s toy sent in by Jenny C. . . .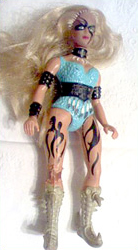 "I was wondering if you could shed some light on a subject that my sister and I can't seem to agree on. We recently found an old stash of figurines that our parents bought us back in the 80's and found a doll (attached) we can't seem to place. She was with our She-Ra dolls but I'm thinking she'd be more of a Conan girl. Any idea where she came from since we can't seem to remember?" – Jenny C.
If you recognize this doll please email us and give us the 411. We'd love to help Jenny find out who this doll is.
---
Mystery Solved!
She is Wild One from the Golden Girl and the Guardians of the Gemstone series. For more information check out this link:
We'd like to send a huge thank you to our MySpace friend, Shannon, for helping us identify this doll!