We LOVE to receive great 80s party stories like this one. Thanks so much, Corrina, for sharing your ideas and pictures. The Rubik's Cube cake is awesome! We are sure other visitors can get some great ideas when planning their own 80s party from what Corrina did.
Your site was part of my inspiration and I wanted to share the results of the 80s party I threw August , 2008. Here are some party ideas for future viewers.
Decorations
I got crazy colored decorations of various sizes and shapes, disco balls, mini rubix cube key chains, and a strobe light from Oriental trading company.
4 dozen balloons of bright bold colors and cans of Aquanet (one on the counter, one in the bathroom, and one outside just in case someone needed an extra spritz before the pictures).
80s plates are almost impossible so I found some that said Happy Birthday . . . Again – but any general birthday plates with bright colors would work.
I got neon colored plastic cups, plates, napkins, table cloths, and forks from the DollarTree (it doesn't have to be expensive to be fun).
I hit the vintage stores and found 45s of 80s music, I scored a Madonna's Holiday record, Rick Springfield's Jessie's Girl and Mickey to name a few. Only a buck and worth it the guests loved the ideas. Tie some curling ribbon threw the centers and hang them all around.
I printed out some pics from the 80s (movie stars, shows, cartoons, toys, and bands) and glued them to neon colored poster boards with 80s trivia (see pic below).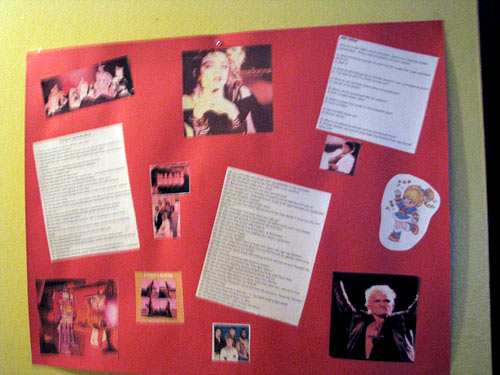 Cake & Food
Our menu included snacks (chips & dip, veggies, sub sandwich) and original 80s drinks (i.e. Tab, RC, Shasta).
The cake, I made it to look like a Rubik's Cube (see pic below). Not easy that is for sure, but it stood out. Just google Rubik's Cube cake and one site with a "how to" gives step by step instructions. Another idea for the cake is a Car shape for Nightrider, A record of your favorite 80s artist, a can of aquanet.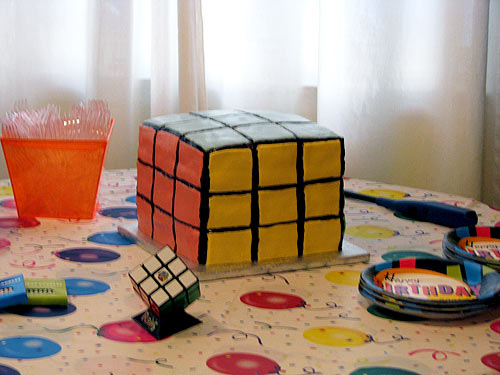 Invitations
I used the Totally Awesome 80s invite from your website and personalized it to fit our party.
Make sure the invites tell the guests to participate in the theme. I asked my guests to:
Dress to Impress: Whether you were the Jock, the Geek, the Basket Case, the Princess or the Criminal – it's time to break out your jellies, biker shorts, leggings, over sized sweaters, Hypercolor t-shirts, Don Johnson coats, and the aqua net – We're gonna relive the 80's!
Costumes
The 80s are alive and kicking in every store around town. Leggings were an easy find at Target, Walmart, Kmart and Claires. We got jelly bracelets of all colors from Claires and Walmart. Dangling earrings were a great buy at Claires, buy 2 get one free (at the time). Bright neon colored shirts are everywhere, but I must admit I turned to some old faithfuls in the back of the closet for the magic touch.
If you are planning a party in the future, remember Leg Warmers are a seasonal item and impossible to find in the middle of the summer in California except at a select few vintage stores and the dance stores.
Don't be afraid to be bold. The 80s were bold. One guest got an 80s prom dress (gold foil material, big poofy shoulders, and a giant bow on the front of the thigh) it was amazing. Don't forget the shirt ties, banana clips, mix-match pony tail colors, jelly shoes, and crazy makeup.
Happy Planning.
Corrina – Redlands, CA