It's the dance scene in The Breakfast Club that cements these lace-up boots as always and forever cool. Watch it again on YouTube and tell me Molly Ringwald's Claire isn't still the ultimate Popular Girl. The popping dance moves, the too-cool-for-(Saturday)-school hair flip, the layered tops and below-the-knee skirt and yes, the granny boots. Smooth brown leather, upper-calf height, just-so laces: perfect. Perfect in 1985, perfect today.

The 80s Granny Boot Trend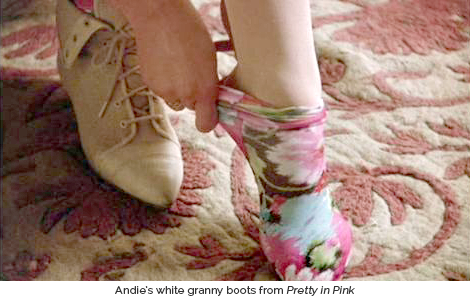 The other end of the granny-boot spectrum also involves Molly Ringwald and John Hughes, so what more proof do you need that they scream classic 80s cool? Andie in the opening scene of 1986's Pretty In Pink, pulling on super-sexy white thigh highs, slicking on wet pink lip gloss, and—wait for it!— lacing up her short white fold-over granny boots (at left). The white ones are far from ubiquitous today—downright hard to find, even. A little too hard-core granny, maybe. Or too Ice Capades. Personally, I'd kill for a pair. But I'm seeing lots of granny boots again these days (and let's be clear—I don't care what anyone says, Doc Martens don't count. Your granny ever wear fanny-kickers? Yeah. Neither did mine.). Granny boots a la 2010 are mostly skinny heels, mid-calf, black leather. I like that—they're what Nellie Oleson's mom no doubt wore on Little House on the Prairie—they look to me like the real thing. The 80s saw granny boots paired with skirts (peasant blouse and prairie skirt, anyone?) and you'll still see that today, but now you're as likely to see granny boots paired with leggings or skinny jeans as with skirts. I like the update. It's sort of a stodgy sex kitten thing, with complicated laces playing off sleek and simple legs.

Making the Granny Boot Trend New Again
They've been around since what—the 1800s? No surprise granny boots are enjoying another moment in the style sun (see the new pair below available on Amazon). If history tells us anything, they'll keep coming back around until we've all swapped our footwear for jetpack booties. And even those might lace up, who knows? But given the fashion industry's obsession with youth, how can you not love a trend that gets its name from the rockin' style of an octogenarian? This look's got legs. And laces.