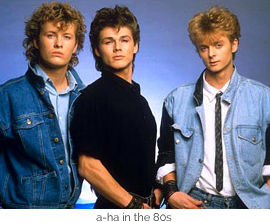 I love a-ha. I love their sophisticated, uber-catchy pop songs. I love their iconic "Take on Me" video and lead singer Morten Harket's bold & unforgettable falsetto. And I love, love that their farewell world-tour is called "Ending On a High Note." These guys have a sense of humor to rival their musical chops.
Mention a-ha to a thirty-something in the US, and the likely response will be a slow smile of recognition. Their fame here, for the most part, is based on their 1985 album "Hunting High and Low" with its ridiculously catchy number-one single "Take on Me" (and its aforementioned video). They were big in the US in the 80s, with their heavy synth-pop and lead singer Morten Harket's impressive vocal range.
But in Europe, a-ha is legendary. "Hunting High and Low" was just the first of the Norwegian band's 9 impressive albums. Listen to "Foot of the Mountain," released in 2009, and you'll get a feel for just how relevant this band still is. "Real Meaning" has a definite U2-vibe, while "Shadowside" sounds like something Coldplay might record. What's taken for granted by European music fans, though, may surprise Americans: a-ha is the one who influenced legendary bands, and not the other way around. In fact, Chris Martin of Coldplay sites a-ha as a major influence on him growing up, and his recognition of the band has helped it enjoy a minor resurgence in the US.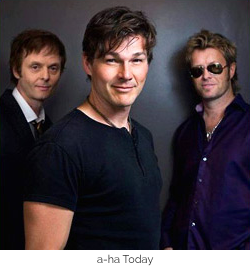 The band announced that they will split after their farewell world tour, which is slated to end in December 2010 in Oslo (the band is, perhaps not surprisingly, the most successful musical group ever to come from Norway). There are still dates being added, with five coming up in May in NYC and LA. But hurry—two of those dates have already sold out.
A-ha broke up once before, in 1993, after the commercial flop of that year's "Memorial Beach." The three members—Morten Harket, guitarist Paul Waaktaar-Savoy, and keyboardist Magne 'Mags' Furuholmen went their separate ways until 1998, when they reunited to play the Nobel Peace Prize concert in 1998.
When they re-grouped after that, the band regained some of its mojo, with 2009's "Foot of the Mountain" reaching number 5 on the UK charts.
So that's what they mean by ending their career on a high note this time. Which is fitting, considering the impressive run a-ha leaves behind, including a world-record for largest-ever paying crowd, set at Rio de Janeiro's Maracana Stadium in 1991 (196,000). They can also boast of selling more than 35 million albums, influencing some other truly great bands, and recording one of the catchiest songs ever.
Because "Take on Me" has been running through your head ever since I first mentioned it, hasn't it?
> Watch "Take on Me" music video
> Watch "Take on Me" literal video version
> Visit a-ha's official site for farewell tour information