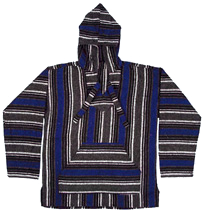 Baja hoodies have an image problem. For those who have forgotten, or for those Midwesterners like me who called them "mop tops," Bajas are roomy pullovers, slit on each side, with a hood, a huge front center pocket, and 2 thick ropes at the neck that were of no real practical use.
Still can't remember the Baja? Here you go: Jeff Spicoli, Fast Times at Ridgemont High. Now you got it, right? And therein lies the problem.
These shirts are forever associated with, well, stoner chic. Thanks to the 1982 movie Fast Times at Ridgemont High and Sean Penn's now-legendary zoned out surfer dude character, the Baja is, in fashion circles at least, a bit of a joke. Granted, Spicoli did dress his red-and-white-striped pullover up a bit by adding a white turtleneck underneath. He was wearing it in the scene where Spicoli orders a pizza during class, much to the dismay of teacher Mr. Hand (Ray Walston).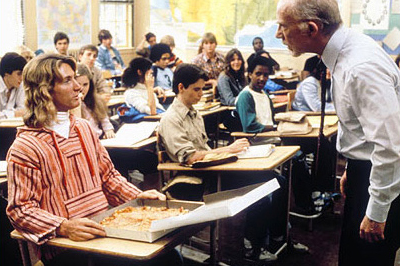 It's not all Jeff Spicoli's fault, actually. These tops were already ubiquitous at Grateful Dead shows and among surfing communities. Fair enough, but it's too bad they got so closely associated with counterculture and, especially, drugs.
Because Bajas are pretty cool. They are warm and slouchy and cozy and practical. And they have an interesting, not-quite-burlap feel to them and smell very earthy when they get rained on. (Can you tell I spent a considerable amount of time in the 80s wearing a Baja? Call me biased.)
So. 2010 is seeing a reappearance, if only slightly, of the Baja. Only now it's called a Baja hoodie because "hoodie" is so much more au courant, non? Sure, you can find them at places like bravesurf.com, where they are billed as the Original Senor Lopez Baja Pullover, and hippieshop.com, where they are currently on sale for $19.95. Both these are poly/acrylic/cotton blends of recycled fibers and look exactly like the ones of 2 decades ago.
If you're in the market for a 21st century Baja, I'd like to point you to one at Rawganiquea, known for the last decade for its eco-friendly, sweatshop-free, style-minded clothing. Rawganique's Baja is 100% organic hemp. Now let's just stop right there. How perfect is that! A little cheeky, a little tongue-in-cheeky, the perfect embracing of this top's cliché rap.
But here's the kicker—it's really pretty lovely. The material looks soft, and the overall cut is still generous but far less slouchy. The ties at the neck appear to serve an actual purpose and the neck is cut more like a hooded college sweatshirt, that is, higher at the neck and rounded instead of a deep V. It would look perfectly at home in a yoga studio.
In short, if you're in the market for a Baja and you didn't save your old one, you have several choices. You can go with the hard-core Baja that looks just like you remember, which may raise a few eyebrows, or at the very least come off as slightly ironic. Or you can go with one that's Baja in name only, in which case what's the point? Or you can settle on the Baja hoodie that's grown up and become responsible, but kept some of its counterculture edge.
Just like you, right?