The 80s was a decade known for its style. Fashion was fun, playful, big, bold, and wild, and the hairstyles were no different. If you're interested in capturing the whimsy and fun of 80s style for yourself, then there's no better way to do it than with your hair. Whether you want to make a total change or just go all out for a costume party or an event, it's easy to capture the spirit of the 80s by experimenting with your hair. Go to hair products for all of the looks shown here: Aqua Net and Dippity Do!
#1 The Side Ponytail
One of the simplest 80s hairstyles that virtually anyone with medium to long hair can pull off is the side ponytail. The higher the ponytail and the bigger the scrunchie, the better this do will look. Simply gather your hair as if you were preparing a normal ponytail and then brush it to the side. Use a big, colorful scrunchie to hold it in place
If you have bangs, try teasing them to their fullest for an added punch of 80s playfulness. This look goes best with big, dangling earrings, baggy sweaters paired with tight leggings, and/or anything that's every bit as colorful and bold as this daring look.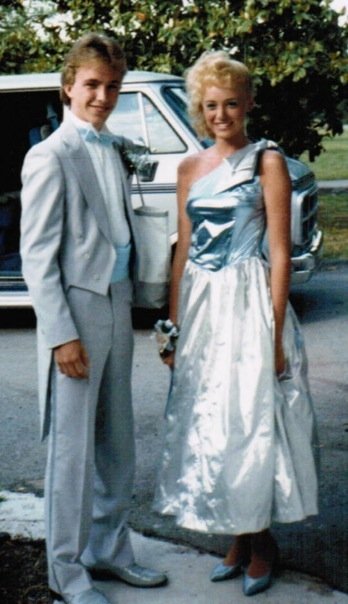 Take a look at the vintage prom pic below or above to see an awesome side ponytail formal up-do.
#2 The Big Perm
A more permanent 80s look is the big perm. Think Madonna/Julia Roberts wild, full curls. You can get a perm at virtually any salon and then use special volume enhancing products to give your hair that full look. A perm looks even better and even more 80s if you already have natural curls. Just make sure that you don't perm too often, as this can severely dry out and damage your hair. Keep those curls moisturized. If you're not ready to commit to a perm, you can get temporary curls by using small rollers overnight or using a curling iron. Just remember that this look is meant to appear just-rolled-out-of-bed-casual, so don't spend too much time on it. Simply condition your hair, let it air dry, and then use a pick to get through the tough knots and tangles. The great thing about the perm is that you can make it work with any clothing style. When you want to look classy, simply put on your best dress and pin the curls into a French twist. For a fun, wild look, let that hair flow and wear tight dresses, mini-skirts, thigh high boots or anything else that makes you feel sexy.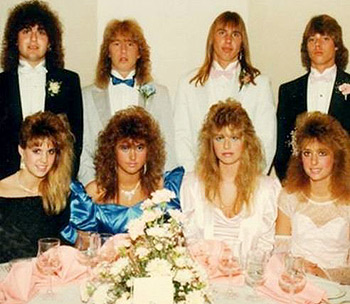 This very vintage photo illustrates the power of the perm. It also highlights the cross-gender nature of this particular 80s hair trend. We love the two guys on the left! Rock on, man. The other important aspect of 80s hair that this picture features is the unbeatable combination of a perm with big bangs (discussed below). They go together like Hall and Oates.
#3 Big Bangs
Another big tip to remember when going for that 80s look is that it's all about the bangs. The bigger and crazier your bangs are, the better. We suggest teasing your bangs to the max, either straight up or into a feathered style, and then spraying with as much maximum hold hair spray as you can stand. Just be sure to give your hair a good washing at the end of the day to keep it from getting stiff and brittle and to wash away the hairspray smell. When you sport this hairstyle, however, keep in mind that all the attention should be on your hair, not on your clothes. So for once, you can tone down the wild clothing. This hairstyle looks best with a simple, solid colored blouse or t-shirt, jeans or slacks, and basic jewelry and make-up.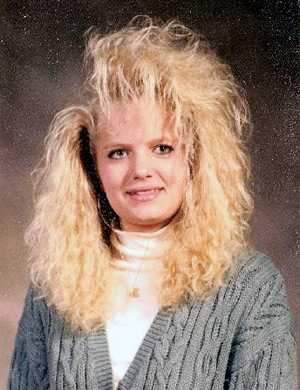 #4 Crimping
Crimping is another popular style that can give you that 80s vibe, and it's incredibly easy to get the look. If you have the time, you can get crimps just by braiding all of your hair into tiny braids and sleeping on them overnight. When you take the braids out in the morning, you'll have an instant head full of crimps and you can simply spray and go. If you don't want to sleep on a head full of braids, you can also get the look with any curling iron or flat iron set to maximum heat. You simply make crimps by closing the iron on your hair and then in a wave-like motion moving down the section of hair to create crimps throughout. If you're really dedicated to the look and think you'll want to do it often, you might want to purchase a crimping iron for quicker, more polished looking crimps. While crimps can go with any ensemble, we just love when they are paired with long, flowing dresses with bold, floral prints or patterns. This look gives the wearer a sensuous-but-sweet wild child of the 80s look.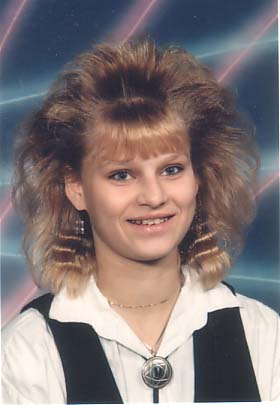 So, yes, it's incredibly easy and fun to get the 80s look that you want. Don't be afraid to experiment and to try out even the craziest of styles. Watch 80s movies or music videos for further ideas. Above all, express yourself and have a good time. You only live once!
Submitted by www.dailymakeover.com