By Julie Anderson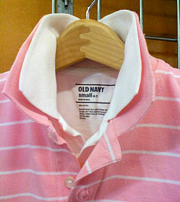 It's 1983. You want to look preppy or rebellious or young. You want to look modern. You want to show the world that you're trendy. What's the easiest way to do this?
Pop your collar, baby!
Though I was wildly unaware of it at the time (although I certainly knew the word "preppy" in the eighties) there was a book that got the whole upturned-collar-on-the-polo-shirt ball rolling. It was Lisa Birnbach's satirical The Official Preppy Handbook, published in 1980. It informed us that a popped collar broadcast the fact that its wearer was "preppy." A quick check on Amazon showed me that owners of this book are quite proud of it. Right now I see one copy for $100 and a "Completely Outstanding Gift Edition" for $245. Radical.
Birnbach's book, though tongue-in-cheek, explained that the elite of America do all sorts of fun, snobby, and silly things. What easier way to appear to be one of the in-crowd than to raise the collar of your tennis shirt? Anyone could do it.
Here's the basic look in a vintage 80s Hunt Club shirt (see pic 2). Well, minus the blue hair.
We loved it on an earnest Corey Hart singing about his sunglasses in 1983 (see pic 3). (OHMIGAWD! Can I tell you that I just learned the real lyrics to this song? It's "Don't masquerade with the guy in shades," NOT "Don't MESS AROUND with the guy in shades." Although I think my lyrics totally make more sense.)
We loved it on Duran Duran (see pic 4). (Oh, John Taylor, you were always the cutest. I loved you in Duran Duran, I loved you in Power Station. Simon was okay, but you, with your silent hotness, were the BEST.)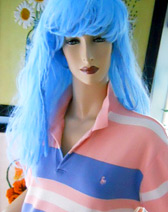 2. Basic "popped collar" look
(Credit: Groovin Tuesday)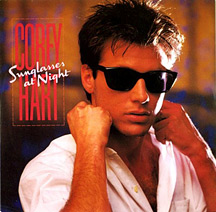 3. Cover of Corey Hart's
Sunglasses at Night single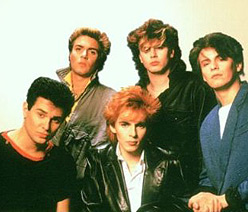 4. Duran Duran
We saw Molly Ringwald's Claire, the spoiled girl, pop the collar of her leather jacket in The Breakfast Club, and Judd Nelson's angry-hot John Bender pop the collars of his flannel shirt and denim jacket:
(OHMIGAWD! They totally show the brat pack smoking pot in the actual trailer! Different days, huh?)
We loved it in 1983's The Outsiders, which was chock-full of swoonworthy young men (see pic 5). Tom Cruise, Matt Dillon, Emilio Estevez, Rob Lowe, Patrick Swayze, C. Thomas Howell, AND Ralph Macchio. What a lineup! Also a great example of collar-popping that was tough and gritty, as opposed to the pastel Izod variety:
Even Steve Jobs was popping his collar back in the day, people (see pic 6).
Popped collars were undeniably cool. We layered the shirts, too, for a double or multi-popped effect (see pic 7). They do frame the face nicely, don't you think? Kind of a machine washable Elizabethan collar for the 1980's, no?
And as to the burning question: Are they coming back?
Former First Lady, Laura Bush, is rockin' the popped collar on the cover of her book, Spoken from the Heart (see pic 8), as is ABC World News anchor, Dianne Sawyer (see pic 9). Pop it ladies!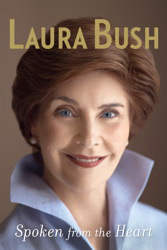 8. Laura Bush's Spoken from the Heart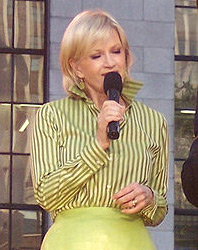 9. Dianne Sawyer
After listening to this song from Usher, I'm totally ready:
Pop Ya Collar – Usher