Busch Gardens, Tampa, Florida
February 20, 2011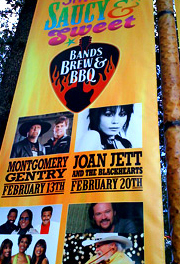 In a word, it rocked. To say that she looked and sounded great for 52 years old doesn't do her justice. That indicates that she was great in some sort of qualified way, which simply is not the case. She was fantastic without qualification for age and by any standards.
The day was perfect – sunny and 75 degrees, a perfect reprieve from winter as much of the rest of the country is still trapped in a frosty, mood-dampening chill.
The show was scheduled to start at 5:00 and the outdoor amphitheater at Busch Gardens was reaching capacity by 4:00. The only seats to be had were out in the grass in the back and there weren't many of those. The crowd of several thousand was a mix of all ages. Joan's message clearly resonates with many, regardless of lifestyle or age.
The show started right on time (much appreciated) and rocked on past it's scheduled finish time (6:05) until just past 6:30 after she came back for three song encore. The set list is shown below. It rocked start to finish from the show's kickoff with Bad Reputation all the way through to the closing number of the encore, a cover of Sly & The Family Stone's 1968 hit Everyday People.
Bad Reputation
Cherry Bomb (Runaways)
Light of Day
Do You Want to Touch Me
Change the World
Androgynous
You Drive Me Wild (Runaways)
Backlash
The French Song
Love is Pain
I Love Playing With Fire (Runaways)
Naked
Fake Friends
School Days (Runaways)
I Love Rock N Roll
Crimson and Clover
I Hate Myself For Loving You
Girls All Over the World
Everyday People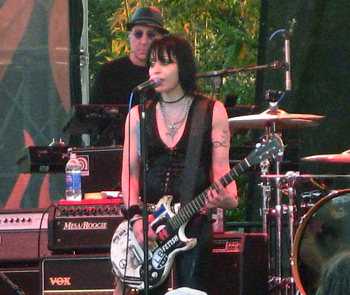 It seemed in keeping with her overall message that she ended the show with Everyday People as she took the opportunity in between a few earlier songs to talk about how she hoped we could all learn to be more accepting and civil to one another and encouraged the crowd to, "move forward in a more gentle way." The lyrics of Everyday People including "We gotta live together, I am no better and neither are you, we're all the same whatever we do . . . different strokes for different folks" echoed that theme.
When you combine that message with the fun and sexy ones of Do You Want to Touch Me, I Love Rock N Roll, The French Song and Cherry Bomb, it makes for a fairly solid life concept as far as I'm concerned. And, given the number and diversity of folks at the show, it is one that many people relate to.
She mentioned two special guests in the audience: Rowdy Gaines and her own Uncle Al. She met Rowdy during the 1984 Olympics while she was playing for the athletes and where he won 3 gold medals for the US in swimming. They've been friends ever since. The other special guest was her own Uncle Al, who lives in the Tampa area. Uncle Al is 91 years old. Her joie de vivre is clearly an inherited trait.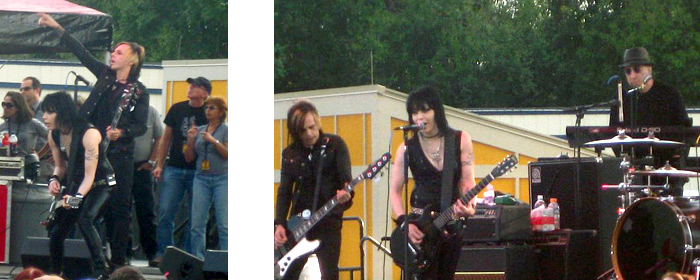 This was not a show of a once-famous, now-fading 80s rock star. This was the show of a vibrant, very now artist that rocks it loud, hard and dead on. Joan Jett strikes me as someone with whom you'd just like to hang out. All interviews that I've seen with her confirm this, and while I sadly had no such opportunity (to interview her that is, not because I didn't try), I enjoyed finally seeing her perform live more than anything in a good long while. This is a pleasure 28 years in the making; I've wanted to see her since receiving the "I Love Rock N Roll" cassette for my 10th birthday in 1982.
Joan, if you happen to read this, Like Totally 80s would like totally love to interview you. Thank you for a great show and a great time!