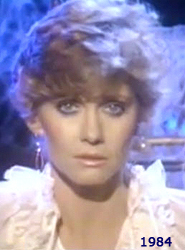 We need very little prompting to write about Olivia Newton-John. Her place at the top (tied with Debbie Harry and Joan Jett) of the Like Totally 80s list of Most Awesome Ladies of the 80s is secure. My hopeless devotion to all things Olivia started in 1978 with the release of Grease. I received the double LP soundtrack for my 6th birthday. That was it; I was hooked. All homemade dance routines and subsequent hairstyles in my life (through 1984 anyway) were derived directly from what Olivia did. Of course, I was no Olivia so the effect wasn't quite what I had in mind. I'll keep the photographic evidence to myself on that one.
In the event that you had a similar early-80s-Olivia-fixation, here are some fun facts that you might not know about this totally amazing icon of the decade.
1. She is actually half-Welsh (her Dad) and half-German (her Mom), not Australian-born. They emigrated as a family from England to Australia when Olivia was 6 years old.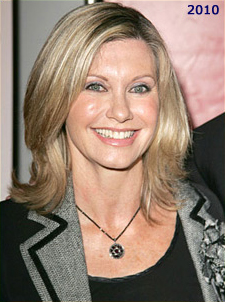 2. Her father was an MI5 officer on the Enigma project.
3. Her maternal grandfather, Max Born, won the Nobel Prize in atomic physics.
4. Her mother's family left Germany before WWII to avoid the Nazis.
5. She began performing when she was 14 using the name Lovely Livvy.
6. She was diagnosed in 1992 with breast cancer from which she recovered. She has since been an advocate for breast cancer research.
7. Her dad died the same weekend as her cancer diagnosis.
8. She has been nominated 12 times for Grammys, winning 4 times, including a win for the music video for "Physical" which won Video of the Year in 1983.
9. She's been married twice, lives in Florida and has one daughter, Chloe (age 25). Chloe appeared on MTV's Rock the Cradle (2008) in which 8 sons and daughters of former pop stars competed in a singing competition. She got 3rd place.
10. She is co-owner of a health spa/retreat in Australia.