May 27, 2011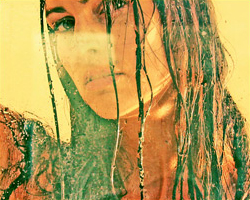 Nadine Loren has joined up with producer Peter Asher to create a new album celebrating the music of the 80s. To be released on May 31, 2011, "The Naked '80s" features 11 covers of 80s songs and two original songs. The covers represent a wide range of music from the early 80s art/alternative rock of Nik Kershaw ("Wouldn't It Be Good" off the "Pretty in Pink" soundtrack),
Bryan Ferry/Roxy Music and Alison Moyet to mainstream hits of the late 80s like Def Leppard's "Love Bites." Nadine brings an ethereal, opera-trained voice and stripped down musical production to these timeless songs. We're big fans of the original song "I Wanna Be a Smurf" (listen to the single using the link below), and can't help wondering if the double entendre related to Smurffette was intended "the only girl for you. . . I won't leave you blue." We hope so. We are pleased to have had a chance to talk with Nadine about her new album – enjoy!
LT80s: I read that you are not only a trained opera singer, but a lawyer as well. What a diverse background! Did you ever practice law?
NL: Actually yes! I was a Corporate & International Trade Lawyer in NZ. My true love is in entertainment though (Singing and Acting), the law was more of a safety net.
LT80s: Can you tell us a little about the idea for this album and how it came about?
NL: I am a child of the 80's, so this is the music I grew up to – there are nothing but good memories there! Peter Asher (my fabulous producer) luckily shared my enthusiasm, so when we tossed around some album ideas, the 80's remakes concept quickly stuck!
LT80s: Your new CD, Naked 80s, has 13 tracks – 11 are 80s covers and 2 are original songs along the 80s theme. How did you go about selecting these 11 songs from all the amazing music of the 80s? Was the selection process yours alone, or was it a group decision? What were you looking for in the songs you selected?
NL: Well it was a group decision, with band mates and all our near and dear contributing ideas but Peter and I having final say! We literally played hundreds and hundreds of great songs, but only kept the ones that could easily be broken down to just voice and guitar – That's a rule for me: all good songs should be able to broken down to campfire mode and still sound great! After all that, we ended up with the 8 songs that felt best in my voice. Peter then persuaded me to include "Love Bites" and "Blame it On The Rain," while I crusaded for "99 Luftballons" and "The Look!"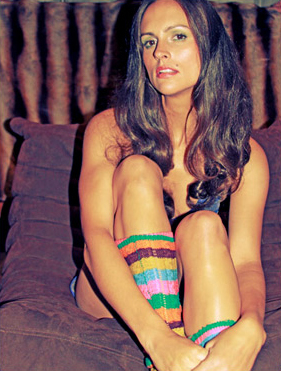 LT80s: One of the new songs on the album, "I Wanna be a Smurf" is truly infectious. It had me singing "I Could Be Smurfette / The only girl for you!" the rest of the day. Can you talk a little about the writing of that song?
NL: Thank you! Well in writing a couple of original tracks I obviously wanted to keep it within the 80's theme. The Smurf's TV Show ran from 1981 – 1989 so that fit the bill. The intention was just to provide an upbeat, catchy song that makes people laugh.
LT80s: Any chance that the new "Smurf" song will be in the Smurfs reboot movie due out this Summer?
NL: I wish!! But no, unfortunately they had already picked the music before my song was ready, so I missed out.
LT80s: I heard you say that "80s music inspires you to be yourself." Can you talk a little about that?
NL: In my opinion the 80's was all about excess and fun. Nobody took themselves too seriously, it was about doing whatever you wanted to do and not worrying about what other people thought of you!
LT80s: What are your favorite fashions from the 80s? You mention parachute pants and shoulder pads in your original song "Stuck;" those may be the only two trends from the 80s not to have made a comeback in recent years. Do you agree that they are better off safely tucked away in the 80s?
NL: It was actually acid wash and shoulder pads referred to in the song Stuck. And while acid wash has made a bit of a comeback, I totally agree that parachute pants and shoulder pads should absolutely stay nothing more than a distant Polaroid memory! 😉
LT80s: Your version of "Eternal Flame" adds in harmonica and steel guitar, giving it a late-70s-Olivia-Newton-John-crossover-country feel. It works. What led you in that direction for that song?
NL: Because we started with just voice and guitar it sort of went that direction all on it's own. I was hearing the harmonica from the very beginning as I wanted a street feel. The pedal steel was Peter's idea – I love the haunting quality it adds!!
LT80s: Which is your favorite song off the album and why?
NL: I love all of them, but 99 Luftballons probably holds the most meaning for me as it's the song I heard the most as a kid growing up in Germany – It was sort of my anthem as 5 year old little rockstar!
LT80s: What's next for you?
NL: I'm pretty busy promoting the album, with lots of live shows (including a show at the House of Blues and at the Indy 500!). I am also continually writing new music and collaborating with other artists – I just can't resist mixing it up to see if there's 3 minutes of magic there somewhere!