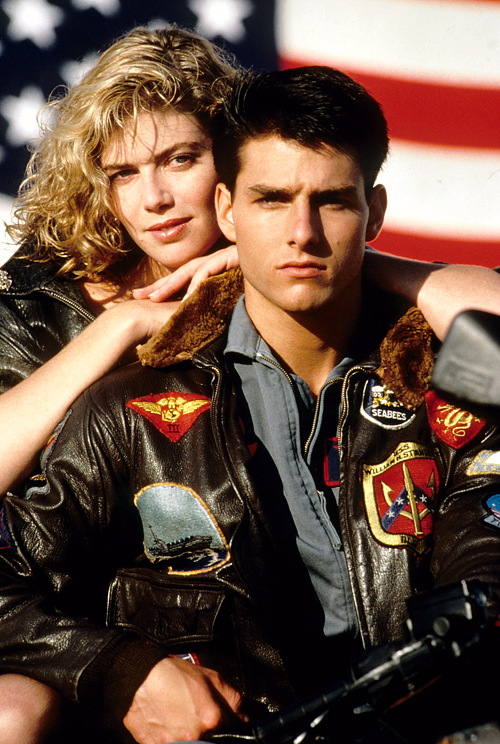 Tom Cruise in top form. There's really no other way to say it. This 1986 movie is a bright, beautifully shot story about Maverick (Cruise), a pilot whose father's legacy weighs heavily on him. Maverick's father, also a pilot, was killed in combat along with other men. Many of his fellow pilots still think it was his fault. Once Maverick is recruited to join the Top Gun Naval Flying School, his fellow pilots won't let his father's past go. Maverick's got a lot to prove, and makes a lot of enemies on the way, most notably Iceman (the ruggedly handsome Val Kilmer). Maverick meets and woos Charlie, a civilian flight instructor (Kelly McGillis), who has got a pretty tough exterior of her own. So much about this movie works. There's the music, for starters. The theme song, "Take My Breath Away," won an Oscar for best original song that year, with music by Giorgio Moroder and lyrics by Tom Whitlock. The song still stands up today as a pretty darn moving ballad. (Another terrific song from the film, but one which perhaps hasn't stood the test of time so well, was "Danger Zone." It was pitch-perfect for the movie and it was sung by 80s great Kenny Loggins!) The movie is at its heart an action film. The flying scenes are a combination of tension, due to their military nature and the personality clashes going on, and beauty, really giving the viewer a taste of what it feels like to soar. That can't have been an easy note to strike, but the filmmakers struck it well (the movie was directed by Tony Scott).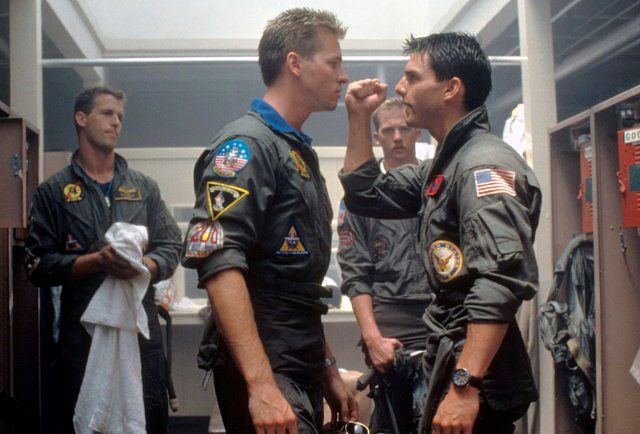 But wait, there's more! There's also a juicy romance here. Charlie and Maverick are both so accustomed to flying solo (pun intended) that they aren't too skilled at being part of a couple. Their tension feels so real, and there's a satisfying sense that neither one has to give up his or her true self to be together. And speaking of romance, we'd be remiss if we didn't mention the homoerotic undertones of this movie. Between all the buff and handsome pilots, the Maverick/Iceman-Maverick/Goose relationships, and all those locker-room scenes, the romance being suggested here goes beyond the overt heterosexual Charlie/Maverick story line. In fact, there's a downright campy side to this movie, the height of which occurs as the shirtless pilots play a sweaty, high-stakes game of volleyball, set to the song "Playing with the Boys" (wink wink).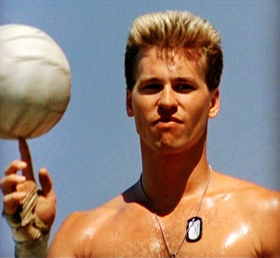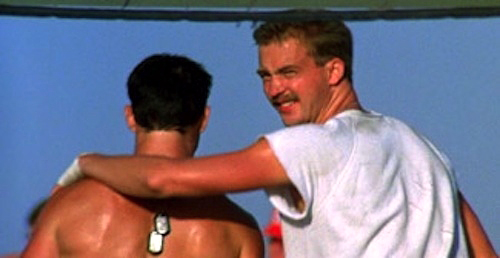 Tom Cruise is perfect for this part (though the list of actors who were considered before him is considerable). He's young and new enough that his trademark brashness is absolutely right. He still, as an actor, has that impressive combination of movie star and new kid, which worked perfectly in his portrayal of a character who is an impressive combination of genius pilot and maverick newbie. Speaking of newbies (to the big screen at least), Meg Ryan appears in this film as Carole. It's one of her first forays into films after years on TV in Y&R and a few others. (In 1983 she appeared in the illustrious Amityville 3-D).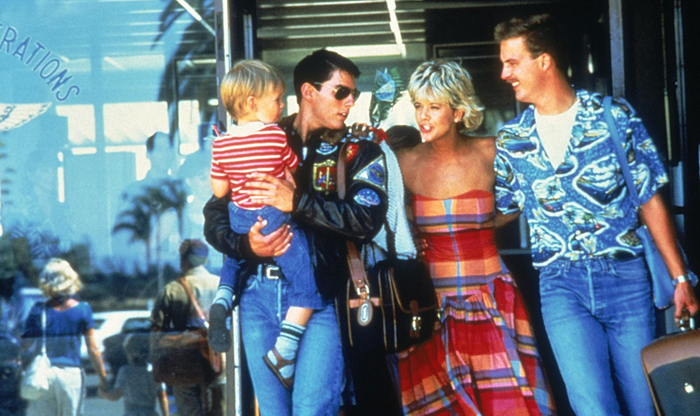 Carole is married to Goose, a pilot played by the always-adorable Anthony Edwards. Goose's story is well-drawn and darn sad. We won't give too much away, just in case you haven't seen this movie yet. And if you have seen it, you may be surprised on seeing it again that it's fairly cheesy, in an earnest 80s sort of way. We were younger then. > Buy Top Gun on DVD > Watch Top Gun Instantly on Amazon Video