Dress like the baddest member of that crack commando unit, the A Team, played by the way-tough Mr. T. The television show The A Team ran from 1983 to 1986. That theme song still gets me pumped: http://youtu.be/_MVonyVSQoM Back in the day, Mom assured me that B.A. stood for Bad Attitude, but I'm pretty sure it stood (and stands) for Bad Ass. B.A. could punch through walls and make the bad guys back off with a sneer, just don't try to get him on an airplane.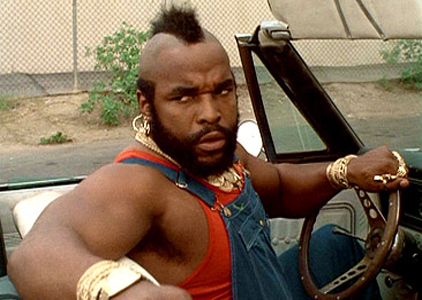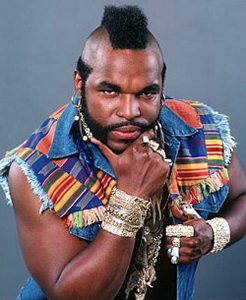 I pity the fool who doesn't give you props for this easy-to-assemble outfit. You'll need:
A mohawk wig.
Ideally, you're a dude who can sprout some facial hair like Mr. T. If not, you might consider a wig/beard combo like this one.
A shirt or jean jacket with sleeves torn off, or an animal print vest. If you're as buff as Mr. T was, omit the shirt entirely. Wear old jeans and a wide belt, like a weight lifter's belt, if you've got one.
Loads of Gold. Piles of thick gold chains, like this. The more the better. I suggest getting a couple dozen cheap gold Mardi Gras beads and then a couple of larger necklaces to make the look work. Take a necklace or two and wind it around your wrist for a gold bracelet. Add a gold ring or two. To go all out, clip some feathers in your hair behind your ear and wear gold clip-on hoop earrings.
A grumpy scowl.
Pepper your speech with phrases like, "Shut up fool," "Don't go crying home to Mama now," "I pity the fool who stands between me and the keg," and "I ain't getting on no airplane!"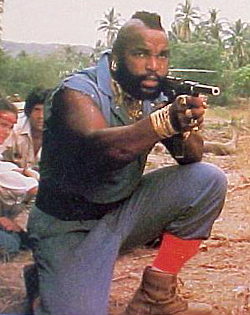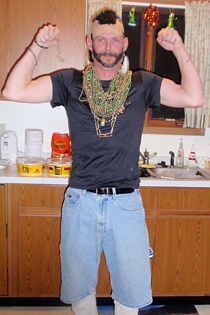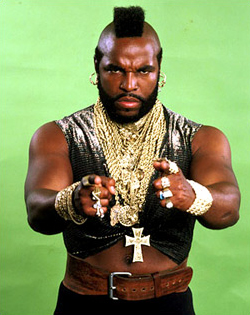 If you have a group of friends who want to play along, they can dress as Hannibal (don't forget the cigar!), suave Face, and kooky pilot Murdock, but it's going to be B.A who really pulls your costumed team together.
Totally Bad Ass!