Robert Pilatus and Fabrice Morvan were a couple of hot models from Munich. They weren't singers. But who ever said you need more than good looks to succeed in the music biz? Milli Vanilli hurtled on to the music scene in the late 80s with their album Girl You Know It's True, and we all fell in love with the handsome duo. Blame It on the Rain, Baby Don't Forget My Number, and Girl I'm Gonna Miss You were #1 hits. Their meteoric rise culminated on Feb. 22, 1990 when they won a Grammy for Best New Artist.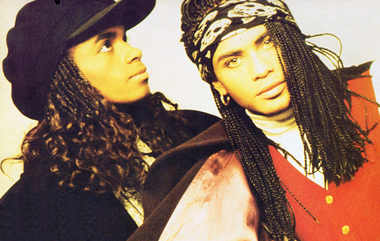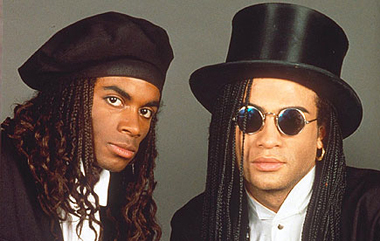 http://youtu.be/RdSmokR0Enk Not all was as it seemed, however. The trouble began in late '89 during a live MTV performance. While singing Girl You Know Its True, the words "Girl, you know it's…" started repeating, but Rob and Fab's lips didn't quite match up with the music. The ruse unraveled fast, and, in November of 1990, the album producer confessed to reporters that Rob and Fab didn't sing on their album. Like, at all. Their Grammy was revoked. Poor Rob and Fab. However, they sure LOOKED good while they "sang," right? To dress as Milli Vanilli in their late 80s glory days, you and a friend need:
Black or dark brown cornrow wigs
A long, patterned silky scarf to tie around one of your heads. The other may want to sport a jaunty top hat, beret, or black trucker hat.
Coordinated eighties outfits. One easy option is a snug black mock turtleneck over black leather pants or stretch running pants, shorts, or capris. You've got flexibility here: a black biker jacket and white T over a pair of jeans would also work nicely. Wear black boots or dress shoes. Bonus points if you find colorful, roomy collared shirts or vests (no shirt beneath, please) at Goodwill.
A pair of faux Grammy's. Any trophy will do.
Optional: Have Girl You Know It's True ready to play on the speaker of your smartphone. Give an impromptu performance with your friend. Be sure to do that jumping chest-bump thing. It rocks. IMPORTANT: Don't Practice First! Your lips are not supposed to match the music!