By Julie Anderson
An 80s girl's silhouette was one of extremes: wide shoulders and full sleeves, baggy or skin-tight pants, and, often, a sharply defined, high waist. Elastic belts were an awesome accessory because they always fit snugly, while letting us breathe. What better way is there to rein in a blousy big shirt or slouchy shaker sweater over leggings? And when we wanted to tuck our shirts in, we needed belts that would sit up high on our natural waists where our belt loops were, and maybe even nip our waists in a bit.
Elastic belts ran the gamut from kitschy to nautical, from elegant to preppy to punk. The buckles were fun to put on; they fit together like a magical little puzzle, right over your belly button. With a wide array of cool buckles, we collected them in all of our favorite bright 80's colors.
To get in the mood, take a listen to a gorgeous Whitney Houston singing 1987's "I Want to Dance With Somebody." She rocks a great outfit with a flouncy petticoat and wide elastic belt, then another with a wide stretch belt over her jean jacket:
Feeling all bouncy now? I sure am. Let's go shopping!
Every eighties girl's gotta have a go-to roller skating outfit. You want to wow your crush during couples skate, am I right? Pair your pinstripe jeans with a white satin blouse (blacklight, baby!) and add a super-feminine (rainbow AND butterfly) belt like this one:


Photo credit: fancy4glass
Elastic belts were ideal for flaunting trendy words or phrases. I had a tan and brown one that had "jeans" woven into it. How cool are these retro belts, both from DoNotDestroy? Totally awesome with an Izod and your pleated khakis: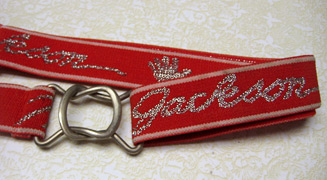 Michael Jackson "Thriller" belt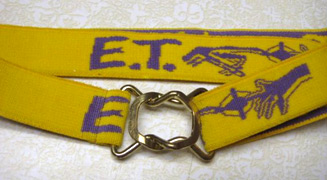 E.T. belt
Here's a hot option with triad of 1980s bells and whistles: a hot pink/black color combo, a zipper, and 4" wide contour (pictured below at left). Pop this baby over a black tube dress, slide on a wrist full of jelly bracelets, and you'll be fighting David Lee Roth off in no time.
Purple and teal were a rockin' color combo in the eighties. This suede belt (pictured below at right) provides some cool geometric interest with that reliably snug elastic fit. Super cute for fall with a black turtleneck, doncha think?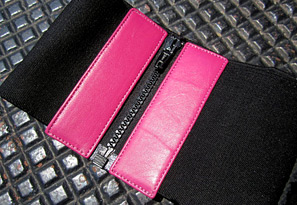 Photo credit: luluvoodoo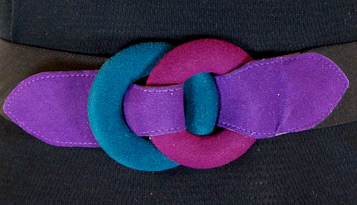 Photo credit: BowTieVintage
This peacock belt (pictured below at left) is sooooo bitchin', I can hardly stand it. It's a good thing my credit card is in the other room as I type this, although I may just make a dash for it before you snatch it up. How sweet would this be with a plunging neck tank dress, cowboy boots, and feathers roach-clipped into your hair?
Here's an elegant sand dollar belt (pictured below at right) that cries out for a gauze tunic, flowy crinkle skirt, and enormous gold hoops. Oooh, beachy-pretty: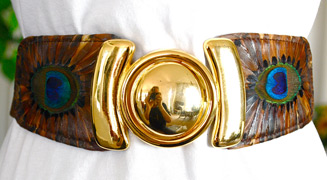 Photo credit: savingwithstyle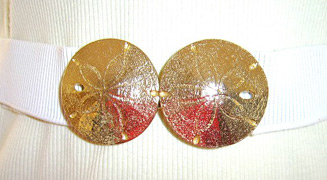 Please credit: I Love Vintagebagz
Sleek red vinyl on an eye-catching striped elastic belt (pictured below at left), O yes! I'd slide this over a simple white scoop T and a pair of dark denim capris. Crisp and fresh.
This black and gold beaded belt (pictured below at right) fastens in the back and has a flattering deep V-yoke in front. Rock this little gem with a black leather bustier and some black velvet stretch jeans. Meow!

Photo credit: HulaGirl1922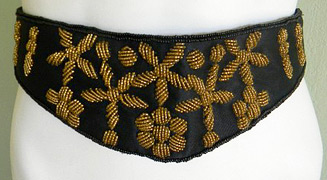 Please credit: styleforlife
Last but not least, a gold belt to whip out the flash when you get your next backstage pass to Winger. The model looks great in a fitted black top and pants, but to me this belt spells J-U-M-P-S-U-I-T:


Photo credit: Bethlesvintage
Elastic belts were an easy way to look modern and sculpt an hourglass figure, and, like so many great styles from the 1980s they're back in fashion today. Purchase a few new or vintage ones (if you haven't already) and flaunt your curves, ladies. Rock on!