Friday September 16, 2011
Portland, OR
By Travis Greenwood
'Greetings spuds of the NW!,' proclaimed Bob Casale, keyboardist for '80s icons, Devo, between songs during the band's September 16th set at Portland's historic Crystal Ballroom. The crowd, a healthy mix of longtime diehards and curious hipsters that came of age in a post-New Wave milieu, returned the favor with an hearty ovation, setting the tone for what would be an enthusiastic affair.
On tour, ostensibly at least, to promote their most recent album, 2010's Something For Everybody, Devo took to the stage in the matching blue jumpsuits and curious plastic beaks (the first of five wardrobe changes, all meticulously choreographed). The set was front-loaded with newer tracks that bore all the hallmarks of the band's oeuvre to date. Think propulsive, quirky, glitchy, rhythmic, nerdish, electronic, mechanical, etc. Catchy pop music, only culture jacked and repurposed for their band's creative and thought-provoking agenda.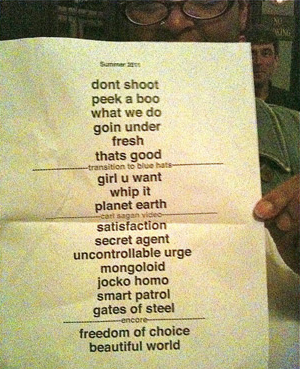 Costume-changing into powder blue team jerseys and matching power domes, Devo promptly segued into a triptych of radio singles — "Girl U Want," "Whip It," and "Planet Earth" — before retreating backstage for a short intermission. When they returned, garbed now in yellow jumpsuits, they continued to meter out the hits, working through "Satisfaction," "Secret Agent," "Uncontrollable Urge," and "Jocko Homo," punctuating each with flourishes both big and small (robotic dance poses, rifle pantomime, call and response chants, transparent guitar straps) that were studied and practiced but hardly rote or forced (not surprisingly, the band also employed video feed and lighting to clever, artistic effect). The brothers Mothersbaugh, in particular, were in rare form, with Mark wading into the audience for repeated interactions with the Devotees and Bob turning out perfect solos, only to flick away his guitar pick at song's end, an instant keepsake for one lucky member of the audience.
The yellow suits gave way to black slacks and official band tees, just as the quintet wound through "Smart Patrol," and a personal fave, "Gate of Steel." Followed by a brief interlude, our heroes reappeared, clad this time in Hawaiian-inspired buttonups, and with Mothersbaugh (Mark) riffing on a package of Dorito's rebranded here as Devito's. Two classics, "Freedom Of Choice," and "Beautiful World," closed the performance, each a potent reminder that Devo remains a creative and artistic force more than 30 years after first forming.
Watch Devo perform "Jocko Homo" (09/16/11 – Crystal Ballroom, Portland, OR)