Los Angeles, CA
September 2, 2011
We had a totally rad 80s weekend in Los Angeles, including stops at famous 80s locales and interviews with awesome 80s rockers (more on those in separate stories). This was my first time in LA, and the weather did not disappoint. While it was 100 degrees with 80% humidity back in Birmingham, it was a cool 65 and dry at the Hollywood Bowl on the night of the Totally 80s concert. We started the evening with a pre-show picnic with the guys at Stuck in the 80s. It was great to meet them all and hang out a little before the show.
As a venue, I can't imagine anything better than the Hollywood Bowl – the layout, the seating setup with individual boxes with tables, the service, and the fact that you can bring in your own food and booze. The Hollywood Bowl was at capacity, so somewhere in the neighborhood of 18,000 80s fans were gathered in one place. How can that be bad? I ponied up for better-than-average seats and was thrilled with the near-dead-center placement of our terrace box.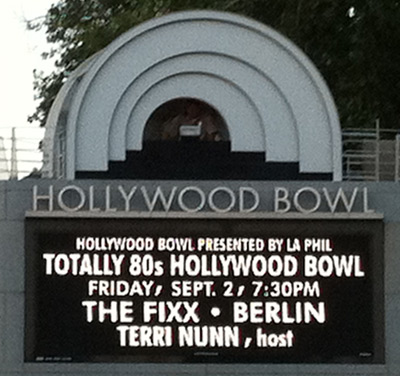 Terri Nunn of Berlin served as the show's host and was as lovely as ever; and Berlin was first up in the lineup. While I have been a fan of all four bands since the 80s, this was my first time to see any of them in concert.
Berlin – Berlin opened with "No More Words," one of my favorites of their songs. Terri Nunn looked and sounded great. In my soon-to-be-posted interview with Nick Richards of Boys Don't Cry, he said of Terri, "She is such a sweetheart. She's one of the nicest people I know." You felt that watching her on stage and as she hosted the evening's events. She even left the stage during "Break the Chains" and walked through the crowd – way out into the crowd, not just in the first few rows – so that the crowd really felt a part of the show. The only bad thing to say about their set was that it was too short. I wanted more; but they played just five songs and were done.
Set List: No More Words | The Metro | Break the Chains | Sex, I'm a . . . | Take My Breath Away
The Fixx – The Fixx was the band I most looked forward to seeing before the show. They sounded great, played everything you wanted to hear, and to say that Cy Curnin is still easy on the eyes is a serious understatement. In her introduction of The Fixx, Terri Nunn mentioned that Cy owns a bed and breakfast in the South of France. I'm there. They opened with "Red Skies" and rocked on from there, finishing up with a track from their new album, due out in March 2012.
Set List: Red Skies | Are We Ourselves | One Thing Leads to Another | Stand or Fall | Deeper and Deeper | Saved By Zero | Take A Risk (a new song off their upcoming album, "Beautiful Friction")
The B-52s – What can I say about these guys? They are pure fun. They are loud, raucous, scattered, weird, and totally enchanting. The crowd was on its feet for most of their set, singing along and dancing. In terms of energy, they were the high point of the evening. They finished their high-voltage set with a "Rock Lobster" that had everyone wanting more. I only hope that at 63 I'm still rockin' it as hard as Kate. Wow.
Set List: Pump | Private Idaho | Mesopotamia | Funplex | Gimme Back My Man | Roam | Party Out of Bounds | 3000 Cosmic Hot Corner | Love Shack | Planet Claire | Rock Lobster
The Human League – I love the Human League – always have. Their performance was solid, although a little sedate on the heels of the B-52s. However, I thought the intro stage theatrics by Phil Oakey were a little silly. He came on stage shrouded in a dark coat with an enormous hood. He meandered about the stage adopting a trying-to-be-mysterious manner that came off as pretentious. Anyway, I was glad to see him finally lose the hood and get on with the business at hand.
Set List: Never Let Me Go | Love Action | Sound Of The Crowd | Lebanon | Empire State Human | Night People | Fascination | Don't You Want Me | Electric Dreams
It was a great show and a great night. If you have the chance to see any of these bands as they tour, take it.