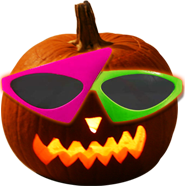 There's a chill in the air, the leaves are starting to change, and your neighbor has once again tied weirdly shaped squash to her mailbox. It can only mean one thing: Halloween is just around the corner!
After putting together your bitchin' costume and doing your party prep work, you need to get your eighties Halloween tune list lined up. These awesome eighties songs are perfect for your night of terror and treats. They range from smooth jazz crooning to heavy metal screaming, so you can pick your faves and rock out!
David Bowie's gritty, dark album "Scary Monsters" came out in 1980 to great critical acclaim. The title song is an ideal way to kick off your 1980s Halloween playlist. The chorus "Scary monsters, super creeps/Keep me running, running scared" is just what you need to keep in mind on a chill October night when the moon is full:
1982 Kiss's "Creatures of the Night" was chock-full of creepy winners such as "Rock & Roll Hell" and "Killer". My pick for their best Halloween song, though, is "Creatures of the Night". It's the perfect anthem for some VERY determined trick or treaters:
1982 also brought us a very different ode to trick or treating. "I Want Candy" is for those youngsters who are more into the Smartees and Reese's Pieces than skulking about in the dark. This version from Bow Wow Wow is a cover of the 1965 original by The Strangeloves:
Michael Jackson's song "Thriller" (off of his album "Thriller") was one of the King of Pop's many enormous hits. Here's the short film in all its zombie-fied glory:
Bat-biter Ozzy Osbourne has had his share of spooky songs. I like "Bark at the Moon" for maximum Halloween impact. It's about a werewolf that comes back from the dead in search of grisly revenge.
Scorching hot British band Duran Duran had us all picking our favorite of the double D's. (Mine? John Taylor all the way.) "Hungry Like the Wolf", from their album "Rio", was released in 1982. It had us all hoping that Simon would chase us down with animal hunger in his eyes, but alas, he settled for Yasmin Parvaneh.
Weird Al Yankovic, that ageless music parodist, released "'Weird Al' Yankovic in 3-D" in 1984. Along with gems like "Eat It" and "I Lost on Jeopardy", the album contained "Nature Trail to Hell", Weird Al's mockery of slasher-flicks:
Sometimes those ghosts and ghouls can really wear you down. But you know what you've got to do then, right? Here's Ray Parker's 1984 hit from the same-titled movie in case you need a reminder. Check out the fun celebrity cameos, like Melissa Gilbert, Terri Garr, Danny DeVito, and Carly Simon:
(Every Day Is) Halloween by Ministry from 1984, originally related by Wax Trax! Records:
Halloween is that time of year when smart kids sleep with one eye open. Paranoia runs rampant, so you'll be rockin' right along with Rockwell in his 1984 single "Somebody's Watching Me":
1985 Oingo Boingo "Dead Man's Party" was from the album of the same name. It was used in the hit 1986 movie "Back to School". Love these dancing skeletons!
Tom Waits's album "Rain Dogs" features the guest talents of Keith Richards. His song "Cemetery Polka", with its creepy organ intro and Waits's gravelly voice, is an obvious choice for your eighties Halloween lineup:
Sting's 1985 album "The Dream of the Blue Turtles" was a huge success, with songs like "Love is the Seventh Wave" and "If You Love Somebody Set Them Free." Sink your teeth into this suave, sinister jazz ballad, "Moon Over Bourbon Street". It was inspired by Anne Rice's novel "Interview with the Vampire":
The movie "Little Shop of Horrors" was released in 1986. It was the third incarnation of the man-eating plant story, after a 1960 movie and a 1982 stage musical. Rick Moranis starred as the lovestruck nerd Seymour who gives Audrey II her first taste of blood, but Steve Martin's sadistic dentist totally steals the show. Love the movie's playful girl-group intro song:
Also in '86, Alice Cooper, veteran ghoul rocker, recorded a song for "Friday the 13th Part VI: Jason Lives." It's nothing but good, wholesome, creepy fun:
http://youtu.be/0u7H6Rk_59M
The 1987 movie "Lost Boys" featured a young and way cute Kiefer Sutherland as the vampire leader, with totally hot Jason Patric as his vampire-in-training, Jami Gertz as the love interest, and the Coreys as comic relief. The movie's theme ("Cry Little Sister"  by Gerard McMahon) is certainly an excellent Halloween song choice, but I think I prefer Lou Gramm's "Lost in the Shadows" if I had to pick just one:
Oh, Michael Hutchence, gone tragically and far too soon. I loved every single thing about INXS, including Hutchence's touchably tousled mane of hair. Sigh. Here's their 1988 single, "The Devil Inside":
DJ Jazzy Jeff & The Fresh Prince released their album "He's the DJ, I'm the Rapper"; the song "Parents Just Don't Understand" won a Grammy for Best Rap Performance. Here's their playful ode to horror, "Nightmare on My Street". This tongue-in-cheek rap song is inspired by a fictitious movie trip that The Fresh Prince (Will Smith), Jazzy Jeff, and Ready Rock C took to see "A Nightmare on Elm Street 2: Freddy's Revenge". Skip ahead to about 1:44 to hear Will's rap begin, if you like: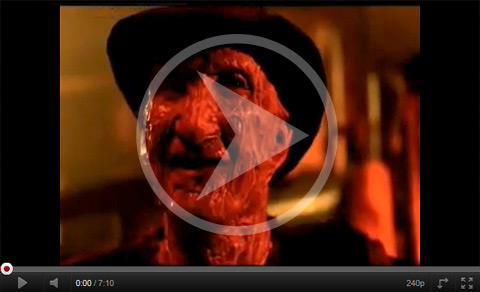 Click here to watch DJ Jazzy Jeff & The Fresh Prince's "Nightmare on My Street"
Have a fabulous Halloween, and thanks for helping us keep the eighties, in all their ghoulishly awesome glory, alive.