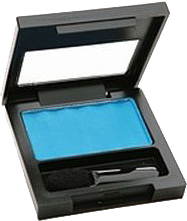 With neon clothes, hair elevated to new heights and shoulder pads a-plenty, it is no surprise that 80s ebullience translated into makeup trends as well. And, what better way to make a bold and sassy fashion statement than with blue. It was an era defining makeup look. No 80s makeup bag was complete without a variety of azure and cobalt shadow, liner and mascara choices. I mean, really, one shade of blue couldn't possibly cover the myriad wardrobe and occasion options available to an 80s girl. That glittering sky blue eyeshadow might look great with your oversized v-neck Esprit sweater for school, but it simply wouldn't do for the more sultry off- the-shoulder evening styles that you wore to meet your favorite dude at the mall.
L'Oreal, and every other makeup company, did a great job of showing us how gorgeous we'd look in our blue eye palette. This commercial for Shadow Riche eye shadow from 1983 is great. I love the step by step progression that serves as a how-to for those unsure how to apply with flare. After all, we were worth it.
So, if you are trying to capture an authentic 80s eye look, go blue. Layer your blues – start with some teal eyeliner (applied to the inside of the eye), then add a royal blue to the bottom of the lid along the lash line and a lighter blue as you move up on the lid. Finally, accent your blues with a contrasting color like hot pink, orange, or yellow. You'll have 80s eyes in an instant.

This look has made a comeback. With all the other 80s fashions back, it only makes sense that the makeup would follow. Here are some of the 2010 and later takes on the blue eyeshadow trend.