October 5, 2011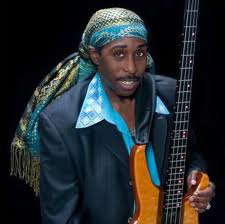 We recently had the pleasure of sitting down with Deon Estus of Wham! to talk about everything from his days touring with George Michael to juicing to the new music he's working on now. Deon, a Detroit native, started out touring Europe with Marvin Gaye. It was while in Europe that he got connected with George Michael. From there, he joined Wham! as the bassist and stayed with George Michael through his solo career, touring
the world on the Faith tour. He then went out on his own and had a hit single with "Heaven Help Me" in 1989. He has recently joined Boys Don't Cry and is working on a new album of his own. We are so pleased to have had the chance to meet and talk with Deon.
LT80s: Tell us how you got hooked up with Wham!
DE: I guess I've been with George since he was about 16 or 17. I went to Belgium in 1979 with Marvin Gaye. I left California and never came back to America; I stayed for 24 years. I lived in Belgium; from Belgium, I went to Dublin to work with Bill Weiland, a really good friend of mine. It was there where I got the call from George Michael's publisher, Dick Leahy, about this young Greek guy. They asked me could I come over and help them write songs, sing, play bass, and get together with him. I flew over to England to see him. We had a great meeting, and we were together ever since. That's how it happened.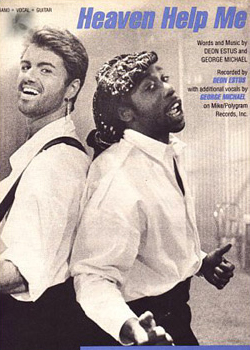 LT80s: Are you still in touch?
DE: Yeah. I just saw him last year. We just hung out. I think we're gonna do some stuff on my next album.
LT80s: I've listened to "Only Love is Real" on your web site. Is that part of your new album?
DE: That's just the first one. I'm just letting people hear a teaser. I haven't released it on iTunes yet. Rather than just release one single, I'm trying to wait. I've done "Heaven Help Me" again, and it's really cool. I should be finished with that tomorrow, and then I'm going to release a whole EP and I'm going to put that up on iTunes. In "Only Love is Real," I've got 60 piece orchestras on that one. It's sort of retro, but it's still modern. I want to do five songs of soul and bring that kind of feel back. It's '70s, '80s, bring that back, because a lot of kids haven't really heard that.
I'm done with five already. I'm doing mixes now. I'll probably do a part one and two of "Heaven Help Me," plus the original. Then I'm doing a dance thing with "Heaven Help Me," You can't even tell it's the same song; it's just using the same title. The kids will think it's Usher or somebody; they won't have a clue.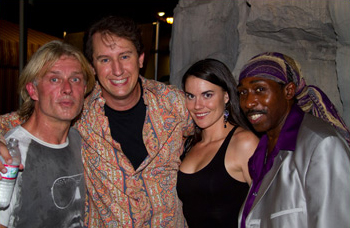 LT80s: You've recently joined Boys Don't Cry (of "I Wanna Be a Cowboy" fame) as their bassist. How's that going?
DE: The shows I'm doing with Nick, I get a chance to play in the band with them. I play four songs, and I come out and sing "Heaven Help Me" and sort of do my thing. We're piggybacking together. We just started doing the show. We're still talking to the promoters. Now, they want to put us on [with other 80s bands]. For instance, we're supposed to go out and do some things with The B-52s and Bow Wow Wow.
I'm excited about the new stuff. I'm working with a guy named Barry Coffing. He's been my dear friend for years, and he's got a company called Music Supervisor. We're doing some things together. Basically, I've just been talking to a lot of independent investors who really see the picture.
LT80s: I understand that you are passionate about juicing. Can you tell us about that?
DE: I'm a juicer, so I don't eat…I just ate today for the first time in 180 days. I'm doing some things with a few juice companies, so I'll probably be making my own juicer and coming out with a juice product. I've been doing it about 15 years or so. I used to do this in Wham! I only do it for 13 months at a time. No food. It cleans your whole system out.
If you're on the road and you're performing a lot, you need that energy. I have a lot of energy, so I burn a lot of energy. That's why the juice thing has always been good for me. Everybody else is eating and tired, and you're just flying.
I love the road. But, the key to the road is not to eat so much. All the five-star restaurants and all the stuff with Wham! and George — you can have anything you want, but how can you eat all that stuff, then get on the plane and travel to go and do shows? It's impossible. You just can't do it. It doesn't make sense.
LT80s: When you're on tour with Wham! and with George, how many shows were you doing a year?
DE: We were out for ten months at a time; lots of shows. Constantly really, but that's the way I like it. That's what I'm hoping that we get back to. I love all that kind of stuff. The more you can stay on the road, the better. You get a chance to see the world. You get a chance to meet people. It's great, and you're making people happy. That's the best thing.
LT80s: Do you have a favorite song that you did during the Wham! years?
DE: Lots of songs. From bass and singing, I always loved "Father Figure." That was just on that tour. Then the Monkey Tour, it was great. We put a lot of work into all those songs, so all those songs were great songs. I loved playing them all. I even like some of the stuff from the first original Wham! and some of the stuff that was on the Wham! rap album.
LT80s: I know you are really using social media and reaching out to fans.
DE: Yeah, I'm connecting with a lot of people. I spend a lot of time doing that while I can. It's been fun. I've been doing it for a while, but really I think in the last six or seven months I'm really, really reaching out to them, and they're responding. A gig we did a week and a half ago at the House of Blues; I had a few fans fly in from Texas. They flew all the way from Texas, and they had a really nice time. It was great to meet them.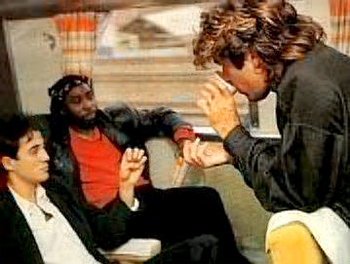 The fans have been fantastic. They are sending me stuff. They have pictures of me on the bullet train, with me and George — a young me and George. This is a long time ago; I think I had just finished "Heaven Help Me," and we were on the train — me, George and Andrew talking.
I just got a video from a fan of me playing Frisbee. I'm a Frisbee fanatic, and I always play Frisbee before I go on stage in the stadiums. While they're setting up the stage, I would go and play Frisbee, but I would play backstage right to the last second that I had to go on stage. I was playing with all the stage hands, and one of the fans caught – I don't know, I think I was in Greece, and they just put up a video of me playing Frisbee back in the day. That's kind of fun.
A big "thank you" goes out to Deon for taking the time to talk with us. He was such a great guy. I love his approach to fans and touring, " . . .you're making people happy. That's the best thing."
Follow Deon's latest news and listen to his new music at www.deonestus.com. And, watch for tour dates for the 80s All-Star Parties!