By Laura Borgman Pitts
Saturday, October 8, 2011
I wasn't interested in attending Bayfest until I learned Duran Duran was a headlining act and I might get to meet the band. This reconfirmed my belief that life is sometimes a combination of 'who you know,' 'being in the right place at the right time' and occasionally just being 'lucky.'
It was a gorgeous night, temps in the 70s at 9 pm when I accessed back stage with my husband and a friend. We watched the band arrive and took first place for the meet and greet. Whilst standing there, my mind flashbacked back to the 80s and talking to girls about Duran Duran. Not the recent Rob Sheffield book, but actually talking to girlfriends about Duran Duran. Most girls had a favorite, but not me.
Here is where I confess to being a total dork. My agenda for the evening was: meet the band, have a photo made and enjoy the music. With this in mind, I stepped forward, looked at the guys, and had one crazy thought: "Oh my gosh, they are so OLD!" Standing there wide eyed and mouth agog, I am not star struck. No, I am totally embarrassed!
Yikes! I'm pretty sure none of them are clairvoyant, mild relief. However, rather than introduce myself, I put both hands in the air and wiz past them with a wave and silly grin plastered on my face. I am certain they are thinking I'm totally bonkers, but there's no retreat. I stop and position myself next to the last guy, laughing. Duran Duran guy #4 kindly jostles me into position for photos.
The photos conclude and #4 is John Taylor. Security motions us to depart. Again I put both hands in the air and face him and do another two-handed wave. He is clearly amused and mirrors my actions. We do a double high five, and I'm on my way to enjoy the show. Official after thought, I have a favorite D2 member now, John Taylor.
Let me set the record straight: the guys are definitely not old and crusty. It was the amnesiac mind of my youth that had tricked me and preserved the band eternally as 20-somethings. Really, I do realize they are in their 50s, and as such, they appear quite fit for their age.
Duran Duran is touring with four of its original five members. Simon Le Bon with his casual scruffy facial hair was instantly recognizable. In youth, Simon always had a slight softness to his face and rounding of his belly that reminded me of a teddy bear. It's all still there, and when he smiles you just want to hug him. Post concert, my husband has been performing his Simon LeBon dance moves – he sings' "her name is Rio…" and does a surfer / chiquita banana girl twisting pose – he says that's how it was done. He is correct, Simon never was much of a dancer, but that never mattered, his singing is still superb.

Someone has bleached blonde the front sections of John Taylor's hair. We would have called that hairstyle 'wings' in the 80s. His wings soared effortlessly throughout the show. He is as lanky as he was in his youth and taller than I'd expected. There was sincerity and warmth in his smiles to the crowd. I'm betting he's a bit mischievous and fun to hang out with.
Nick Rhodes was pale in complexion with hair to match, he still favors black eyeliner. He's beyond the thin gangliness of youth, he's filled in the outlines of his frame and appears more solid. Nick's been photographing the crowd when the band makes its final exit. If you're near the front, check out the fan page and see if you can spot yourself.
Sadly Roger Taylor looked stoic, bored, tired or just ready to get the meet and greet over with. Maybe we caught him at a down moment backstage. It was difficult to see him on stage in the rear behind his drums, but in photos it seems he brightened later in the evening. Perhaps he's a late night kind of guy.
Around 10 pm we were fortunate to locate ourselves in front of stage left with a couple photographers, medics and security. We got a snapshot of the set list from the sign language providers. Duran Duran is performing almost identical set lists in the various cities on their tour and simply mixing the order. I was hoping to hear The Chauffer, but no luck.
A glance around us at the crowd confirms we are predominately Generation X, here to celebrate our youth and the happy innocence of the 80s. We are definitely not disappointed. The show started with the crowd on its feet, hands in the air, moving to the rhythm of Planet Earth. "Look now, look all around…" there are definitely signs of life! And it continued that way throughout the night.
The most recent single "All you need is now" was very well received, and for me, even better live than the video I'd previewed online. It's got all the markings of a signature Duran Duran song. I make a mental note to purchase the CD for my collection, surely there are additional tracks on it that I'll enjoy.
On stage, the band is joined by a totally rockin' female percussionist with flaming orange hair; a long legged lovely backup singer; a spot on male guitarist and male saxophonist who sailed through the solos. They know all the songs and are flawless in their execution. Closing our eyes, we wouldn't know that Andy Taylor is missing from the line up.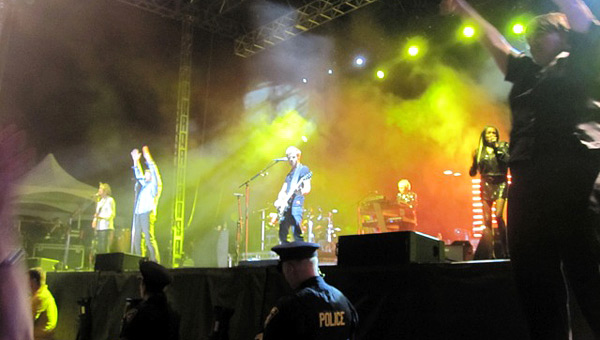 With more than 30 years behind them, Duran Duran's experience shows. They are old school, meaning the show really is all about the music, and the music was brilliant. Moving from quick dance beats to slow and sultry, none of the timeless favorites disappointed. Duran Duran is a well oiled machine and shows no signs of slowing. One song slipped effortlessly into the next and the night came to a close much too quickly.
Wild Boys, the first encore, was blended into a mashup by incorporating Relax by 80s great, Frankie Goes to Hollywood. What a treat! Following, Simon asked the crowd, "Where does Duran Duran go on holiday?" This 'holiday' question initially stumped the very American audience, however, with prompting, "RIO" was the resonating chant. With that song, for me, they once again became the four 20-something guys from Birmingham, England, wearing colored suits with skinny ties, on the prow of a boat off the coast of Antigua, the wind blowing through their hair.
A few days post concert, I went to the basement in search of my first vinyl Duran Duran album, Rio. I dug it out of a bin and thought of the joy that their music has brought to me. I'd like to dedicate a few lines from an ABBA song to them: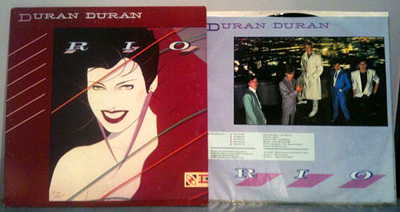 So I say: Thank you for the music, the songs I'm singing
Thanks for all the joy they're bringing
Who can live without it, I ask in all honesty
What would life be:
Without a song or a dance what are we?
So I say thank you for the music
For giving it to me
I missed the opportunity that night, but I'll say it now: Thank you for the music, Duran Duran!