By Julie Anderson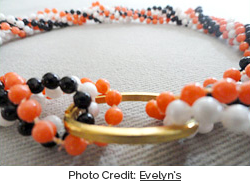 We appreciated color coordination in the eighties: shoes, belts, jewelry, hair accessories, and eyeshadow all needed to be in the same color family. Hot pink and turquoise, hunter green and maroon, black and yellow: we liked to MATCH.
An awesome way for an eighties girl to achieve full-on matchiness was with twist a bead (also called twister bead) necklaces. With a wardrobe of the inexpensive, colorful strands and clasps, we could choose two or three key colors in our outfit and twist away. As this Gainesville Sun article from 1984 states, "The hottest thing in fashion jewelry today is the new twister beads. If you watch a lot of TV you will see many women wearing them."
I never got as fancy as the doughnut or the pendant shown above, but I did have a few clasps and a wide variety of strands. One method I loved was folding two strands across their midsections, then twisting. You'd get a cool half-and-half look, with, say, baby blue on one side and soft pink on the other.
Pearls, fossil (stone), glass, plastic – twist a beads rocked. A chunky twist a bead necklace looked great with a popped collar, crewneck sweater, or sundress. It was part of the whole clean-cut, preppy look that we loved.
Check out these great vintage necklaces. Of course, if you buy more than one set, you can take your necklaces apart and recombine them however you like. Fun!
This muted necklace made of orange, teal, and pink strands has a pretty teardrop gold clasp: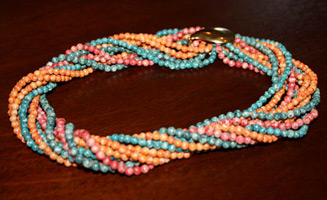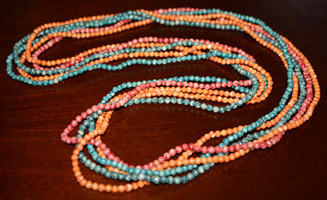 Photo Credit: Zemkoofies
Here's a plastic bead necklace with four clasps: three of the basic oval clasps and one fancy shell clasp: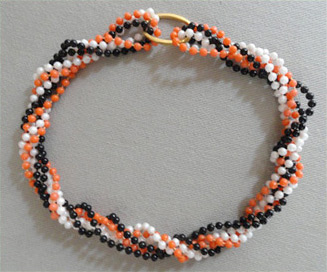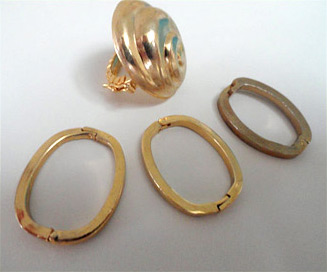 Photo Credit: Evelyn's
This is a lovely set of beads with a great sculptural goldtone clasp. The pearl and gold bead set would give some nice flair to lots of twisted ensembles:


Photo Credit: Gentiques
As in Missy's outfit below, I recall especially enjoying my twist a beads with a tailored plaid or checked blouse: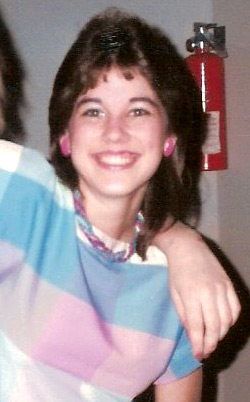 Photo Credit: It's Almost Naptime!
I still remember how it felt to twist my fingers around those beads and wind up a personalized, color coordinated necklace for my day's outfit. Twist a beads are a fab accessory that are totally eighties and totally fun!