Sadly, we couldn't all afford Gloria Vanderbilt or Guess jeans in the 80s. Even if we did boast a pair or two or three, we still needed some other jeans to fill out our casual-wear wardrobes.
Enter the second-tier designer jeans. Like B-list (and C-list) actors, these jeans were probably just as good as the A-list varieties, they just didn't manage to luck into the big time and didn't command the big bucks.  Just because they aren't the Johnny Depp's and Angelina Jolie's of the eighties' jeans world doesn't mean these B-list blue jeans aren't worth our love. You can snap some up on Ebay or scope out your local thrift store for your own pair of 1980s denims. A vintage pair of Sasson or Zena jeans topped with an Izod and a Member's Only jacket would fer sure put you on the A-list at your next 80s party.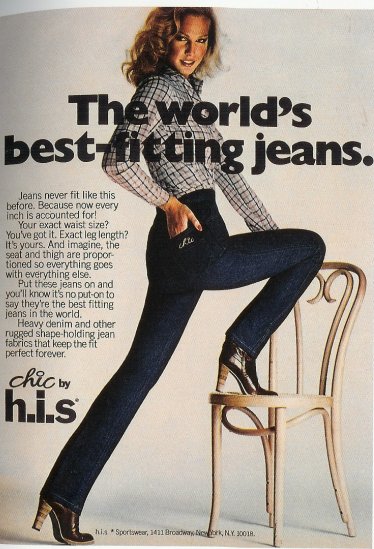 Chic
For some reason, Chic jeans just didn't appeal to elementary or high school me. I think they were Mom jeans, before we knew to call them Mom jeans. Maybe the emphasis on women's different body types baffled and annoyed me, or maybe it was just the fact that my mom did in fact have a pair. I TOTALLY remember this commercial, though:
Wrangler
If Chic jeans were a wee bit uncool, Wrangler jeans were, in my ten-year old eyes, absolutely grody. I'm sure it all boils down to marketing; I was NOT the target audience for Wrangler jeans commercials. However, they seem to be that nondescript medium blue, as opposed to a nice deep navy or a distressed stonewash color, so maybe that's the problem. We wanted our denim itself to make a statement. This commercial, by the way, totally reminds me of a Juicy Fruit ad:
Sergio Valente
Hmmm, I barely remember these. The longhorn label is familiar, but I don't think they were a big hit in my neck of the woods. This roller-themed commercial, however, is a total win:
Gitano
If the Jordache look was a little out of your price range, you didn't have to worry. You could still get that dark denim designer look of the 80s on the cheap with Gitano.  Anyone else remember this commercial featuring a stressed out stylist that still gives me anxiety to this day?
Along with being a little less expensive, Gitano jeans were also a little funkier; besides dark denim you could also get your Gitanos with colored pockets or pinstripes.  I had a pair similar to these, with light pink stripes .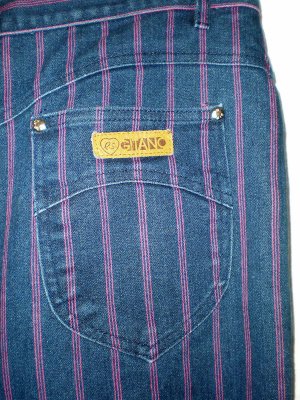 Gitano may have been the low hanging fruit on the designer jean tree, but they fit really great, and Mom couldn't have been happier about the price.
Bonjour
Nope, don't recall these at all. But I love the DeLorean and the cool eighties feel of this ad:
10
I don't remember 10 jeans, but the models in this commercial crack me up. The woman's expression during close-up has a certain vacuous quality, while the dude is very earnestly preoccupied with some deep private thoughts in front of that waterfall:
Chardon
Okay, LAST brand I've never heard of, I promise, although there are plenty of others like Joujou and Allessio that you might enjoy revisiting. I had to include Chardon because of the dude. That's more guy-in-tight-high-waisted jeans than I EVER want to see again. It's fascinating to me in a moth-drawn-to-the-flames sort of way. I also appreciate the French flair in this commercial. It drives home the point that Chardon jeans = classy:
Sasson
Remember the "OK" sign for Sasson? I think that's what doomed them to failure, right there. Who's going to get excited about wearing jeans that are just okay? I also blame the super-irritating model in this commercial. Oooh-la-la, indeed:
Lee
Lee didn't have quite the panache of Jordache or Guess, but I remember having a couple of pairs and thinking that they were acceptable. I'm guessing that my mom and I compromised on them while back-to-school shopping. I do remember them being very comfy, and I appreciated how my skinny belts would slide under the big leather Lee patch on the back:
Zena
I didn't own any Zenas, but I remember thinking they were incredibly exotic. My friend Monica's mom, who had straight black hair down to her waist and drove a red Cougar, wore them, and I'm sure that added to their appeal. If Monica's mom liked them, then CLEARLY they were glamorous. This commercial, on the other hand, is ridiculous. Swimming and then running on the beach in your dripping wet blue jeans?? Puh-leeze.
Levi's 501 Blues
These were the "anti-designer" designer jeans. Levi's were marketed as authentically American, tough-guy blue jeans, not frou-frou fancy pants from Europe. Levi's weren't skintight; they were made for riding the range and hanging out with your harmonica-playing pals. Their ads involved gritty urban scenes and bluesy music, the better to show their all-American coolness:
Some of these brands, notably Levi's and Wrangler, survived and thrived. Most of these jeans makers, however, lost out in the 80s designer jeans battle. They never achieved the panache (and price tags) of Calvin Klein.