Aah, the coveted inverted triangle (either red or green) that showed the world that you were wearing Guess jeans!  The 1980s launched the over the top success of the Guess jeans label. And man, did I have to have a pair. The begging, the pleading. My life as I knew it was going to come to an abrupt end without a pair of these oh-so-awesome jeans. How could I stand to be seen at school without them?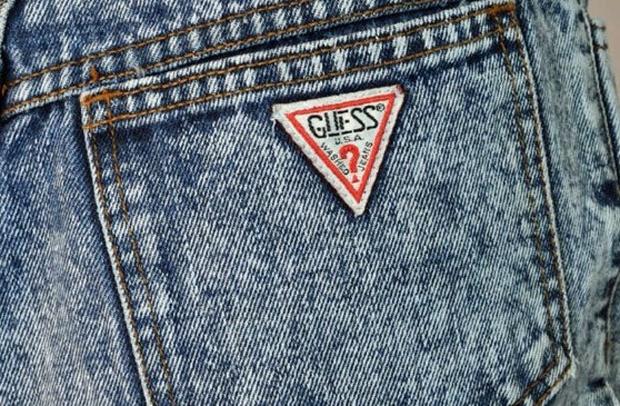 In 1981 a test was run on jeans in Bloomingdales. Within hours, every pair they had ordered was sold out. Thus the craze for Guess jeans began.  And, these puppies weren't cheap. As 80s fashion trends went, these were on the higher end of the expense scale. The cost began at $60 per pair, way back before clothing prices were outrageous! Guess jeans skyrocketed to popularity, partially because of their exclusiveness. People had to have a certain amount of money to be able to afford the Guess label. To appreciate the cost of these jeans in today's terms (2006), that $60 is roughly equivalent to between $95 – $140 a pair. And while you can certainly pay that today for a pair of jeans, it is still a lot of money and most people don't.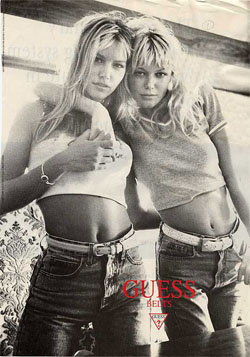 The mystique and cool factor surrounding Guess jeans was in part due to their advertising. They used beautiful models and often times black and white photos. The careers of Naomi Campbell and Claudia Schiffer began with a Guess jean campaign. Through the years, other famous models like Anna Nicole Smith and Eva Herzigova were featured in their super sexy ads.
Guess jeans were traditionally worn by teen girls and were very tight fitting. Some of the jeans had zippers on the sides or zipper at the back of the bottom of the pant leg. Mostly because they were so tight, in order to get your foot in you needed to have zipper space. The jeans came in stonewashed, acid washed, black and regular colors. Guess jeans were also made for men, but weren't quite as popular; maybe 80s dudes weren't into dropping that kind of dough on jeans when Levis got the job done.
Guess later expanded into shirts, accessories and other denim products (like my favorite pair of overalls – yes, Guess overalls – hey, it was the 80s!). Guess jeans are still made and sold today, but with a little less share of the market. The cache is gone and today's big-money jean buyer is heading for 7s or the like.
Update May 2014
Guess is bringing by their overalls, although, it must be said that there is a little less denim and a lot more sex appeal this time around as you can see in the side-by-side comparison of a pair of vintage Guess overalls (exactly like the ones I had) and the new ones in a magazine ad from spring 2014.