By Julie Anderson
In the eighties, we totally valued designer labels. We knew that having that stallion's head or question mark-triangle on our blue jeans' back pocket would ensure our lasting popularity. Designer jeans were pricey, sure, but in the 1980s we were happy to save our pennies (and beg our parents shamelessly) for that perfect pair of high-waisted denims.
Here are the Big Four designers of blue jeans in the eighties:
Gloria Vanderbilt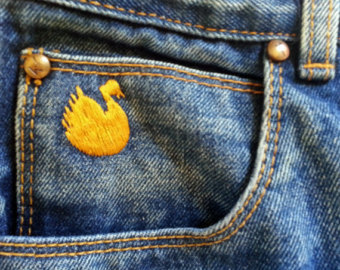 Gloria Vanderbilts were the ultimate designer jeans of the early and mid 80s: expensive, recognizable, and skintight. Eighties ladies were drawn to their aura of posh upper-crust-ness, hardly surprising since Gloria Vanderbilt herself was the epitome of a fancy high society lady. OF COURSE we'd want to emulate her. Her jeans were a dark, rich blue or black with white topstitching and had Gloria's signature with that Vanderbilt swan stitched on the back pocket. They also came in a variety of colors, although I remember the deep, dark G.V.'s the best. Skip ahead to the two-minute mark of this commercial medley to check out the G.V. commercial. I love the perky model who says they "fit like the skin of a grape."
Jordache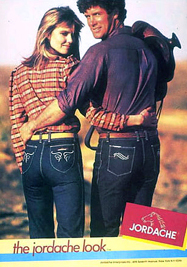 The wind-blown horse, the darkwash denim, the Jordache look. It was ALL THE RAGE in my elementary school, you guys. They had to be that super dark denim, too; once the knees got worn and faded, Jordache jeans lost a lot of their cool factor. Like Gloria Vanderbilts, Jordache had white topstitching on top of the dark denim, and I recall some cool pinstripes, too. Jordache jeans are still around today, although I'm pretty sure the kids today aren't pestering their parents to buy them when they go back-to-school shopping any more.
Calvin Klein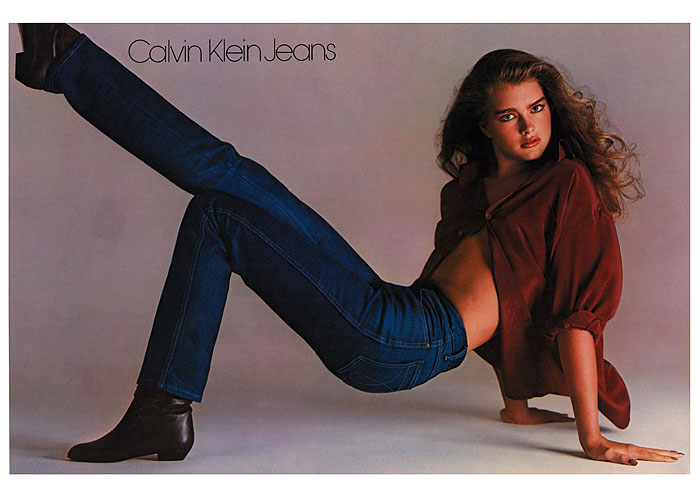 At the tender age of 15, Brooke Shields became the face and body of Calvin Klein jeans in 1980. Pretty Baby Brooke was no stranger to scandal, and Calvin Klein cashed in on her beauty and fame in their successful advertising campaign. The commercials were both scandalous and memorable, and helped make Calvin Klein jeans synonymous with youthful, edgy sex appeal. Calvin Klein successfully branched out into perfumes, clothing, and underwear. So, what comes between you and YOUR Calvins…?
Guess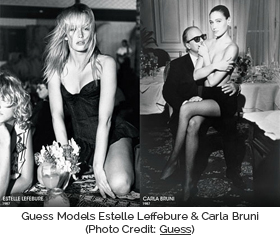 Guess was the first major brand to hit on the "stonewashed" denim look. This led to acid washing, shredding, shotgunning, and all sorts of other shenanigans to lend that fabulously distressed look. They came in all sorts of modern colors and finishes, with ankle zippers and pleats and exposed button-flies. Mid- and late-80s teenagers and young adults coveted the jeans as well as Guess? miniskirts, overalls, and shorts. Guess campaigns featured beautiful young models like Claudia Schiffer and Eva Herzigova; these lucky models achieved huge career boosts from their Guess work. The first lady of France, Carla Bruni, became a Guess girl in 1988 when Paul Marciano discovered her, and her career subsequently took off like a rocket. In this commercial, we get the wealthy European jet-setter vibe that Guess had going on:
We're pretty open-minded when it comes to jeans nowadays, although that up-to-there waist is still resoundingly retro. Happily, there are plenty of authentic vintage designer jeans available on Etsy and Ebay for your eighties fashion needs. If you never got your very own pair of Guess or Gloria Vanderbilt jeans in the 1980s, satisfaction is just a click away.