November 1, 2011
Martika (born Marta Marrero) got her start on the show Kids Incorporated playing Gloria alongside costars Fergie and Mario Lopez. She went from there to the top of the pop charts in 1989 with her single "Toy Soldiers," which spent two weeks in the top spot. Markita has a new album coming out and will be touring throughout 2012. We are so pleased to have been able to catch up with Martika. You can connect with her on Twitter @MartikaTunes or on her web site at www.martikamartika.com.
LT80s: At what age did you know you wanted to be a performer? How did you get started?
Martika: I knew I wanted to be a performer as soon as I was put on stage at The Cuban Club. I started performing for family and friends and my first big taste of the stage was when Neil Sedaka pulled me onstage in Vegas.
LT80s: Where did the stage name "Martika" come from?
Martika: MARTIKA is the children's derivative of MARTA which is my name.
Everyone called me 'MARTIKA' as a child and it stuck.
LT80s: What was it like to be on the show Kids Incorporated (I was a big fan of the show!)? Do you still keep in touch with your co-stars? Mario Lopez? Fergie?
It was an amazing time in my life and I cherish every moment of it. Yes I still keep in touch with some of my co-stars. So many of them went on to big success. So proud of all of them!!
LT80s: I love the cover of Berlin's "Masquerade" that you did on the show. Do you have a favorite song that you got to do on the show?
Thank you.

My favorite song was The Cars 'Drive.'
LT80s: When you wrote the song "Toy Soldiers," did you have any idea that it would go to #1?
Martika: Absolutely no clue! We knew it was a cool song, but you never know what will become that special 'thing' that takes off and is a #1 song.
LT80s: I read that "Toy Soldiers" jumped over Madonna's "Express Yourself" to land in #1; what was that like?
Martika: I was busy doing promotion when it happened and I was told that the song had gone number one. I had to sit down and just breathe and take in the moment.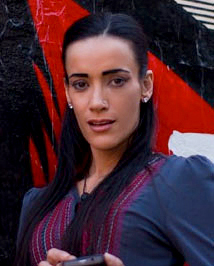 LT80s: What were your favorite bands/musicians in the 80s?
Martika: Culture Club, Peter Gabriel, Duran Duran, Spandau Ballet.
LT80s: Aside from music and performing, what do you like to do?
Martika: Read, cook, bake, hang out with my family, watch old movies.
LT80s: Any plans to tour?
Martika: Most DEFINITELY. All next year. :):)
LT80s: I understand that you have a new album coming out this year? Please tell us about it.
Martika: This would be the follow up to 'Martika's Kitchen'. Since its 20 years later, I had to go shopping at the grocery store for new produce :):) The CD is going to feature all new songs and is geared towards the dance/electronica/club genre. I will be releasing a new video with the first single as well. It took long enough to do this so I am VERY excited about it. A 20 year slow cook in MARTIKA'S KITCHEN!! :):)