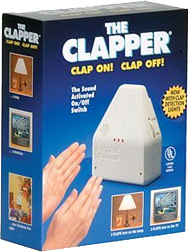 C'mon, sing along!
Clap on! (CLAP, CLAP)
Clap off! (CLAP, CLAP)
Clap on, Clap off – The Clapper!
The Clapper was the modern eighties way to turn your electronic devices on or off without the hassle of getting off the couch. The switch was designed to respond to a specific acoustic signal: two claps.
Joseph Pedott, founder of Joseph Enterprises, Inc., began selling the Clapper in 1985. (You've probably heard of Joseph Enterprises' other super-popular invention, The Chia Pet.)
Here's the original Clapper commercial from 1986:
And a more advanced clapper with the "Away" function, so your lights turn on at the first sound they hear. Fancy!
The next stage of Clapper development was the Smart Clapper in 1992. It was the original Clapper that won our hearts, though, and that iconic jingle is the one we eighties kids will always remember.
When I started college, my friend had a Clapper hooked up to a decorative traffic light in his den. It was pretty much the coolest thing ever; it CHANGED COLORS with each clap-clap. It's true, though, that the Clapper responded to loud bass thumps in music, door knocks, and even coughing, making it less than ideal in many circumstances. I learned from Peter that there was really only one reliable way to get the Clapper to perform; you had to sing the song in order to get the claps timed just right.
Today, you can still purchase a Clapper, as well as some creative Clapper offshoots like the Clap-Off Bra and the Clapper with remote control. If you're into tricky electronics, you can even purchase a Make Your Own Clapper kit. Still not sure you actually need a Clapper? In "Austin Powers: The Spy Who Shagged Me," Austin (Mike Myers) demonstrates how a Clapper attached to his gas log fireplace is an integral part of his swingin' bachelor love pad:
Yeah, baby!