By Michael Nazarewycz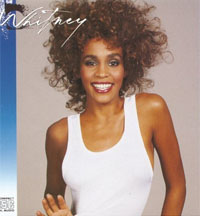 When someone famous passes, particularly when it happens at an age that is decades before we might be less surprised by it, we are often left to ask "What if …?" The question wonders what other works the artist would have created if he/she had lived. The names of the people about whom we have asked this question – even if we limit the list only to those who left their fingerprints in the 1980s – reads like an all-star roll call:
John Belushi. River Phoenix. Stevie Ray Vaughan. Freddie Mercury. Jam Master Jay. Michael Jackson.
Sadly, we must add Whitney Houston to this list. Houston passed away on February 11 of causes yet to be reported (at the time of this writing). She was 48.
To ask the "What if …" question of Whitney Houston – Whitney Houston! – is difficult enough. What makes the question more tragic, more difficult to ask, is that it isn't the first time we have asked it about her. Unlike the others whose names are on that gone-too-soon list, those stars who were at various highs in their careers when they left us, Houston's star faded long ago, as she had fallen victim to substance abuse. We asked it then: What if …?
Most singers would go down to the crossroads and fall down on their knees to have a career that included the songs on Whitey Houston's 1985 eponymous first album alone: "You Give Good Love"; "Saving All My Love For You"; "How Will I Know"; "Greatest Love of All." These four tunes, along with duets "Nobody Loves Me Like You Do" (with Jermaine Jackson) and "Hold Me" (with Teddy Pendergrass) make up a freshman album for the ages. We were hooked, but she wasn't done.
Her sophomore effort, "Whitney" (1987), was no less dazzling. It included the hits "I Wanna Dance With Somebody (Who Loves Me)"; "Love Will Save the Day"; "Didn't We Almost Have It All"; "So Emotional"; "Where Do Broken Hearts Go"; and others.
Who wouldn't go down to the crossroads, who wouldn't fall down on their knees, to sing these songs over an entire lifetime, let alone on their first two albums?
It was at that point, at least in my personal recollection, that she went from "Whitney Houston" to simply "Whitney." Sure, Madonna was a single-named star, but that was her stage name. Whitney, like her godmother Aretha Franklin, earned her way to being recognized by her first name only: Whitney.
The rest is history. Her marriage to New Editions's Bobby Brown and her admitted substance issues all led to a sad, sad career demise.
To me, at least, she was once part of the discussion of the greatest female pop voices of all time. Sadly, she lost her seat at that table. Her early exit from superiority helped contribute to that, because longevity is an important part of the equation. Ask Barbra. And her loss of voice contributed to that too, more so than her tabloid exploits, because a spectacular voice rises above the tabloids. Ask Mariah. Ask Christina. Ask Celine.
And this is what makes asking the "What if …?" question about Whitney Houston and her sad passing more difficult than asking it about any of the other names listed, or asking it about any other names from any other eras (Marilyn Monroe, Buddy Holly, Janis Joplin, Heath Ledger). Where they were taken in their prime, Whitney was taken after hers, but not so far removed from it that she might not have made it back.
We had hope for Whitney Houston. We had hope that maybe, just maybe, like an athlete who overcomes physical adversity to return to past glory, Whitney would somehow turn things around and force her way back into the greatest-voices-of-all-time discussion, with a cock of her head and a perfect note from that mezzo-soprano voice.
We had hope that maybe, just maybe, she had a little magic left in those pipes, that there might have been one more hit single in there, or one more National Anthem performance left.
We had hope that, like the other stars who left us before they should have, she would one day leave us while closer to the top than closer to the bottom.
Rest in peace, Whitney Houston, and know that we now know where broken hearts go; they go with you.
---
Michael Nazarewycz is a US-based Writer for UK-based Filmoria.com. He also blogs at ScribeHard On Film. He can be reached via Twitter @ScribeHard.