By Julie Anderson
Double Dutch jump roping was totally cool in the early eighties. The basic idea is pretty simple: it involves two turners who hold one jumprope in each hand and get them swinging in opposite directions. The jumper then hops in the middle of the two swinging ropes and jumps both. According to skill level, the jumper might do tricksy foot moves or feats of gymnastics while simultaneously dodging and hopping the ropes.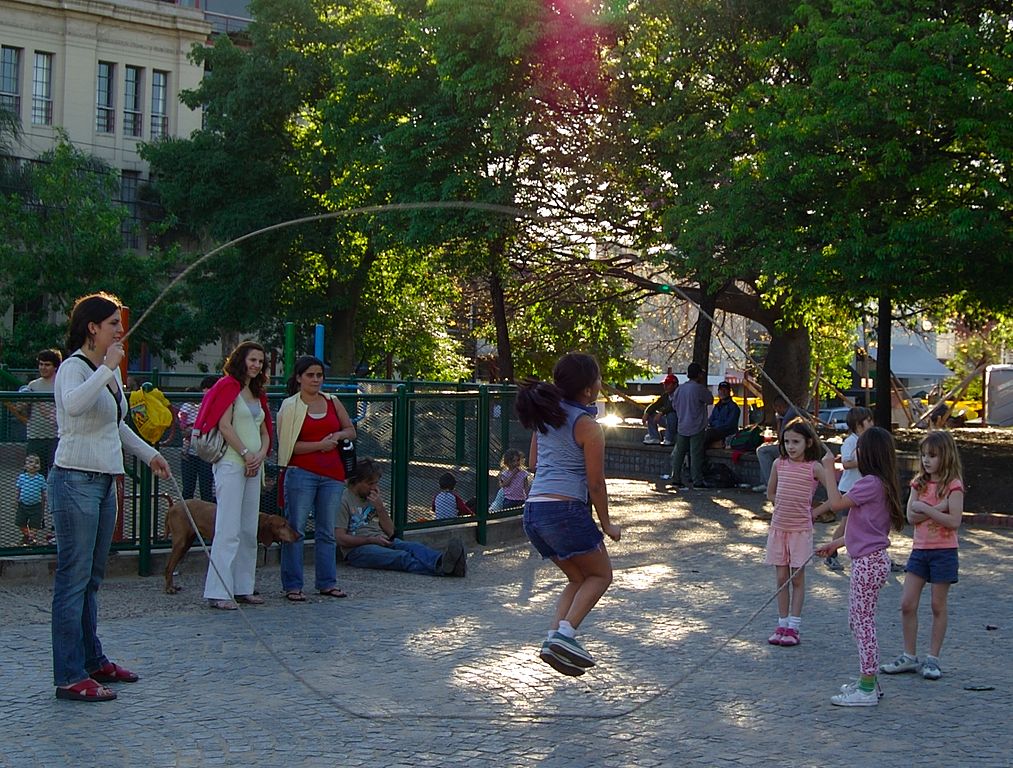 (Photo credit: Wikipedia Commons)
Like breakdancing, advanced moves were super-difficult to master. You might have been able to perform the beginner Double Dutch moves on the playground, though, when you were all young and bouncy and coordinated. ALSO like breakdancing, Double Dutching didn't require much in the way of equipment investment or space. You could do it on the sidewalk or the edge of the playground or in your driveway.
So you know they were totally doing it on Sesame Street:
Here's a 1980s McDonald's commercial that highlights the hopping trend:
A LITTLE HISTORY: Dutch settlers brought the rope game to New Amsterdam (later New York) in the seventeenth century. The English saw Dutch kids spinning the two ropes and came up with the, like, totally inventive name. Kids during World War II Double Dutched on the sidewalks of New York, but the boom of radio in the 50s got kids off the sidewalks and planted them firmly on their couches. Double Dutch took a breather, but came back with a vengeance in the 70s. The first Double Dutch tournament was held in 1974 for New York City middle schoolers.
Double Dutch grew through the seventies and was a well-known playground and sidewalk game once more by the eighties. There were (and are) amazing competitions during which truly skilled athletes whirl those ropes around at the speed of light. The jumpers do, like, flips and cartwheels and synchronized dance routines as they hop the two ropes. The Double Dutch League has yearly camps and a worldwide competition, the Holiday Classic. Check it:
Duu-uuuude.
Double Dutch jumping has evolved and matured since the eighties. (As have we all, right?) In 2007, the Disney Channel premiered the original movie, "Jump In!" It featured the Dutch Dragons, a Double Dutch team from Harlem, as well as Corbin Bleu of "High School Musical" fame:
Award-winning 2007 documentary "Jump!" follows five teams competing in the World Rope Skipping Championship:
Sure, these world-class competitors would run circles around you in a Double Dutch contest. But don't let that discourage you from picking up some ropes and getting back into the rhythm. Playground games are about goofing off with your friends, after all. You don't have to do backflips to have fun Double Dutching. Here's an awesome how-to video to get you jumping again: