By Julie Anderson The dudes had their day in the sun, and now it's totally time to give the ladies the spotlight. Like Totally 80s Facebook friends and Twitter followers responded enthusiastically to our poll and helped us come up with this list of gorgeous 80s girls. Models, actresses, and singers make up our comely crew, so check it out: did YOUR choice for best-looking female of the eighties make our top ten list?

Number Five: A TWO-WAY TIE!!
Deborah Harry
Deborah Harry, best known as the lead singer for Blondie, was a pop-punk princess of the 80s. Aloof and beautiful, she looked like she'd stab you with a stiletto and then look AMAZING while she laughed about it. Platinum blond, of course, with an edgy, urban style, Debbie Harry was totally hot singing infectious disco tunes such as "Rapture", "Heart of Glass", "Atomic", and the wonderfully bouncy "Tide is High": http://youtu.be/Lzp471BBXAI (Dude, was she singing to Darth Vader in that video?)

Susanna Hoffs
Susanna Hoffs was the petite brunette lead singer of girl-group The Bangles. I loved her big head of hair, heavily lined eyes, and sweet smile; she had the girly/sexy thing down pat. Fun fact: Prince thought she was awesome and wrote mega-hit "Manic Monday" for her. Check out The Bangles' video, "Going Down to Liverpool" – that's family friend Leonard Nimoy driving the limo! "In Your Room", and "Eternal Flame" were huge hits for The Bangles, but my favorite is "Walk Like an Egyptian." Check out the eye shift that Susannah does around 2:38 – I thought she was SO pretty here. I, uh, may or may not have practiced that move in the mirror at home. Repeatedly. http://youtu.be/Cv6tuzHUuuk

Number Four:
Glynis Barber
LT80s fans in the United Kingdom were nuts about Glynis in the eighties. The blond bombshell's big break came with the sci-fi TV show, "Blake's 7," in 1981. In 1982, Glynis had the title role in the TV show, "Jane." She portrayed a sexy WWII heroine in the show, which featured cutting-edge cartoon-infused camera work. She's best known, however, for her work as Harriet Makepeace in the British cop drama "Dempsey and Makepeace." Glynis went on to act in various television shows, including "Night and Day," "Eastenders," and "Emmerdale," as well as doing stage work and big screen roles. http://youtu.be/CFfFuwd5L5c

Number Three: A FIVE-WAY TIE!!
Molly Ringwald
Molly Ringwald made us all want to be redheads in the eighties. A muse of John Hughes and charter member of the Brat Pack (she starred in films such as "Sixteen Candles," "The Breakfast Club," and "The Pick-up Artist") Molly's small screen career began with a stint on "Diff'rent Strokes." She played Molly Parker on "Facts of Life" and sang on two Disney albums before 1984's "Sixteen Candles" catapulted her to stardom. In the past few decades, Molly has acted in scads of movies and TV shows, but for many of us, it's the 1980s Molly that we know and love best. Here's Molly as awkward, angstful, adorable Samantha Baker in "Sixteen Candles": http://youtu.be/WcKqtzj8LAg

Olivia Newton-John
Young Olivia's family moved from England to Australia when she was six years old. There, the radiant blonde sang with friends and, as a teenager, because a regular on Australian TV and radio shows. After moving back to England as a young adult, she released her first solo album in 1971 and became a genuine pop sensation. She crossed barriers with pop-country hits such as "Let Me Be There," and made a splash in film with 1978's "Grease." "Two of a Kind" and "Xanadu" weren't quite as successful as "Grease," but Olivia's musical career more than made up that. Her most successful album, 1981's "Physical," was followed up by double platinum "Olivia's Greatest Hits Volume 2." Sometimes she was good-girl bobby-soxed Sandy, and sometimes she was bad-girl tight-leather Sandy, but Olivia was always so lovely. Here she is in her biggest hit to date: http://youtu.be/vWz9VN40nCA Want more Olivia? Check out 10 Things You Might Not Know About Olivia Newton-John.

Paula Abdul
Laker girl was discovered by the Jacksons in the early 80s. They hired her to choreograph the video for their song "Torture." It was all uphill from there for the athletic and curvy dancer, who choreographed music videos and dance sequences in hit movies and TV shows. In 1988, Paula released her first album – "Forever Your Girl" – and we LOVED her playful dance music. "Straight Up", "Forever Your Girl", and "Opposites Attract" were huge hits for Paula, who went on to a fab career on the charts and on TV shows such as "American Idol." Here's my personal fave Paula Abdul song, "Cold Hearted Snake": http://youtu.be/o7aShcmEksw

Brooke Shields
Undeniably gorgeous, Brooke Shields has been a noted beauty her entire life. Her first acting role, at age 11, was in the 1976 movie "Alice, Sweet Alice" (also released as "Communion" and "Holy Terror.") In 1978, Brooke portrayed a child prostitute in Louis Malle's scandalous film "Pretty Baby." She was a child model, too; at age 14, she was the youngest model to ever appear on the cover of "Vogue" magazine. Like "Pretty Baby," her movies "The Blue Lagoon" and "Endless Love" were subject to some underage-sexiness scandal. Brooke Shields went on to a fabulous career on stage and screen, including TV shows "Suddenly Susan" and "Lipstick Jungle." Here's a teenage Brooke in one of her racy commercials for Calvin Klein Jeans: http://youtu.be/YK2VZgJ4AoM

Samantha Fox
Another British babe rounds out our number three 80s hotties: Samantha Fox. In 1983, her career began as a Page Three Girl (read: topless model) in "The Sun" at age sixteen. She also modeled for various British men's magazines and was a UK Penthouse Pet. Samantha released her debut single "Touch Me (I Want Your Body)" in 1986, and it became a #1 hit in seventeen countries. Samantha acted as a child and formed her first band at age 14; since the success of "Touch Me," Samantha has gone on to more modeling jobs, multiple albums, and television appearances. And yes, she's still gorgeous. http://youtu.be/lZSbkYjQer8

Number Two:
Phoebe Cates
Aspiring ballet dancer Phoebe Cates received a scholarship to the School of American Ballet, but had to give up dancing at age 15 when she injured her knee. Phoebe then turned her attention to cinema. She acted in her first movie, 1982's "Paradise," (that link is NSFW, people!) when she was 17. It featured several fully nude scenes, which she later said that she regretted. Her NEXT movie is the one you probably remember: "Fast Times at Ridgemont High": It had The Bikini Scene. You know the one. Later movies included "Private School," "Gremlins," and "Drop Dead Fred." Phoebe was a cover model for magazines such as "Seventeen" and "Tiger Beat." She's acted in a few other roles since then, although she mostly withdrew from the spotlight in the 90s to raise her kids. Fun fact: She's married to Kevin Kline. http://youtu.be/EbHth5ErTs8

Number One:
Madonna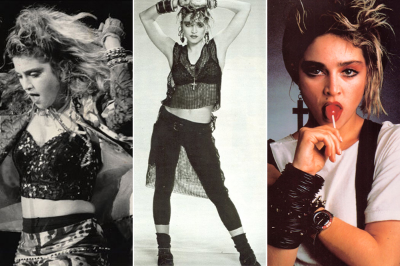 Yes indeed, Like Totally 80s fans, you voted the Material Girl the best-looking female celebrity of the eighties. Madonna, no stranger to reinvention, controversy, and hard work, has been in the spotlight since her debut album hit the shelves in 1983. We loved her tousled blond hair, badass attitude, and bitchin' style. Songs included mega-hits "Lucky Star," "Borderline," and "Holiday." She followed up her initial success with even MORE success: iconic albums "Like a Virgin," "True Blue," and "Like a Prayer" rounded out her eighties playlist. With loads of hits, world tours, movie roles, and numerous books, Madonna remains prolific, gorgeous, famous, and totally buff. Talented, beautiful, and driven: Madonna encapsulates the ideal eighties babe. Here she is in the 1985 movie "Desperately Seeking Susan," singing my all-time favorite Madonna song, "Into the Groove": http://youtu.be/tD3dzAP98Cc And here she is in her one of her earliest hits, "Lucky Star." The hair bow, the punk layered clothing, the full brows and heavy makeup: Madonna's look here is quintessential eighties. She continues to evolve, but she's proven that she's a timeless beauty. Thanks for your votes LT80s friends! http://youtu.be/ThHz9wlBeLU

Related Links:
> Best-Looking Celebrity Dudes of the 80s