By Julie Anderson
Who was the most swoon-worthy celebrity dude of the eighties? Like Totally 80s asked our Facebook friends and Twitter followers. You guys totally came up with a hot, handsome handful of 1980s stars. Some found fame through the movies, some through television, and some made music that melted our teenage hearts, but all of these boys were totally FINE.
Number Five: A FIVE-WAY TIE!!
Andrew McCarthy
We loved him as Michael Dunn in 1985's "Heaven Help Us" and as awkward-yet-hot Kevin Dolenz in the same year's "St. Elmo's Fire." We ALSO loved him as responsible-yet-hot Clay Easton in 1987's "Less Than Zero." He really won my heart, though, as the suave Blane to Molly Ringwald's Andie in the 1986 movie, "Pretty in Pink":
Kurt Russell
Russell had plenty of roles before the eighties, but many of us watched him for the first time as wily, tough Snake Plissken in 1981's "Escape from New York." "Silkwood" (1983) and "Big Trouble in Little China" (1986) were also memorable 1980s movies for Russell, but my fave would have to be "Overboard" in 1987. In it, he played scheming single dad Dean Proffitt. The film also starred his longtime love Goldie Hawn, which makes it that much more awwww-some:
http://youtu.be/kf9uR-5BVbo
Morten Harket
Uh… who? Oh, you mean the singer from A-ha! Well, duh! Who didn't have a crush on him when "Take on Me" hit the charts in 1985? The Norwegian singer was (and is) boyishly handsome. That slightly mussed hair, those cheekbones, those earnest blue eyes. (Side note: Wikipedia tells me that he was torn between band names "A-ha" and "A-hem". Morten, you totally made the right call, dude.)

Patrick Swayze
Oh, Patrick. Rakish, all-American good looks PLUS mad dance skills. He caught our eye as Darry in 1983's "The Outsiders," and we became extremely interested in American history when he played Orry Main in the TV miniseries "North and South". But it was the role of Johnny, the dancer with the miraculously nimble hips, in 1987's "Dirty Dancing", that won him a place in our hearts forever:
River Phoenix
River Phoenix died tragically young in 1993, but he left behind a body of work and gazillions of admiring fans. Prior to his film work, River Phoenix acted in loads of television shows, including an acclaimed after-school special. In 1986, at the tender age of sixteen, he starred with Harrison Ford in "The Mosquito Coast" and with a star-studded cast in "Stand by Me." Here he is in 1989's "Indiana Jones and the Last Crusade," playing the kid version of Harrison Ford's famous character:
Number Four:
Kirk Cameron
Say what you will about his current politics, Kirk Cameron was undeniably crush-worthy in the 1980s. Boyish, approachable, and funny, his role as Mike Seaver on TV's "Growing Pains" (1985-1992) earned his poster a prized place in many of our school lockers. Here's Mike Seaver from season two of the family sitcom:

Number Three:
John Stamos
Like Kirk Cameron, John Stamos found his fame on television. The dark-haired actor really knew how to rock a mullet. He smiled with just the right combination of naughtiness and little-boy innocence. His first TV role was on "General Hospital." Stamos's big break, however, was his role of rock musician Jesse Katsopolis on "Full House" (1987-1995). "Full House", incidentally, was our first introduction to then-toddlers Mary Kate and Ashley Olsen, and it also featured Candace Cameron, Kirk's sister.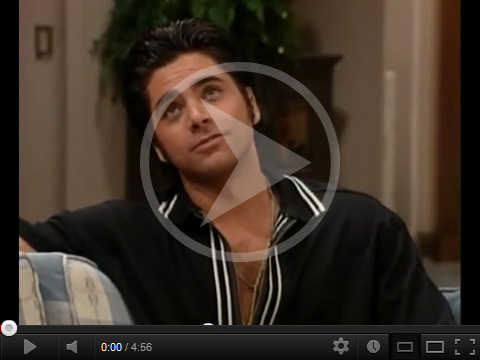 Number Two: A TWO-WAY TIE!!
John Taylor
Well, OBVIOUSLY. John Taylor was the smokin'-hot, chiseled-cheekboned, long-n-lanky singer bass guitarist for Duran Duran. Perhaps you were Team Simon, but of the DD crew, I totally thought John Taylor was the cutest. JT also participated in The Power Station with Robert Palmer (big hits included a cover of "Bang a Gong" and "Some Like it Hot") but we know and love him best as the bass-wielding hottie of Duran Duran. I've got to grudgingly acknowledge John Taylor's mullet, but, clearly, his is another example of a mullet done right:
Jon Bon Jovi
Jon Bon Jovi was a big-haired hottie who was the object of adoration for countless lovesick teens. And what's not to like about the gorgeous, maybe-kinda-dangerous-but-still-sweet lead singer of the band Bon Jovi? When Bon Jovi's third album, "Slippery When Wet", was released, Jon and his bandmates were catapulted into superstardom. Side note: in 1989, Jon Bon Jovi made a secret trip to Las Vegas to marry his high school sweetheart, Dorothea, and they're STILL MARRIED.
And our NUMBER ONE BEST LOOKING MALE CELEBRITY OF THE EIGHTIES IS…
Rob Lowe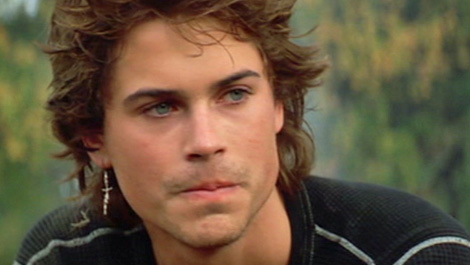 Nowadays kids might know him for comedic roles in "Austin Powers" movies and on TV shows such as "Parks and Recreation," but in the 1980s, Rob Lowe played characters who were sexy through-and-through. He was Sodapop Curtis in 1983's "The Outsiders" and Nick De Angelo in 1985's "Oxford Blues". We loved him as Danny in 1986's "About Last Night…", costarring Demi Moore, but it was his portrayal of hard-partying Billy Hixx in a certain 1985 movie that many of us remember best. Here's the still-handsome Rob Lowe (in the bat shirt! remember the yellow bat shirt?!) tearing it up on the sax in "St. Elmo's Fire":
And here's a bonus clip of Rob Lowe in "About Last Night…", just because he's awfully, awfully cute in this movie. LT80s fans, I think you nailed it. Thanks for your votes, and we'll see you on Facebook and Twitter!
Related Links: