June 2012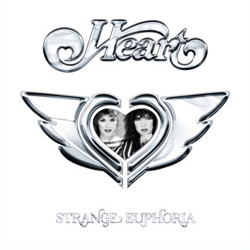 On the 5th of this month, Heart released a 3 CD, 1 DVD career-spanning box set, "Strange Euphoria." And what a career it has been—one stretching over 4 decades. And, they are not done. For Heart fans craving new music, they've got an album coming out this fall, "Fanatic," which they are supporting with an active tour schedule (we are disappointed they won't be playing anywhere near us). Clearly, these are some very busy gals..
The new, multi-label box set features their biggest hits, some great live and previously unreleased demo tracks, as well as solo selections. Also included are several tracks from their early 90s stint with the acoustic group, The Lovemongers. We particularly love "Kiss" by The Lovemongers; it should be used in a David Lynch film if it hasn't been already. But wait, there's more: Nancy and Ann comment on each track in the included booklet. And if all that wasn't enough, an additional 5-song CD with Led Zeppelin covers is included. See the complete track listings here.
I remember in the mid-80s how transfixed I was by their style, and more specifically by the Wilson sisters' hair. Really, they put the big in big hair. How they were able to achieve such feats of coif-tasticness? Imagine how thrilled I was to be able to put that exact question (among others) to these very awesome sisters of rock. Learn how to achieve 80s-era Heart hair as well as what Ann and Nancy are listening to now in our Q&A below.
LT80s: In your 4th decade of rock awesomeness, what keeps you going?
Ann & Nancy: Artists make art. Singers sing. Players play. Gypsies travel. Music lights fires everywhere. It's like oxygen!
LT80s: Our readers are 80s fanatics and they'd like to know how you achieved your legendarily big hair in the 80s?
Ann & Nancy: To get a truly inflated 80's hairstyle (I mean, a gigantic mane) do NOT wash your hair too often—once a week is good. Rough up the roots while still damp and work some shaving cream through them. Backcomb when dry, spraying your ratted base with water soluble hairspray (Sebastian Shaper in the 80s). Repeat the backcombing-spraying part until hair is huge. Make sure you have a very methodical layered haircut before you start, or else the top length will weigh it all down and you won't get that ' lion's mane' effect. If you are using extensions make sure they are way too long for believability. This do is not supposed to look natural; it's supposed to be an explosion of hair like in a cartoon. Go for extreme colors. Be fanatical about your hair, because it's your Rock Flag.
LT80s: What work are you most proud of?
I am extremely proud of our new record ' Fanatic ' out this fall. It's the best Wilson/Wilson music to date.
LT80s: What's on your ipod now?
Ann: The Alabama Shakes, The Head and the Heart, Florence and The Machine, Civil Wars
Nancy: The Shins, Bon Iver, The Decemberists, Grizzly Bear
LT80s: What's next for you both?
Ann & Nancy: This year we have a box set (Strange Euphoria), our first memoir (Kicking and Dreaming) and our new record (Fanatic) coming out. Lots of new stuff to get into. You have to do that before you find out what's next!
A huge thanks to Ann and Nancy for chatting with us. You can connect with Heart and stay up to date on the new memoir and record as well as upcoming tour dates at their web site: www.heart-music.com.