By Julie Anderson & Alli Denning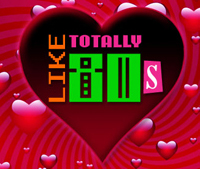 You know the problem. You see that special someone across the room, you want to talk to him or her, and you want to make the right impression. But what to say? It seems such a daunting task, coming up with just the right mix of witty, interesting, intelligent and, well . . . hot.
Thankfully, the musical treasure trove of the 80s left us with a wealth of perfect pickup lines. Here's a run down of some of our favorite, sizzling hot conversation started from the lyrical goldmine of 80s songs.
We're not sure if they will work as well when not sung by Michael Hutchence or Samantha Fox, but give it a go. To make your selection process a bit more streamlined, we've sorted the lines according to style. Choose the appropriate flavor of awesomeness and give these a whirl the next time you're looking for love, eighties-style.
Playful
When you don't want to scare away the cherished object of your affection, coaxing a smile from those lovely lips is a great way to break the ice.
Boys Don't Cry – "I Wanna Be a Cowboy" (1986) . . . and you can be my cowgirl.
Billy Ocean – "Get Outta My Dreams, Get into My Car!" (1988)
Tiffany – "I Think We're Alone Now" (1987) There doesn't seem to be anyone around.
Lionel Ritchie – Hello? (1984) Is it me you're looking for?
Direct
If he or she isn't getting the picture, it's time to make your intentions totally clear. Take a page from George Michael's book and just spell it out already.
Eddie Money – "Take Me Home Tonight" (1986) I don't want to let you go 'til you see the light.
George Michael – "I Want Your Sex" (1987)
Toni Basil – "Mickey" (1982) You're so fine, you're so fine you blow my mind.
Animotion – "Obsession" (1984) Who do you want me to be to make you sleep with me?
Samantha Fox – "Touch Me" (1986) Touch me, I want to feel your body, your heartbeat next to mine.
Achingly Romantic
You're dreamed of this person for months – nay, years! Your earth angel needs to know just how big a chunk of your heart he or she commands. Bonus points for having tears well up in your eyes as you say these lines.
Duran Duran – "Save a Prayer" (1982) Some people call it a one night stand, but we can call it paradise.
Survivor – "The Search is Over" (1984) Now I look into your eyes, I can see forever. The search is over, you were with me all the while.
Benny Mardones – "Into the Night" (1980) If I could fly, I'd pick you up. I'd take you into the night and show you a love, like you've never seen, ever seen.
John Waite – "Missing You" (1984) Every time I think of you, I always catch my breath.
Foreigner – "I Want to Know What Love Is" (1984) I want you to show me!
Bodeans – "Still the Night" (1986) If I could hold you tonight, I might never let go.
Modern English – "I Melt with You" (1982) I'll stop the world and melt with you.
Scorchingly Sexy
Romance and frills are nice, but at some point you want your crush to start thinking dirty thoughts when your face comes to mind, right? Try one of these to get the love mojo flowing.
INXS – "Need You Tonight" (1987) Slide over here and give me a moment – I've got to let you know . . . You're one of my kind. I need you tonight, 'cause I'm not sleeping. There's something about you girl, that makes me sweat.
Poison – "Talk Dirty to Me" (1986)
Robert Palmer – "I Didn't Mean to Turn You On" (1986)
Def Leppard – "Pour Some Sugar on Me" (1987)
Olivia Newton John – "Physical" (1981) Let's get physical . . . Let me hear your body talk.
Prince – "Little Red Corvette" (1983) A body like yours oughta be in jail, 'cause it's on the verge of being obscene . . . Girl, you got an a** like I've never seen, and the ride . . . I say the ride is so smooth, you must be a limousine.
Shalamar – "Dancing in the Sheets" (1984) You and me, we should be dancing in the sheets.
Vaguely Creepy and/or X-Rated – Deploy With Caution!
Best reserved when all else fails OR when the apple of your eye happens to be more tart than sweet.
George Michael – "Father Figure" (1988) I will be your father figure, put your tiny hand in mine. I will be your preacher, teacher, anything you have in mind . . . I will be the one who loves you 'til the end of time.
2 Live Crew – "Me So Horny" (1989) Me love you long time!
The Cure – "Just Like Heaven" (1987) Show me how you do that trick, the one that makes me scream.
Pet Shop Boys – "Opportunities (Let's Make Lots of Money)" (1985) I've got the brains, you've got the looks. Let's make lots of money.
Alice Cooper – "Trash" (1989) You're daddy's dream, you're a peach in cream, And you're finally ripe at last.
Ice T – "L.G.B.N.A.F." (1988) Girl, let's get butt naked and f***!