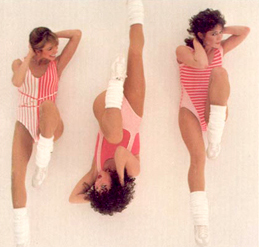 By Julie Anderson
Sure, fitness clubs were big in the 1980s, but plenty of health-minded individuals were busy with work and family obligations. It was, like, totally difficult to make it to your high-impact step aerobics class if you were slaving away from 9 to 5 every day and then had to go home to feed the kids. For lots of eighties exercisers, living room workouts in front of the television were ideal.
Added benefits, of course, included the fact that your leotard didn't have to coordinate with your tights if you were by yourself at home. Also, there was no one there to witness any of your uncoordinated efforts to gyrate, kick, and thrust like Denise Austin. And no one would ever know if you decided to plop down on the sofa, crack open a cold one, and test your theory about the acquisition of fitness through observation.

Here are those awesome eighties workout stars we knew and loved. All attractive, all energetic, and all entertaining in their own super-toned ways.
Are you ready? Here we go.
And ONE and TWO and THREE . . .
1. "Jazzercise" with Judi Sheppard Missett
Jazzercise, as its name implies, was super jazzy. I love Judi's throaty c'mon and give-it-all-you've-got voice, as well as all those groovy moves. Jazzercise was big in the seventies and is still going strong, although its current incarnation is mostly studio-based. In 2011, Jazzercise was ranked as the #1 fitness business on Entrepreneur Magazine's Franchise 500 list, so evidently Judi has it going on in more ways than one.
2. "Super Stomachs" with Denise Austin
You guys, Denise Austin was PERKY! Like, WAY energized. ZING!! She was totally likeable, though, and awesomely encouraging in all of her workout videos, which began in the late 80s. And she's still gorgeous and fit. In addition to continuing to lead workout programs, write books, and produce fitness shows, Denise has served two terms as a member of the President's Council on Physical Fitness and Sports. I think I'm going to start doing her tummy workout. It would be worth it, I'm thinking, to get abs like that. Sheesh.
(Side note: check out the sorta anatomically correct sculpture of the dude behind her during this workout! That's no Ken doll, people.)
3. "It Figures" with Charlene Prickett
Charlene was a Canadian, so she's better known there, although she has a following in the United States as well. This video in particular amuses the fire of out me because of the dude's outfit. Tight tank top, shiny short-shorts, moustache, AND two-tone purple legwarmers? Awesome, dude. Rock on. Learn more about Charlene and her career at her site.
4. "Bodies in Motion" with Gilad
Gilad Janklowicz was not only super-hot, he had that adorably sexy Israeli accent and seemed like a genuinely friendly, nice guy. Gil went to the exotic beaches of Hawaii with a team of similarly gorgeous people for his workouts. They sort of reminded me of the entourage that Prince had around him all the time – they were all matchy and badass, as well as perfectly synchronized. Gil is still around, still producing workout videos, and still looking GREAT.
5. "20 Minute Workout" with Bess Motta, Arlaine Wright, and Crew
This one was totally intimidating to me. Those girls were SERIOUS. They worked out in similar (but not identical!) leotards in an all-white room. The camera spun around and overhead, which was sort of dizzying to watch. Evidently, this one was a favorite with the boys, and a few minutes of watching will help you understand why. Like "It Figures," "20 Minute Workout" was produced in Canada. The first season had a different instructor for each day of the work week: Bess Motta, Arlaine Wright, Holly Butler, Nicole Nardini, and Anne Schumacher. Bess and Arlaine were the only instructors for season two. Incidentally, Bess is also famous for her portrayal of Sarah Connor's ill-fated roommate, Ginger, in "The Terminator."
6. "Sweatin' to the Oldies" with Richard Simmons
Known as one of the nicest guys in show business, Richard Simmons is a truly inspirational workout leader. At one time, he topped the scales at 268 pounds, so Richard has plenty of empathy for people struggling with unwanted weight. With his curly carrot top and outrageous, glittery ensembles, Richard had us smiling and dancing the pounds away in the eighties. He continues to do loads of television appearances, in addition to his continuing work as a fitness expert and healthy lifestyle guru.
7. "Jane Fonda's Workout"
Long known as a beautiful actress with an amazing bod, Jane Fonda wrote "Jane Fonda's Workout Book" in 1981. The bestselling book led to her 1982 video, "Jane Fonda's Workout," which was enormously successful. Fonda's videos weren't aired on television, at least in the 80s, so we had to use our VCRs in order to enjoy one of the twenty-three videos in her workout series. Jane Fonda became synonymous with aerobics in the eighties. Remember M'Lynn (Sally Field) visiting her comatose daughter Shelby (Julia Roberts) in the hospital and moving her limbs, saying 'We're doing our Jane Fonda' in 1989's "Steel Magnolias"? Poor Shelby.
So there you have it – from Judi to Jane, the TV fitness video squad of the 1980s. With their televised visits to our living rooms, we learned that we didn't need a gym membership to get fit, although some leotards, legwarmers, and big hair would sure come in handy. After all this, I'm feeling totally lethargic and untoned. It's time to move the coffee table out of the way, crank up the volume, and work up a sweat with Gilad in Hawaii – Abs of Steel, here I come!