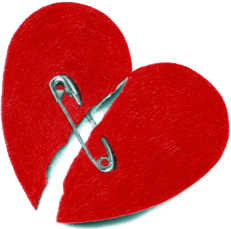 By Julie Anderson
One of the hard facts of growing up is the inevitability of heartbreak. As teenagers, we fell in love – and OH how hard we fell – but more often than not, we didn't end up with our beloveds for the long haul. (Which, by and large, is a good thing, right? I mean, have you googled some of your exes?)
When the end of a relationship was upon us, we might have felt angry, jubilant, remorseful, vindictive, or totally bummed. It was a given, though, that those emotions were INTENSE. Here's Vulture's bitchin' primer on famous movie breakups to help you remember all that drama:
Music was a natural during these tumultuous times. We listened, sniffling morosely, to mix tapes our loves had made for us, back when their hearts were true. We called in to radio shows to dedicate tender songs in last-ditch attempts to mend the relationships (or to twist the knives after we'd dealt the parting blows). Our favorite singers knew EXACTLY how we were feeling, and hearing their words made those break-ups so much easier to bear.
Facebook friends of LT80s chimed in with their break-up song memories and helped us compile this top twelve list. Whether that break-up hit you like a bolt from the blue or you saw the end coming a mile away, you can relate to at least some of these awesome eighties tunes.
12. Journey "Separate Ways" (1983)
Steve Perry's checkerboard shirt, mullet, and rockin' vocals, the band playing air instruments, the woman's bitchin' style – there is so much to love about this video. And, yeah, the song is a fabulously energetic ode to a break-up.
11. Chicago "Hard Habit to Break" (1984)
Mournful and sweet, Peter Cetera's voice is perfect for this tune. This is how we 80s girls wanted our guys to feel after we broke up with them. We wanted them to miss us and think about us, but avoid the whole stalker/crazy thing. Also, that image of the woman with the wildly frizzy halo of blond hair at the end of the video stuck with me to this day. Radical.
10. John Waite "Missing You" (1984)
The lyrics are so powerful – "Every time I think of you, I always catch my breath" – but Waite definitely veers a bit into crazy town here. I remember being sort of scared by his angry denials and snarly expressions in this video, but now I just hear it as a great song with an awesome hook.
9. Soft Cell "Tainted Love" (1981)
SO many LT80's readers love this song, and for good reason. It's incredibly catchy, and we can all relate to the lyrics about a dude who's ALL DONE with a hopeless romance. The video is pretty bizarre, but undeniably entertaining and giggle-inducing.
http://youtu.be/ZeJkbqjQvnk
8. Orchestral Manoeuvers in the Dark "If You Leave" (1986)
Most of us heard this for the first time in the John Hughes movie Pretty in Pink. It played during the final scene, when Andie walks away from a heartbroken Duckie in pursuit of cute rich-boy Blane. Poor Duck Man. We feel your pain.
7. Scandal "Goodbye to You" (1982)
This peppy, seeyalater tune is a fun, toe-tapping sendoff to a fizzled-out romance. Patty Smyth belts out the song with fabulously empowering energy. And how cute are her hairdo and belted sweater dress? (WAY cute)
6. Human League "Don't You Want Me" (1981)
Taking John Wait's bitterness up a notch into threatening stalker-ville, "Don't You Want Me" was the perfect mix of creepy, sexy, and danceable. While appreciative of his past help, she's ready to move on, but the dude is totally not willing to entertain thoughts of breaking up. This song is sort of impossible to NOT sing along with, don't you think?
5. Naked Eyes "Always Something There to Remind Me" (1982)
With sentiments along the lines of "Missing You," Naked Eyes' break-up offering is a bit more resigned (though no less happy) about the whole situation. "I was born to love her, and I will never be free – she'll always be a part of me." Love, love, love this song:
4. Poison "Every Rose Has Its Thorn" (1988)
Bret Michaels, for all his party animal persona, nailed the disappointment of a dying romance with "Every Rose Has Its Thorn." Totally makes me want to put on a prom dress and slow dance in the gym, you know?
3. George Michael "Careless Whisper" (1984)
Heavy on the sax, "Careless Whisper" is a cautionary tale about how a relationship derails after the dude gets busted cheating. Moral: the truth ALWAYS comes out when you're unfaithful, and then you'll end up remorseful and alone, never able to dance again. Bummer.
2. Phil Collins "Against All Odds" (1984)
Phil Collins is a bit of a natural when it comes to mournful songs. His gorgeous duet with Marilyn Martin, "Separate Lives", was a close contender for our breakup list, but it was "Against All Odds" that won a place. It's from the movie of the same name, and it's just so sad, slow, and lovely. (Although I will add that I am NOT a fan of his lips singing through the brass monkey mask thing at the beginning of the video.)
1. Greg Kihn Band "The Breakup Song (They Don't Write 'Em)" (1981)
The resounding favorite of our LT80s Facebook poll is a song better known (at least in my own mental files) as the "uh-uh-uh, uh-uh-uh-uh-uhhh" song. "We'd been living together for a million years . . . But now it feels so strange out of the atmospheres." In our recent interview with Greg Kihn, he said this about the writing of the song;
There are times in your life that the way is clear. I remember coming home from a gig with the guys. We were in a van, and we pulled up to where I used to live. All of my stuff was piled up on the lawn, and it was raining.
The man knows what a breakup feels like.
Yes, the sad truth is that many relationships end, but it doesn't mean that the good times have to die with them. You can be better, stronger, and even happier after an ill-fated romance finally gives up the ghost. If you're going through a breakup, or mourning your newfound solo status, LT80s sends you our wishes for personal joy and a most excellent singlehood.