This movie had it all. It may, in fact, be the best example of the genre. A John Hughes film, starring Molly Ringwald, Andrew McCarthy, James Spader and Jon Cryer, 1986's film Pretty in Pink is a must see for anyone interested in 80s movies or just interested in a good story, well done. Somewhat reminiscent of the classic Shakespeare play Romeo and Juliet, the movie is a teen love story about two people who want to be together but must first face pressure from those around them.
Blane or Duckie
In the film Ringwald plays Andie Walsh, a poor but intelligent and talented high school student who has an incredible knack for designing clothes. Although not popular among her classmates, she has a close and loyal friend named Duckie (Cryer) who is in love with her. Andie, however, is attracted to her classmate Blane McDonnagh (McCarthy), a "richie." When the two teens decide to ignore the social differences between them and date, their friends step in and try to keep them apart. Like the old saying goes though "love conquers all" and in the end Andie and Blane end up together. In the wise words of Andie's father, when something is worth it, "you gotta take the heat." Interestingly, an alternate ending was tested for the movie that had Andie ending up with Duckie in the end at the prom.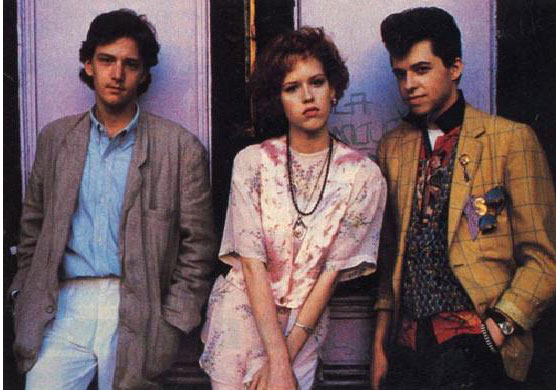 Today many fans consider Pretty in Pink to be one of the best representations of high school in the 1980s and certainly one of the best of the Brat Pack movies. It deals with relationships, class struggles and social cliques while at the same highlighting the fashion, music and hair styles popular during the decade. The themes of the movie, however, are timeless and as relevant today as ever.
There are cameos by yet unknown stars like Kristy Swanson (seen hooking up with Duckie at the prom scene at the end) who would go on to play Buffy the Vampire Slayer in the original film before Sarah Michele Geller took over the TV role.
Best Movie Soundtrack Ever
Almost as fabulous as the movie was/ is the soundtrack. It is like a delicious time capsule – a wonderful mix of new wave staples and lesser known gems.
1.   If You Leave – Orchestral Manoeuvres In The Dark 2.   Left of Center – Suzanne Vega w/ Joe Jackson 3.   Get To Know Ya – Jesse Johnson 4.   Do Wot You Do – INXS 5.   Pretty In Pink – The Psychedelic Furs 6.   Shell-Shock – New Order 7.   Round, Round – Belouis Some 8.   Wouldn't It Be Good – Danny Hutton Hitters 9.   Bring On The Dancing Horses – Echo & The Bunnymen 10. Please Please Please Let Me Get What I Want – The Smiths
Buy this amazing soundtrack: Pretty In Pink: Original Motion Picture Soundtrack