By Julie Anderson
Latch hooking rugs was an awesome activity for eighties kids. The yarn craft was simple and inexpensive, yet super satisfying. With a single easy-to-master move, we made plush, colorful rug squares. Of course, we didn't use them as actual rugs… but they were perfect for wall hangings and pillows.
The nice thing about latch hooking was that you were pretty much guaranteed a great looking and feeling product. Unlike, say, paint-by-numbers kits, latch hook rugs provided reliably professional looking results.
Here's a great instructional video from daviapizza that explains the basic deal: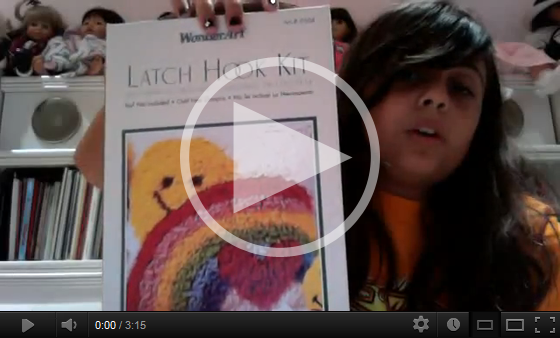 And look! Here's Davia's latch hook pattern made into a cute and cheery pillow!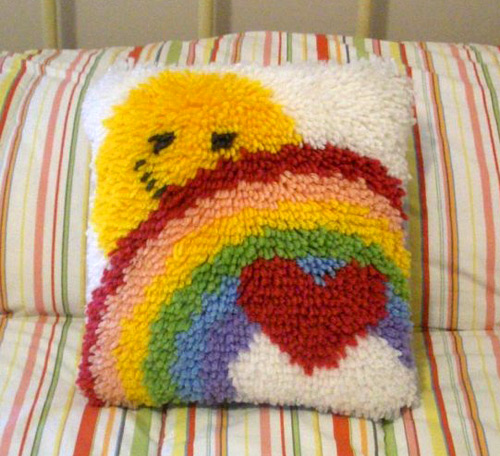 Photo credit: REdesignkc
Latch hooking was a snap. It was MUCH simpler than cross-stitching, knitting, or even making ribbon barrettes. All you had to do was follow the printed color diagram and you'd end up with a tactilely delightful work of art. The only real obstacle to a lovely, finished latch hook rug was, like, getting bored and quitting halfway through.
As I recall, my display method for my latch hook rugs was somewhat unrefined. It involved masking tape and thumbtacks. However, there are ways to complete your piece that provide a much more professional look. Pillow creation, it turns out, is also not that complicated and is a terrific option.
Ah – sibling love, eighties style. Awesome. But check out the horse-at-sunset latch hook rug on the wall behind them – cool, huh?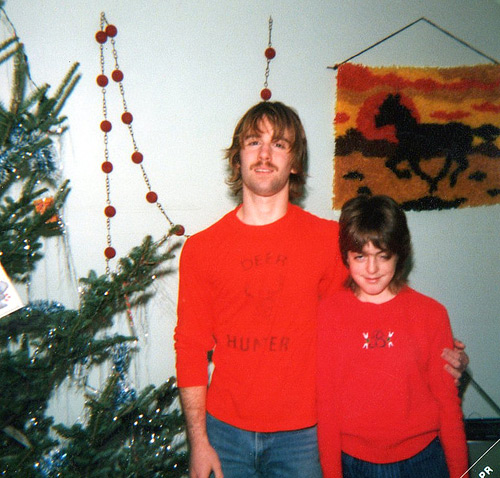 Photo credit: sleepjunky
And here's a great vintage set of completed panels, all ready for you to hang on your wall or transform into a furry set of throw pillows: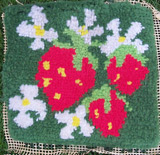 Photo credit: KeepitIrieHome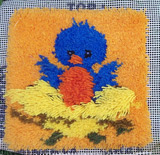 Photo credit: KeepitIrieHome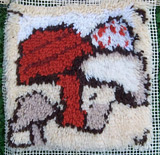 Photo credit: KeepitIrieHome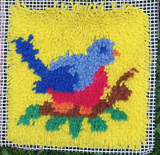 Photo credit: KeepitIrieHome
Feel like embarking on an awesome cold weather, curl-up-by-the-fire craft project? Snap up your own rug kit and get hooking, babe. Here's a great vintage butterfly design: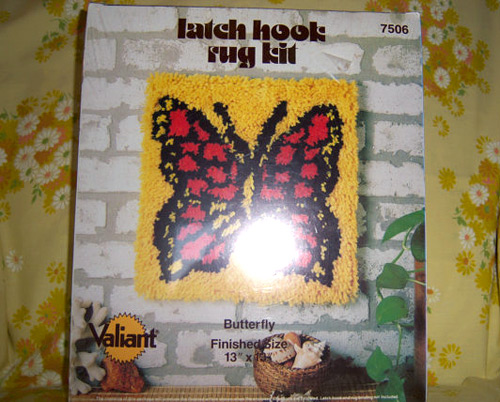 Photo credit: katzenfraulein
This sweet little froggie would be particularly adorable in a kid's room or a bathroom, I think: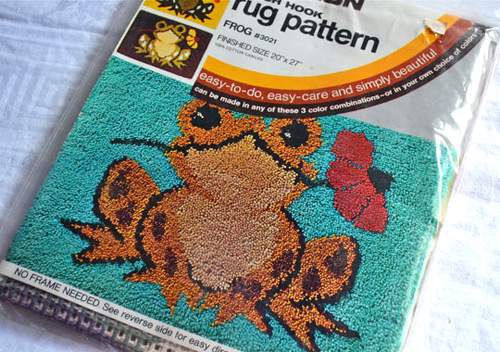 Photo credit: Pumpkintruck
And how cool is this roller skate pattern, complete with pom poms on the laces? I remember renting skates just like that at Spinning Wheels rink in the early 1980s: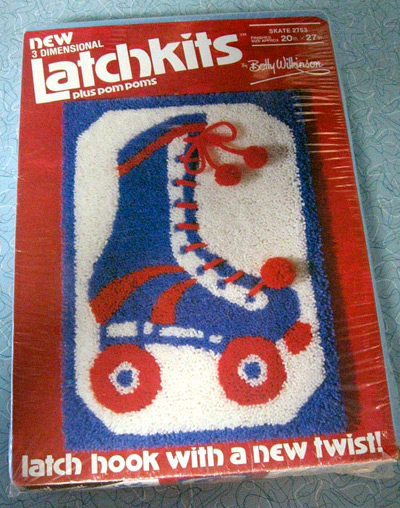 Photo credit: Squaresville, USA
As noted in Davia's video, many rug kits don't come with latch hooks, so you'll need to purchase some of your own. Here are a couple just like those we had way back when: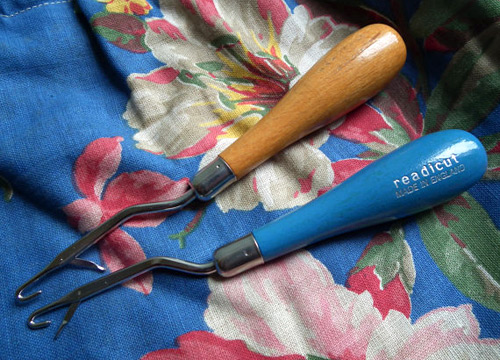 Photo credit: Sew Much Frippery
You may also need to pick up your own pre-cut latch hook yarn. New yarn is available at craft stores or you can opt for vintage yarn from Etsy.
Latch hooking wasn't a thrilling activity. It was, however, deeply gratifying for kids to make great looking and feeling craft items that they could proudly display. Of course, it wasn't –and isn't – just for children. Adults and older kids enjoy the hobby, too. It's experiencing a real resurgence in popularity. Check out Latch Hook Rugs & the People Who Make Them! on Facebook for inspiration. Creative crafters are latching with strips of fabric and yarns of varying textures and lengths. Squidoo has a great overview of latch hooking rugs here. Don't you just love that owl hanging? I want to name it, pet it, and fluff it up, and then hang it up on the wall of my office.
If you haven't caught latch hook fever yet, take a peek at this bitchin' timelapse video of a huge rug's creation. I can just feel the crafter's pride as she adds a little bit more each day, can't you? Latch hooking was an awesome craft in the eighties, and it still is today. Latch on, dudes!