In the eighties, we swooned over Tom Selleck as Magnum, the mustached and mysterious Hawaii-based private investigator. Magnum, P.I. ran from 1980-1988. It featured beautiful tropical scenery, helicopters, a fancy beachfront estate, and a shiny red Ferrari. http://youtu.be/zvjzSu9RIcI We might not have understand the whole deal between Magnum and Higgins, that prickly military-type dude with the Dobermans, but whatever. Magnum was eye-candy enough to encourage us to happily tune in.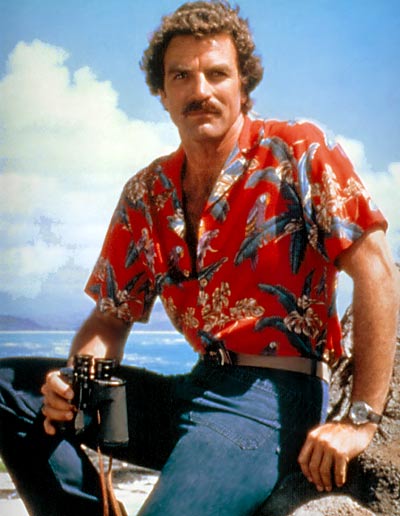 To get that smokin' hot Magnum look, you'll need:
A festive Hawaiian shirt.
Dark, high-waisted jeans – bonus points if they are tight and have patch pockets! Wear them with a light colored belt, preferably made of cloth.
A luxuriant dark brown mustache, such as this one.
Optional (but awesome – and great it you don't have Tom Selleck's glossy, tousled locks) – a Detroit Tigers navy blue baseball cap.
Aviator sunglasses – check out this authentic vintage pair!
Around your neck, hang either a bulky camera with a long lens or a chunky pair of binoculars. You know, for all that surveillance you need to do. As a piece de resistance, consider snipping some brown curls from a wig or cutting a piece of brown faux fur and applying some manly chest hair with body tape.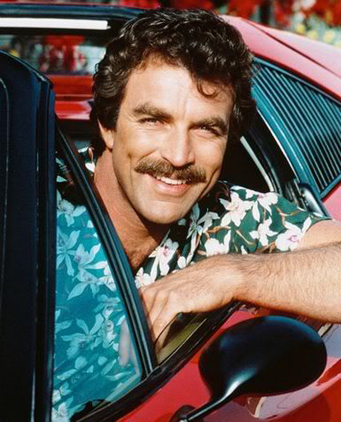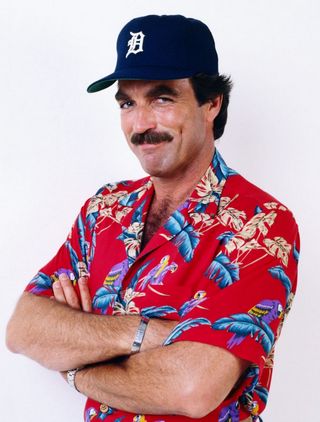 Brace yourself for the throngs of ladies that will chase you around all evening – your Magnum, P.I. sexiness will be totally irresistible. Have an awesome time dressed as one of the 80s hottest T.V. characters!