By Julie Anderson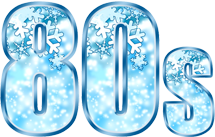 Winter Weather Songs of the 80sJanuary is probably the crummiest month of the year where I live. It might be tied with February, and March is up there as well. It's chilly, drippy, slushy, and occasionally snowy. Grody.
Maybe you live somewhere that is balmy and green right now (if so, I'm totally jealous) but chances are you're staring down the barrel of a long stretch of wintry weather, with nary a gifting or feasting mega-holiday in sight.
Buck up, buttercup! Misery loves company! This bitchin' eighties hit list is here to help. Find somewhere warm to curl up and commiserate with the likes of Susanna Hoffs, Bob Seger, and Robert Smith. And remember, before we know it we'll be breaking out the Wayfarers and singing about the cruel, cruel summer once more.
So, look around. Leaves are brown and your hopes are passing away? The Bangles capture the dreary mood of the coldest season with 1987's "Hazy Shade of Winter" (a cover of the Simon and Garfunkel song):
And now the wind's picking up. Bob Seger and the Silver Bullet Band's "Against the Wind" (1980) might help you endure those blustery breezes:
Chilly too, huh? New Edition knows just how you feel. Here's their 1984 hit "Cool It Now":
What's that? Forget cool – it's totally freezing out there? Dude. Perhaps you can relate to The Cure's "Cold" from 1982:
And just when you thought the wind had died down, it's BACK. Winter lasts FOREVER, dude. Take Cinderella's word for it – here's "Second Wind" from 1988:
Sure, now we all can't leave the house without jackets, but not to worry – it's not your fault! Milli Vanilli reminded us just who the culprit was in 1989 with "Blame It on the Rain":
Sometimes a downpour can be pretty great, though. Take it from the Weather Girls and their 1982 hit "It's Raining Men":
The Eurythmics knew all about rain, too. Here's their haunting 1984 hit "Here Comes the Rain Again":
Of course, we can't talk about rain without bringing up His Royal Badness, can we? Love Prince's 1984 song "Purple Rain":
Aw, man, the river's frozen over? Hope you can at least get a little ice skating in. Here's Kate Bush with "Under Ice" (1985):
http://youtu.be/Zd93WfCoNIE
But take Metallica's warning to heart – ice can be dangerous! Take a listen to their song "Trapped Under Ice" from 1984:
Got glaciers in your backyard? Crank up Men Without Hats' 1982 tune, "Antarctica", and keep an eye out for wayward seals:
Beware of blizzards, too. They can, like, totally mess up your vision. Styx's 1981 "Snowblind" is a good reminder of the perils powdery white stuff:
And winter's not ALL bad, right? There are fun and games to be had in the snow, after all. Devo has a great suggestion with their 1980 song, "Snowball":
Ice can be a hot, too. Let's close our wintry forecast with a bouncy 1990 (ok, we fudged a bit on the date with this one, but it did originally appear on the 1989 album Hooked so it totally counts) number one hit from that radical blond rapper, Vanilla Ice. And remember, you don't need to get blue during these short, frosty days – just crank up your eighties tunes, collaborate and listen:
Stay warm you guys, and hang in there. Summer's just around the corner – and LT80s predicts that this is going to be the most awesome one yet.