By Julie Anderson
"The Facts of Life" aired on NBC from 1979-1988, and oh, how I loved it! How could you watch it and NOT want to move in with those girls at Eastland School? I mean, with Mrs. Garrett (Charlotte Ray) to take care of you and with friends like Jo (Nancy McKeon), Blair (Lisa Whelchel), Natalie (Mindy Cohn), and Tootie (Kim Fields), boarding school would be nothing but awesome.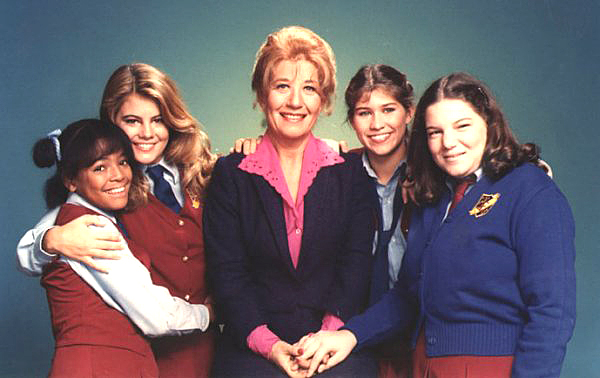 And sure, Blair was a spoiled brat, but she could totally give you some great hair care tips, am I right? I thought that Tootie and Natalie were so fun and silly to be around, and Jo was such a badass. They were the very best kind of television friends.
"The Facts of Life" was a spin-off of "Diff'rent Strokes," another hit 80s sitcom. In the last episode of "Diff'rent Strokes," Kimberley Drummond asked the housekeeper, Edna Garrett, to help with a production at her boarding school. Mrs. Garrett scored a new job and a new series, but Kimberley wasn't featured in the new show.
Fun facts about "Facts":
That catchy theme song was written by Al Burton, Gloria Loring, and Alan Thicke, the same team who composed the theme song for "Diff'rent Strokes".

Molly Ringwald played "Molly", but was written out of the show after the first season along with three other characters.

Mrs. Garrett's sister, Beverley Ann (Cloris Leachman) took over housemother duties at Eastland for the last two seasons.

George Clooney played George Burnett, a mullet-wearing contractor.

The original Blair in the pilot was Geri Lee Reischl, best known as "fake Jan" – the actress who replaced Eve Plumb on The Brady Bunch Hour in the late 70s. She had to back out due to contract conflicts.

Snobby recurring character Boots St. Clair was portrayed by Jami Gertz.

Comedian Geri Jewell played Geri Tyler, Blair's cousin who had cerebral palsy.

Kim Field's real-life mother (Chip Fields) was Tootie's onscreen mother, too.

In the final episode, "Graduation", Mrs. Garrett starts a business called "Edna's Edibles". The four girls go to work for her and live together in a room next to her store.

Pop sensation Stacey Q appeared on the show in 1986 and performed her hit song "Two of Hearts". For two episodes, Stacey Q played Cinnamon, an aspiring singer, who started dating George Clooney's character. At this point, Tootie was also trying to make it as a singer and had to deal with some jealousy issues. George became a roadie for Cinnamon and left the series:
Two made-for-TV movies aired in 1982 and 1987. First was "The Facts of Life Goes to Paris":
Then came "The Facts of Life Down Under" – watch the whole movie here:
Wondering whatever became of your friends from Eastland? Dude, there was a reunion show in 2001! It's no surprise that the girls grew up into successful women and that they still treasure their friendship. Also, Tootie finally got sick of her nickname and decided to go by her real name, Dorothy. Go figure.