To 80s kids, Australia was nothing short of magical. It had exotic animals, beautiful scenery, beaches—and the seasons were, like, reversed. We dreamed of visiting and hanging out with kangaroos, wallabies and koalas. As an added bonus, Australian accents were totally fun to attempt. From literature to movies to fashion, Oz rocked.
Here's an LT80s look back at how our cultural crush on Australia developed during the 80s, from Crocodile Dundee to Men at Work:
In 1977, Aussie author Colleen McCullough's bestselling novel The Thorn Birds was published. It was set on a fictional Australian sheep ranch called Drogheda and, though probably wildly inappropriate for a preteen, I read it almost as many times as Gone with the Wind. In other words, I wore that paperback right out.
When the mini series hit the airwaves in 1983, Richard Chamberlain played the handsome and conflicted priest and Rachel Ward the lovelorn woman of his life. The 4 part saga (also starring Mare Winningham, Christopher Plummer and Barbara Stanwyck) was the U.S.'s second highest rated mini series after Roots. I'm not saying that Richard Chamberlain spurred us all into digging Australia, but he sure didn't hurt:
On to the big screen! Paul Hogan played Mick, the Australian dreamboat in 1986's "Crocodile Dundee". He was friendly, manly and super handsome. We swooned over his accent, his style and his swagger, and giggled when his polite down-to-earthiness clashed with New York brashness: "That's not a knife. THIS is a knife!"
We couldn't get enough of Mick Dundee, it seemed. 1988's "Crocodile Dundee II" brought Mike and his girlfriend from New York to Australia for some more romance, drama and fun:
1988 also gave us a grimmer peek into the outback. Meryl Streep played Lindy Chamberlain in "A Cry in the Dark." The movie depicts the real-life disappearance of a little girl named Azaria in Alice Springs, Australia, and her mother's assertion that a dingo had killed her child. Initially Mrs. Chamberlain was found guilty and was sentenced to life in prison for murder, but later evidence (scraps of Azaria's clothing near dingoes' lairs) caused the ruling to be overturned. Cultural references and parodies about the disturbing case still abound.
Fancy a bloomin' onion with an icy Foster's? In 1988, the Outback restaurant chain was founded in Tampa. The Australian themed steakhouses soon popped up all over the country. The commercials were chock-full of cheery G'day, Mates! and twangy digeridoo music. Here's a modern commercial for the still popular steakhouse:
When it came to fashion, we totally felt the pull down under in the eighties. Sure, we loved neon, acid wash, and big hair, but at the other end of the style spectrum was the outback look. Safari influenced, it involved cargo pants with big pockets, long skirts, boots, and boxy camp shirts. Khaki, forest green, brick red, and neutral tones played a big part of the trend, as did feminine florals and touches of lace. Waists were belted and often dropped, sometimes with a V yoke. The whole look was old-fashioned, a little rugged and undeniably romantic.
Check out this sweet safari-inspired khaki dress from Outback Red: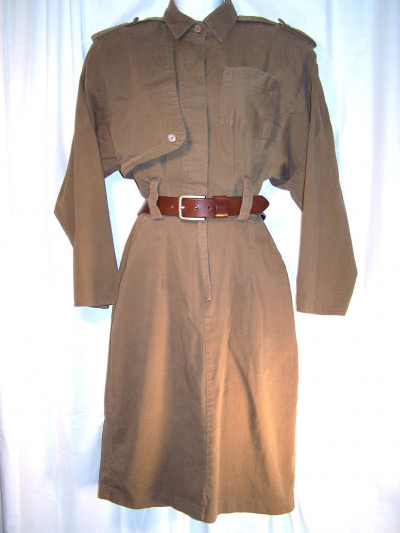 Photo credit: Retro and Beyond Vintage
This shirtdress is another great example of the outback trend, this time with a pastel twist: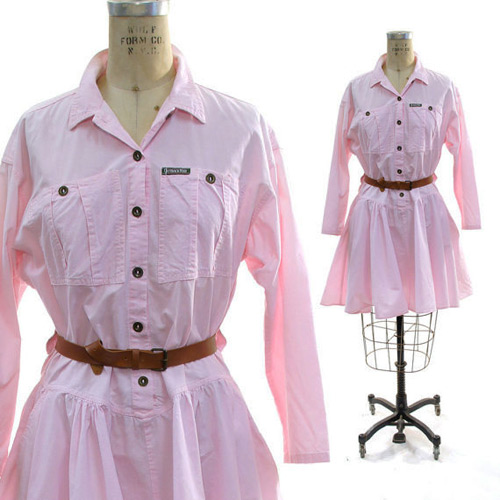 Photo credit: Spunk Vintage
While we sported our canvas and corduroy Outback Red duds, we were listening to some bitchin' music from the other side of the world. Men at Work's 1981 single, "Down Under", was a platinum hit for the Australian group. It was originally released in their first album "Business as Usual" that same year. For many 80s kids, it was our first introduction to the word 'vegemite' and the phrase 'down under':
Wild-haired Michael Hutchence wasn't just easy on the eyes—he was the front man for one of our favorite rock bands, INXS. The Australian group, originally called the Farriss Brothers, hailed from Sydney. Songs such as "The One Thing," "Listen Like Thieves," and "What You Need" were favorite mix tape additions. Here's the unforgettable "Need You Tonight" from 1987:
And let's not forget those bad boys of rock, AC/DC. The Australian group, founded by brothers Malcolm and Angus Young, hit the airwaves in the seventies and is still going strong. This version of "You Shook Me All Night Long" is from 1986's "Who Made Who" – the song was also on 1980's "Back in Black":
Another notable Aussie musical machine was the lovely Olivia Newton John. Her sweaty-hot single and video, "Physical", topped the charts in September 1981. It was an ode to aerobics, sure, but also a super catchy hit song:
Of course, there are loads of other 80s musical treasures from Oz, including The Church's "Under the Milky Way," Crowded House's "Don't Dream It's Over," and Midnight Oil's "Beds are Burning."
Here's a favorite song I haven't heard in, like, ages. Icehouse (originally called Flowers) formed in Sydney in 1977. From their 1987 album "Man of Colours", take a listen to "Electric Blue" – a song co-written by Iva Davies of Icehouse and John Oates of Hall & Oates:
Hope you enjoyed our little Australian vacation, 80s style. Pop on over to the LT80s Facebook page to let us know your favorite Aussie-inspired memory from the eighties, and be sure to tell us what we've left out. G'day, mate!