August 14, 2013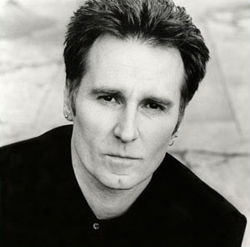 We recently had the extreme pleasure of talking with John Waite. After a successful stint in the 70s as front man for The Babys, John had two number one hits in the 80s: Missing You in 1984 and When I See You Smile with Bad English in 1989. We covered topics ranging from the writing of Missing You and his new album, Live: All Access, to his new favorite TV show.
John & Nina Blackwood
LT80s: Have you had a chance to read the new book by the original MTV VJs? You've got a whole chapter.
John: I know. It brought back a lot of memories, and J. J. Jackson was a tremendous guy, and sadly missed. And, I did get my own chapter.
LT80s: In it, Nina Blackwood describes you as a romantic figure, and I'm quoting her here. She called you, "a walking Byronic archetype." I can certainly hear that in both your lyrics as well as the way you sing. Would you agree with her description of you?
John: It's a very nice to say about somebody, but I don't know. I can't really describe myself. Byron's pretty cool. But we really had a great relationship, and I still bump into her here and there, and we'll e-mail each other. We've been friends for a very long time.
Missing You
LT80s: I think a lot of people obviously associate you with your 1984 number one hit, Missing You. Some artists get sick of the song that made them famous and will even refuse to play it live. What is your relationship with that song?
John: I've never got bored singing it. It took ten minutes to write it, and maybe that's why. It came out of nowhere, and was made up on the spot. It's very genuine.
It's almost like a blues song. It's about denial. The lyrics are good. It came off the top of my head. It was the last thing I wrote for the record, and it always gets that same response, where people just stop breathing for a second; it's that big.

Some songs that are that big can just kill your career stone dead, so I just made the records I wanted to make, and I wasn't playing the game, anyway. I don't think that's my forte.
The Babys had big hits. We had Every Time I Think of You, Isn't It Time, Back on My Feet Again, Head First, Midnight Rendezvous. We had a lot of hits, so it wasn't my first shot at being in the Top 20, but it was certainly my first number one, and I don't think anybody can prepare you for that. It's like being run over by a truck. Even if you're Byron, you get run over some times.
It [1984] was a fascinating year, but it was a year of making some serious changes in my life. I just stepped backwards, out of the limelight for a little bit, and made a record I wanted to make. I just continued on my way, and once in a while you go number one on the radio or you sell a huge amount.
I wasn't trying to be Madonna. I don't have to come up with it seven days a week and never turn it off. I write songs about life. My life isn't about songs.
My favorite version, I guess, is me and Alison Krauss. The production is great on that. Mike Shipley, who passed away last week, unfortunately, mixed that. It's the best mix I've ever heard of anything I ever did, and he did it all by himself. Mike Shipley was a genuine genius, and somebody that will be enormously missed by people in the music business.
LT80s: I want to personally thank you for Missing You — I was in junior high when it was number one and had just been dumped for the first time. I thought you had written it about my own heartache. That's the strength of that song and those lyrics, and that's Byron at work right there.
John: Annie Leibovitz once told me that she had it on a cassette. She just recorded it 50 times and stuck it in the car radio. But it meant that much to that many people, and I made it up on the spot.
"Every time I think of you, I always catch my breath./And I'm still standing here, and you're miles away, and I'm wondering why you left/ And there's a storm that's raging through my frozen heart tonight. I ain't missing you at all." Byronic.
And that came out of absolutely nowhere. I was trying to get home. My marriage was in a mess. It was kind of over, and I was torn. I was living in LA trying to finish the record, then I'd be living in New York, and my life was just a mess.
When I hit the chorus, I didn't know I was going to sing, "I ain't missing you." Somebody said the other day, if I had just sang, "I'm missing you," it would have been just crap. Then he said, "You put denial in there, and it's what every man goes through; denial." So it made it extra twisted and kind of clever.
LT80s: For all of the junior high girls in 1984, thank you.
Bad English and 80s Hair
LT80s: I was recently watching the video for another number one hit of yours from the late '80s, When I See You Smile, with Bad English. I have to say, your hair in that video was spectacular.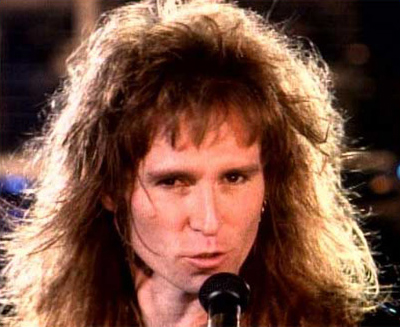 John: Well, it was. I have a lot of hair. The night before we did the Missing You video, I had really long hair, and I went out and shaved it all off and bought a black suit. It was taking a big chance, but I knew that that's what the song called for.
By the time we were doing Bad English, it was a very visual band, and I think I was really trying to probably push people's buttons. It's showbiz when you get to that point.
I was wearing black skin-tight plastic pants. It was over the top, but I was going for it. As somebody once said to me, "Give them something to look at," and I thought, Well, all right.
We went to number one, but I think the Journey fans wanted something a bit more Journey, and I think the John Waite fans wanted a bit more of the black suit.
For me, I'd decided after making four solo records that I was going to quit. So Bad English, for me, was like a cartoon. I was writing really dark lyrics like Forget Me Not, and Ghost in Your Heart.
They were almost too much for the audience. The audience wanted to sing along, and sing Journey-type songs, and I was writing these desperate lyrics about really dark subjects. Not too dark, but Forget Me Not was based on the Anne Rice books, the vampire trilogies, and it was written about that, but a lot of people weren't hip to that at that point.
So I think, yeah, two entirely different looks. I always try and shake things up.
Favorite 80s Memories
LT80s: When you think back on the '80s, what are some of your favorite memories?
John: New York City. I was living in New York before Missing You, and I hadn't got a penny. I was crashing in a small apartment on 72nd Street, living off $200 a week, and I was really kind of broke. That doesn't go very far in New York.
I went home, and I came back and got onto EMI. I finally got away from Chrysalis. It [Missing You] was number one, and all the people in New York City that I used to know in the street, little old ladies walking their dogs, or the guy that used to run the coffee shop, the spaghetti shop, and the Indian restaurant; they were all super proud of me.
It was like, "Hey, John. I ain't missing you at all!" And I thought it was like the neighborhood kid did well. I've always adored New York City, and it felt like that was the most exciting thing, really, just having succeeded from coming from nothing, because it was black and white.
Possible Reunions?
LT80s: Our readers wanted to know if there was any chance of either a Bad English or a Babys reunion?
John: I just couldn't do it. I honestly couldn't do it. I think there's a time and a place for bands to exist, and then it's done. We [Bad English] ran out of ideas during our second record, and we just couldn't take it.
The Babys are back together. They've got a new lineup, and they're going out and playing. God bless them, but I don't want to be living in the past.
The work I've done I'm proud of, it's part of the set, and it's all kind of musical, but I don't want to be in Las Vegas somewhere just singing something that I wrote in another lifetime. There's still an awful lot to write about, and the voice is doing pretty good. I'd like to concentrate on that.
New Album – Live: All Access
LT80s: I have been listening to your new album, Live: All Access. I'm really enjoying it. You describe it as raw and having no bullshit. Can you tell us about it?
John: Thank you. Yeah, it really is like that; there's no overdubs and there's no bullshit. It's the truth. It's a three-piece band with a singer. My last album, Rough and Tumble, was basically a return to a very stripped-down sound. Where it's been stripped down before that, maybe a little bit more acoustic-driven, this is sort of full-throttle guitar. There's some lovely stuff on it, too.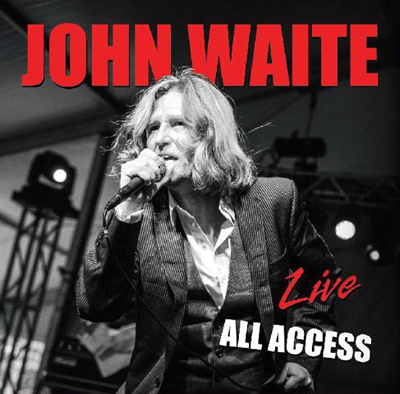 There's a song called, "If You Ever Get Lonely" that was on Rough and Tumble, and we put it on the new live album. I think we did it better, actually. But there's a band in Nashville called Love and Theft who've just covered it, and they had a number one single last year, so there's a small chance here that we're going to have a country hit at the same time we have a rock hit.
The album was cut over four shows. We used two of them. We went back in about a month later in New Hampshire, Manchester, and we had one of those shows where we couldn't put a foot wrong. We just blew the roof off, and it surprised me. So the roughest part about making the record was just mixing it, really.
LT80s: It's hard to believe when you listen to it, that it is live.
John: I know, but sadly, it's just simple. You take the keyboards out, and you hear how accurate the guitar is. In something like "If You Ever Get Lonely," it is kind of delicate, but it's got a big chorus. What I'm trying to say is there's no keyboards, or synthesizers, or any of the stuff that gets in the way of music. It's stripped, pared down, to just one guitar, the bass drums, and the singer. I don't play any guitar at all. I'm just a singer.
LT80s: Listeners can hear in the new album the fact that you enjoy doing it.
John: Yeah, the guys get on very well, and everybody's always laughing. Everybody's got a dry sense of humor. But everybody's very determined; they take it extremely seriously.
It's fun, as well. It's really great fun. We played Dayton about three weeks ago, we headlined. We did 4,000 people in this amphitheater, and we had the best time. It was like one of those gigs where you think, how good can your life get? It just made me so happy. If that's the future; that's great.
What's Next & the State of Music
LT80s: What is next for you?
John: As many gigs as we can get in. We're not gonna be playing any more clubs. We did the club thing to get Rough and Tumble to number one, but like I said, it almost bankrupted me. We just can't play that kind again.
You have to play in bigger places, so we'll probably be playing lesser places, but they'll be bigger. Hopefully, another live record around November, and then back in the studio to see what we got for a studio record. You see, it's my own label. I generally license my records out to big companies like Universal, and then after a certain time they come back to me.
This time around, I didn't want to go through a record label. I just felt, why? There's a PR person; that's how me and you have got to talk to each other. You hire a PR person, you print up a few thousand copies to sell at gigs, or people can send away to johnwaitethesinger.com and get one. But it's all iTunes.
So instead of just putting it in the shops and having to do a deal with the record label and being dependent on how they see it…they have a lot of acts to take care of, you don't get the 100 percent care that you'd give it yourself. I thought I'd try it this one time and see if it worked, just to have it on iTunes. You can get it if you send off for it, but it's just there's so few CD stores now.
I talked to a guy in Michigan last week. He said that they were closing the music department in Barnes & Noble, and in my hometown they just shut HMV. It was the biggest chain of CD stores, but they didn't carry my records, so I'd like to think it's why they closed down. I'm hoping it is.
I got out of bed last week, and I saw The Rolling Stones, that Live in Hyde Park. It's got 24 songs, download now. I just hit "download," and then five minutes later, I'm listening to the Stones. I think everybody really does use the iPod and iPad like a library for all that stuff. I've got cupboards full of CDs that I don't know what to do with them.
On Walt Whitman & Breaking Bad
LT80s: Outside of music, what are your other interests?
John: I read a lot. I was just saying to somebody the other day that I picked up a volume of Walt Whitman last week, and he just blew my head off of my shoulders. I read, but there's so much out there to read and so many things going on. At the moment, I'm deep into Breaking Bad. Yeah, I just downloaded the first season about four days ago. I'm gonna have to catch up slowly, but wow! I keep a pretty low profile when I'm not on the road.
Thank you, John, for the chance to chat! What fun it was to talk to you—all the best with the new album. Keep up with John Waite at www.johnwaitethesinger.com.