I had to smile last week when I reached into my drawer to grab a pair of socks and put these on: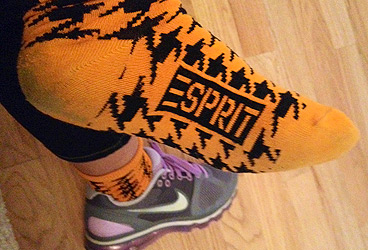 Giant sweaters, blindingly bright colors, stripes and polka dots all come to mind when I think of the essentially 80s clothing brand Esprit.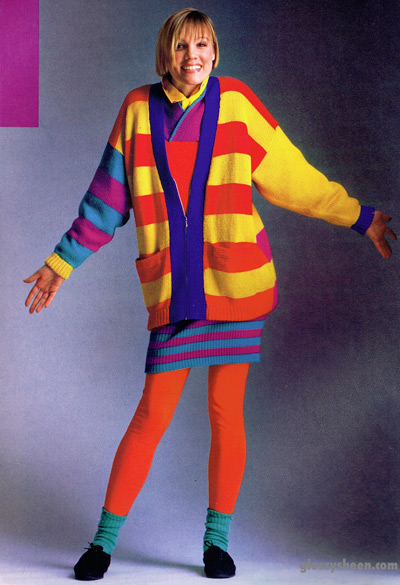 Oh, and everyone was walking around with these thin canvas bags getting lost in their oversize sweaters: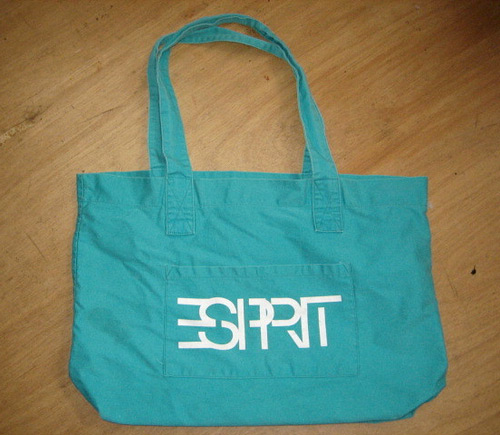 I vividly remember a sleeveless, crisp white and navy Esprit sailor dress that I was in love with and wore to death.
Unlike other iconic 80s brands like Ocean Pacific, Member's Only and Guess, Esprit felt a little more special, a little more exclusive. I remember the Esprit store where I lived in Florida was at a fancy outdoor shopping center that had water features, restaurants and a movie theatre.
Esprit was next to a Benetton and a boutique that sold only sunglasses, hats and bolo ties – no joke. These three stores were like the golden triangle of trendy and I would of course do anything to go back and shop in all three of them today (though I'm guessing the bolo tie, etc. place is no longer in business.)
If you couldn't afford to outfit yourself in head to toe layered t-shirts, sweaters and leggings you at least had to have a sweatshirt with the logo emblazoned across the front, right?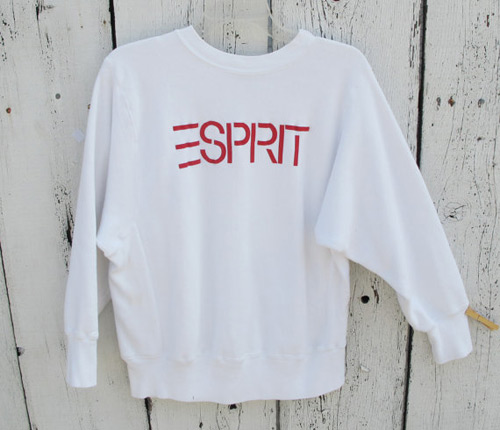 It all felt very European – I always assumed the brand was French but it originated in San Francisco – the introduction of Esprit's ads called the "Real People Campaign" was plastered throughout the pages of my Sassy and Seventeen Magazines.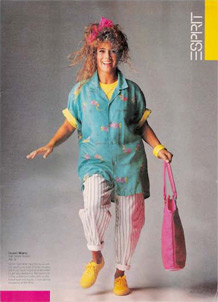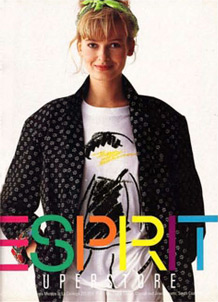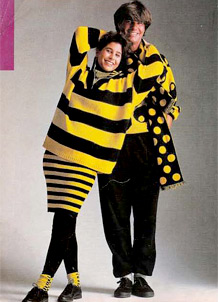 Everyone looks so happy! And bright! And check out how friggin' forgiving this clothing line was! Good God, you could fit like four of those models in those pants/skirts/blazers. And what about the matchy-matchy bumble bee couple? LOVE THEM!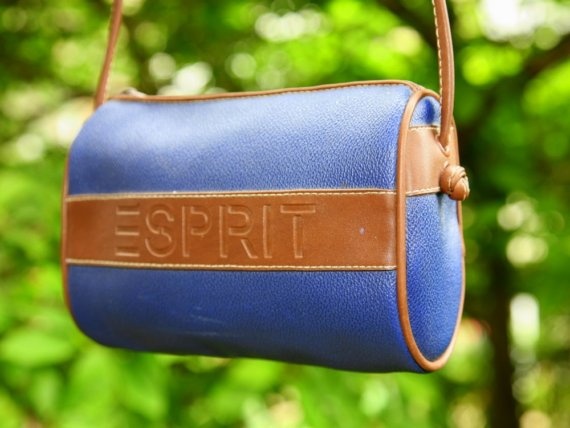 Only the very fortunate among us could afford the likes of the purse shown above with "ESPRIT" stamped into the leather band.  We could dream.  We could dream.
After last week's Halloween candy binge, today I sure could use a really cute/colorful, potato sack dress to make me feel better about myself. But I'll have to settle for black and orange socks with a hole in the big toe, purchased at a fancy mall circa 1986.