By Lori Ferraro
I love Christmastime.
I love buying and giving gifts, I love a big old tree in my living room, I love boozy egg nog.
And I love Christmas music. Mostly I love traditional Christmas music or carols sung by the Rat Pack, like Dean Martin singing "Rudolph the Red-Nosed Reindeer" or that "Mistletoe and Holly" one by Frank Sinatra. I tend to shy away from anything new – Celine Dion or some random 90s boy bands singing "Jingle Bells" really doesn't do it for me.
But there's one song, released in 1984, that falls into a category all its own. When it comes on the radio in the car my five-and-eight-year-olds in the backseat shush because they know it's my favorite.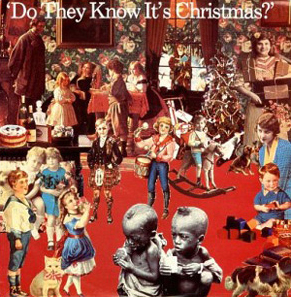 It's not officially Christmas until I hear "Do They Know It's Christmas" by Band Aid.
The song is important on so many levels – written by Bob Geldof (of The Boomtown Rats) and Midge Ure (of Ultravox) the single raised $14 million for famine relief in Africa. For years the album was the highest selling single in UK Singles chart history.
Besides all of the wonderful things this song did to help feed the world it features a slew of the hottest music talent of the 80s.
Let's break it down, shall we?
I get goose bumps ever time I hear the opening – the sound of church bells and 80s electronic drums tell me it's time to turn up my radio.
Paul Young starts off the telling us "it's Christmas time and there's no need to be afraid…"
Second up is my beloved Boy George, in his full Boy Georginess even after flying across continents to arrive in time to record his part – "throw your arms around the world at Christmastime."
And now we move into a medley between my favorites, George Michael and Simon LeBon, both with amazing voices and amazing hair…joined by Sting.
Did anyone else notice in the video during the "bitter sting of tears" line that they zoomed in on Sting? I did.
Who else could deliver the "WELL TONIGHT THANK GOD IT'S THEM INSTEAD OF YOU" line better than Bono?
NOBODY.


Band Aid artists: Paul Young, Sting, Bono, Simon LeBon, & George Michael
While the chorus of fantastic-eighties voices sing "Feed the wooooorld" I turn to my boys in the backseat at a stoplight. I well up with tears. I feel lucky, sad, blessed and nostalgic.
My five-year-old asks why this is my favorite Christmas song. Why not Rudolph or that oh by gosh by golly one?
"Because this one is important" I say, and I tell them why. And I smile through the tears as "let them know it's Christmastime" comes booming from little voices the backseat.
Watch "Do They Know It's Christmas"