Whenever I find out something from my youth is going away I always feel a pang of sadness mixed with some sticky-sweet nostalgia. So many 80s things that were important have passed on but are not forgotten: RIP Jello Pudding Pops, Sassoon Jeans, Planters Cheez Balls, Shine Free cosmetics, and Original New York Seltzer.  But when I heard the news about this next product going bye-bye, I have to say it made my pre-teen heart ache just a little bit more than usual.

Lip Smackers by Bonne Belle will be no more as of the end of March. I cannot begin to tell you the importance of the Lip Smacker in my nine/ten/eleven year old life.
Back then, when I had saved up some allowance, I would walk up to the pharmacy/drug store that had the best things in the world besides prescription meds and Pepto Bismol: Hello Kitty Diaries, smelly erasers, puffy stickers, Smurf figurines, and Little Twin Stars mini colored pencils. In other words, the pharmacy was kind of pre-teen heaven.
Along with these treasures was an array of lip balms that smelled so delicious I'm sure I ate several tubes over the course of my young life.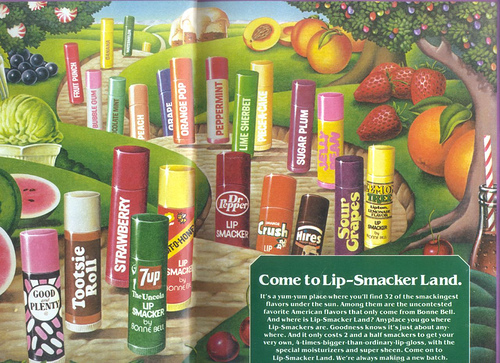 In 1973, cosmetics company Bonne Belle introduced a strawberry scented lip pomade which became super popular with pre-teens everywhere. Soon other flavors followed: watermelon, tropical punch, vanilla, jelly bean and orange pop.
But the standouts, the ones I remember the most, weren't all fruity, they were more fizzy — Dr. Pepper and 7up.
Lip Smackers were more than a lip balm – they were an accessory!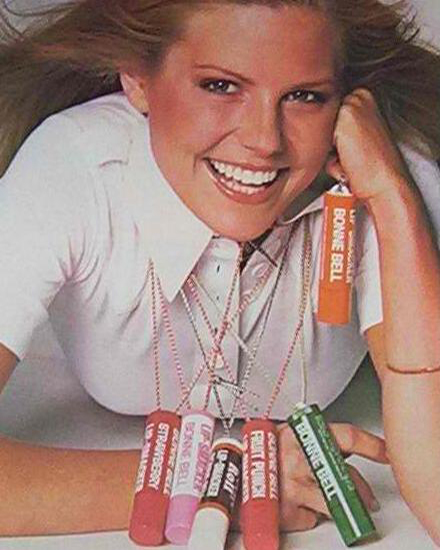 Along with a giant comb in the back pocket of your designer jeans, you could wear your giant Lip Smacker around your neck, because . . . that was cool!
I don't know how well Lip Smackers truly moisturized or protected my lips, all I know is that they smelled and tasted great and left a nice little shine on my lips, with maybe just a hint of color, nothing to upset Mom or Dad in my pre-makeup days.
After the news broke about Lip Smackers going to the beauty product graveyard people were selling tubes of the $2.95 sticks for around ten bucks (of course they were…) and girls of the 80s were posting, tweeting and facebooking odes to the favorite flavors of their youth.
So RIP Lip Smackers – let's all kiss a little part of our youth goodbye.
With the aftertaste of Dr. Pepper, naturally.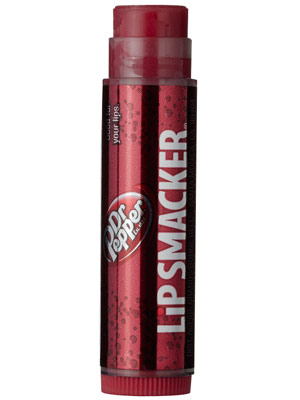 Update:
It seems that the news may not have been completely accurate, THANK GOODNESS.  Bonne Bell just posted this update on their Facebook page in response to the outpouring of sadness at the thought of no more Lip Smackers.  Now, what "revamping the brand" means we will have to wait to see.  We can only hope that they've listened to our pleas and keep that in mind when revamping.
Thank you everyone for your concern and loyalty for the Bonne Bell Company. We are overwhelmed with all the Lip Smacker and Bonne Bell Cosmetics love you have all shown over the years! The Lip Smacker and Bonne Bell brands have been sold but WILL continue to be available for purchase in the US and internationally. This is a revamping to the brands and we are excited to see what the future holds! So don't worry, you won't have to live in a Lip Smacker-less world!