Thirty years ago, a Scottish band– relatively unknown in the U.S.–made a request to the world.  And thirty years later, the world is still honoring it.
"Don't You (Forget About Me)"– that's all Simple Minds asked of us in February 1985, when their signature song from the film The Breakfast Club first debuted.  And so far, we haven't forgotten: the song and the film have been permanently etched into our pop-culture consciousness.  And so, in honor of the song's thirtieth anniversary, here are thirty facts about the creation and legacy of "Don't You (Forget About Me)"…
30 Facts You Might Not Know
"Don't You (Forget About Me)," the only number one song in the U.S. for Simple Minds, was written by Keith Forsey and Steve Schiff.
Forsey, the music composer for The Breakfast Club, was no stranger to film soundtracks: in 1984, he won an Oscar for co-writing "Flashdance… What a Feeling." He is also the writer (with Harold Faltermeyer) for Glenn Frey's "The Heat Is On," from Beverly HIlls Cop.
To get a feeling for what kind of music the film required, Forsey read The Breakfast Club script and watched the actors on the set.  According to several accounts, he was particularly inspired by the scene where Brian, Anthony Michael Hall's character, asks the others if they'll still be friends after their stay in detention is over. (Sample dialogue: "I was just wondering, um, what is gonna happen to us on Monday?  When we're all together again?  I mean I consider you guys my friends, I'm not wrong, am I?" Sample lyric from the song: "Will you recognize me?  Call my name or walk on by?")
According to Susannah Gora, author of the book You Couldn't Ignore Me If You Tried, the song was originally called "Won't You (Forget About Me)," but Forsey changed it to the more optimistic "Don't You."
By the time filming wrapped, Forsey and Schiff still hadn't found anyone to record "Don't You."  (The duo did record a demo– which director John Hughes liked so much he used it for the opening scenes, when the students first arrive for detention.)
In her book, Gora reports that Forsey wanted Bryan Ferry, of Roxy Music, to sing the song; unfortunately, Ferry's father died right before a scheduled meeting between Ferry and the Breakfast Club The meeting never took place, and the Ferry plans quickly fizzled.
Armed with the demo and clips from the film, co-producer Michelle Manning and music supervisor David Anderle spent several weeks shopping the song around London– to no avail. No one was interested.
Singers who passed on the song include Annie Lennox and Cy Curnin of The Fixx. Legend has always put Billy Idol on that list as well, since Forsey had produced Idol's Rebel Yell album and co-wrote the title track.  But in a February 2015 SPIN Magazine article, Forsey claims he never offered it to Idol.
Chrissie Hynde of the Pretenders was interested in the song, but she eventually had to say no; the song would have required a video, which Chrissie didn't want to do, since she was pregnant at the time. However, she did offer up the services of her husband Jim Kerr– the lead singer of Simple Minds.
Simple Minds had formed in 1977 and had recorded several albums by 1984 (including New Gold Dream and Sparkle in the Rain); however, they had not enjoyed any success in the United States.
Fun Bowie Fact #1: The band took the name Simple Minds from a 1972 David Bowie song, "The Jean Genie." (Line: "He's so simple-minded, he can't drive his own module.")  Fun Bowie Fact #2: In 1980, Bowie and Jim Kerr sang backing vocals for the Iggy Pop song "Play It Safe." Fun Bowie Fact #3: The Breakfast Club opens with a David Bowie lyric, from the song "Changes": "And the children that you spit on/ As they try to change their worlds/ Are immune to your consultations./ They are quite aware of what they're going through…"
Songwriters Forsey and Schiff were very keen on having Simple Minds perform "Don't You." (Schiff told SPIN he was a "huge fan" of Simple Minds in the early 80s.) Unfortunately, Jim Kerr was not so keen on the idea, for several reasons: he didn't want to perform anything the band didn't write; the song was too much of a deviation from their style; and he just plain ol' didn't like the song. (In fact, Kerr told SPIN that Forsey and Schiff's demo "blew none of us away, to put it mildly.")
Ultimately, the other Simple Minds members convinced Kerr to do the song, believing it would help them break into the American market. The band subsequently met with Forsey in a Wembley studio and recorded the song in three hours.
Kerr was able to overcome his "Simple-Minds-doesn't-record-other-people's-stuff" stance by adding two signature ingredients to the song: the hey-hey-hey-heys; and the la-la-las at the end (which were improvised on the spot).
The film The Breakfast Club was released in February 1985, and the song "Don't You (Forget About Me)" reached the top of the U.S. Billboard charts on May 18, 1985, supplanting Madonna's "Crazy for You." "Don't You" stayed #1 for one week before it was overtaken by Wham!'s "Everything She Wants."
The song's success made Minds a world-wide sensation, and the band started playing for huge crowds, including the 100,000 who jam-packed Philadelphia's John F. Kennedy Stadium for Live Aid in July 1985. Simple Minds performed three songs at Live Aid: "Ghostdancing," "Don't You (Forget About Me)" and "Promised You a Miracle."
Still, the band has had a complicated relationship with its most popular song.  Forsey told SPIN he felt Simple Minds were initially a "bit embarrassed" by the song's success.  And according to author Susannah Gora, singer Jim Kerr once told a Rolling Stone reporter that he "wanted to vomit" every time he played it.
Simple Minds left "Don't You" off their next album, Once Upon a Time, released in October 1985.  The album included the songs "Sanctify Yourself," "All the Things She Said," and "Alive and Kicking" (which went to #3 on the U.S. Billboard charts).
Simple Minds and Anthony Michael Hall had a reunion of sorts in November 1985, when Simple Minds played Saturday Night Live for the first (and only) time; it was the season premiere of SNL, and it was also the first episode that featured Hall as a cast member. Despite this Breakfast Club connection, Simple Minds did not play "Don't You" that night.  (Fun Fact: At seventeen years old, Hall– who only lasted one season–was the youngest cast member in the history of SNL.)
Chrissie Hynde and Jim Kerr divorced in 1990.  They have one daughter, Yasmin Paris Kerr, who was born just one month after The Breakfast Club was released.
"Don't You" has enjoyed quite the legacy. For example, producer Jim Vallance (on his website) acknowledged that the title of Glass Tiger's "Don't Forget Me When I'm Gone" (released in 1986) was "not-too-subtly lifted" from the Simple Minds hit.
As an aside, the group Breakfast Club– most famous for the 1987 song "Right on Track"– was NOT named after the John Hughes film.  In fact, the band was formed in the late 1970s and thus predated the film by several years.
According to imdb.com, "Don't You" has been featured in the films American Pie, Along Came Polly, Easy A, and Not Another Teen Movie; and on the TV shows Scrubs, Futurama, and 30 Rock. In 2011, actors James Roday and Dule Hill recorded a parody music video of the song to promote the season premier of the show Psych.
Moreover, the song that no one wanted to record back in 1984 now has been covered over and over again.  For example, Billy Idol– who apparently did not decline the song back in the 80s, even though everyone says he did– ended up recording a version of "Don't You" in 2001….
In 2011, David Cook recorded a version to be the "So-Long!-Farewell!" song for American Idol cast-offs….
In 2012, the song was covered on an episode of the Nickelodeon show Victorious; the episode, called "The Breakfast Bunch," was a parody of the film.  Also in 2012, the film Pitch Perfect featured a cover of the song. …
In 2013, Molly Ringwald– Claire Standish herself!– recorded a jazz version of the song for her debut studio album, Except Sometimes…
And in 2014, Blaine, Sam, and Tina covered "Don't You" on a Season Five episode of Glee.
In 2009, a Canadian documentary team released a film about John Hughes entitled Don't You Forget About Me.  That same year, on August 8, John Hughes died.
In 2014, Simple Minds released their 16th album, Big Music. This month, the band is embarking on a tour of Europe.  Let's hope they don't forget to sing "Don't You (Forget About Me)!"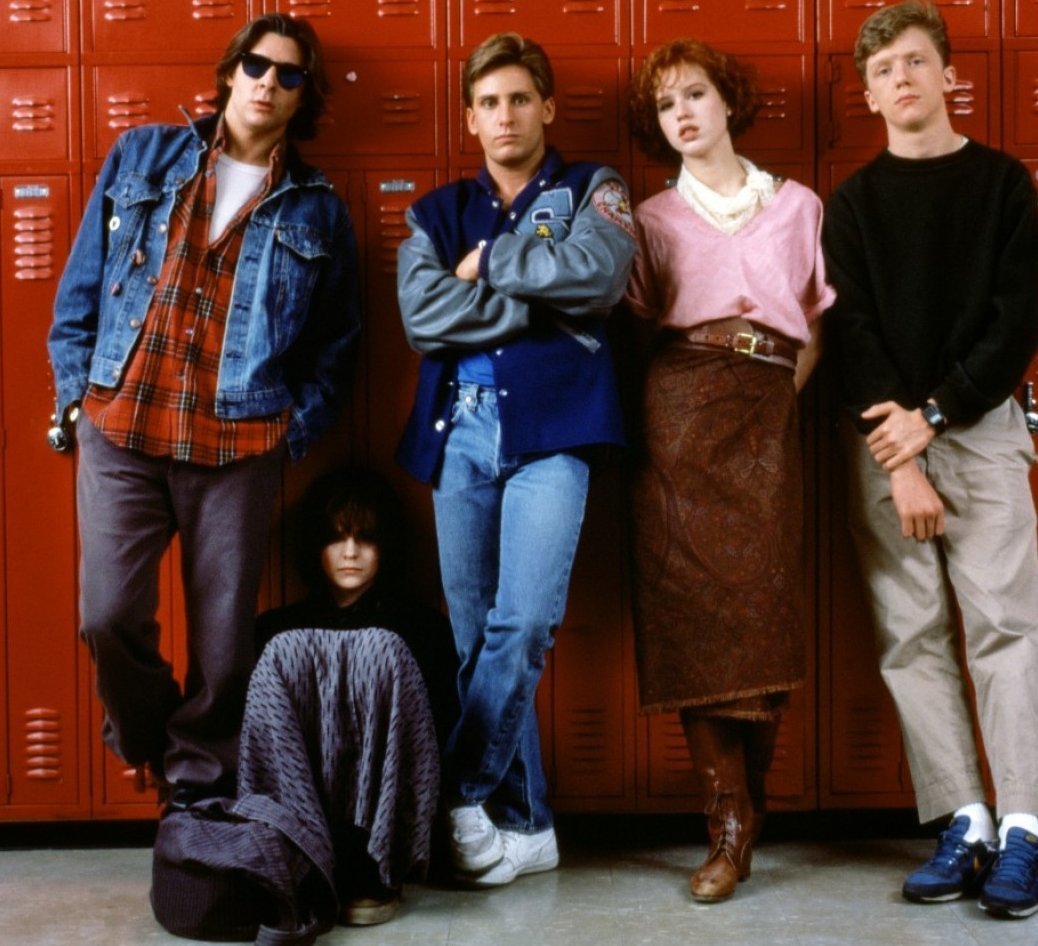 The Music Video
Works Consulted
I used multiple sources to find information for this list, but two were particularly useful:
Gora, Susannah. You Couldn't Ignore Me If You Tried. New York: Three Rivers Press. 2010.
Unterberger, Andrew. "Slow Change May Pull Us Apart: The Oral History of Simple Minds' 'Don't You (Forget About Me).' SPIN Magazine. February 24, 2015.
http://www.spin.com/articles/simple-minds-dont-you-forget-about-me-oral-history-breakfast-club/