Fact: Hair and hair accessories were a big deal in the 80s.
Back in the early 1980s, after the youthful look of pigtails with that big ropey colored yarn, but before the "cool" of ribbon barrettes and banana clips, girls across America were sporting these in their hair: the Goody Snap-Tight Kiddie Barrettes (yup, that's the official name). These Goody Snap-Tight Barrettes were an everyday choice for my hair. And why wouldn't you wear them every day? There was a color to match every single outfit you had.
The ones that I remember the most and that definitely got the most wear were those cute little turquoise bows. I wore A LOT of turquoise so they were in constant rotation. In a distant second place were the little red beaded jobbies. The rest of the paper card got once-in-a-while wear. Honestly, I don't think I ever touched those baby pink dragonflies.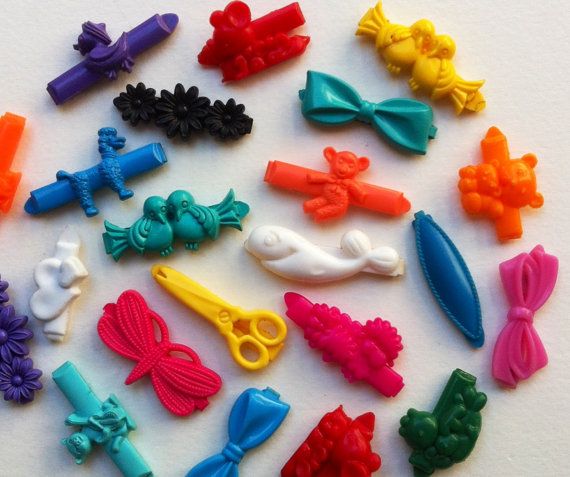 There were other varieties of Goody Snap-Tight barrettes; some even had an animal theme.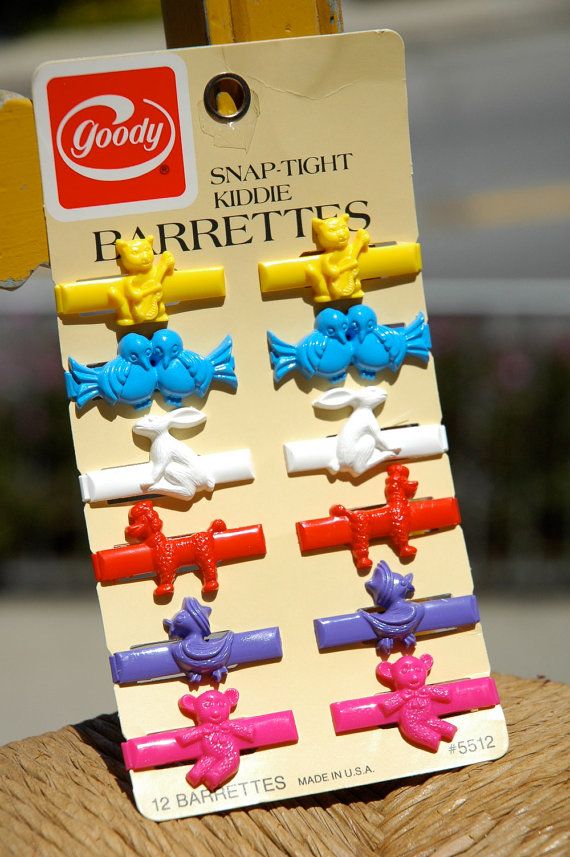 I totally remember that red poodle, and I'm loving that singing cat!
This hair jewelry was pure plastic, all one piece even the "snap" that secured it. Having thick, curly hair wasn't always conducive to plastic barrette wearing, but it was fashionable, so I made it work.
Snap-Tight Barrettes made a huge comeback in the 90s thanks to Courtney Love and the whole baby-doll-dress-on-grown-ups-thing that had a serious moment in the 90s fashion sun; the perfect hair accessory for that look was, what else?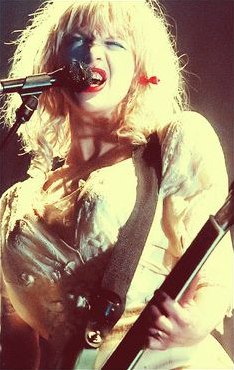 Those little fashionable barrettes completed that rock star look.
Goody was and continues to be the leader in hair care accessories: barrettes, clips, combs, brushes, picks, and ponytail holders. They've done it all and are still at the head of the hair care class today; they have the best "Ouchless" ponytail holders out there.
You can find TONS of sets of Snap-Tight Barrettes on ebay and etsy. Truly, they are all over the place. Some even come enclosed in a little childhood time capsule–new in the package!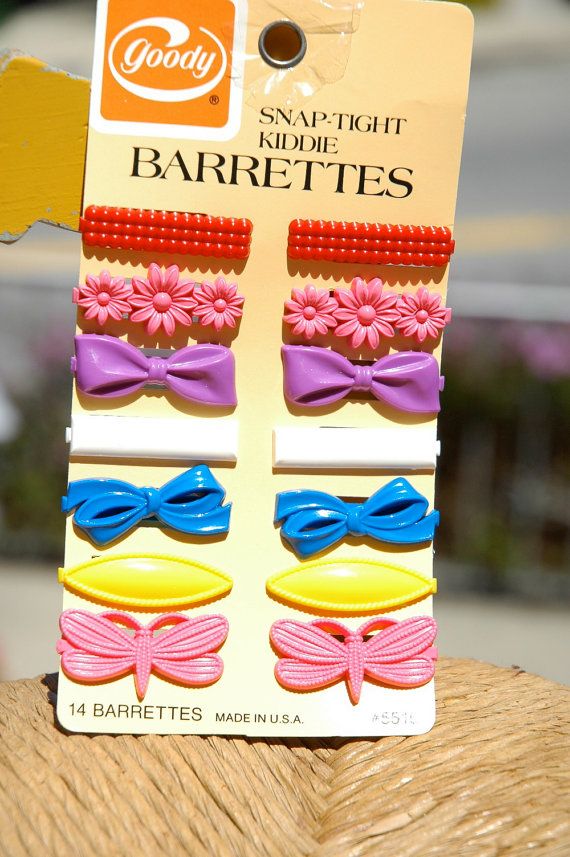 Why not treat yourself to a little goody? Remember what it feels like to get that card, with all of those colors and choices, shapes and textures. I think I can still find something turquoise in my closet, and I can hide a little goody in my curls to take me back.