I guess it is the nature of traditions that they stay around and get replayed year after year, but it is still comforting to realize all over again that something that meant something to you as a kid hasn't gone completely away.
The 35 years that have passed since the start of the 80s have seen truly phenomenal change, particularly in the areas of technology and its impact on our overall culture. With all that change, it gives me an especially warm fuzzy to realize that some things really do stay the same.  Don't get me wrong, I'm all for progress.  I just wonder sometimes is some of the change we've seen actually represents progress.
July 4th in the early to mid-80s meant several things: fireworks on the river bank at my grandmother's house, copious amounts of watermelon, and my absolute favorite – the neighborhood bike parade. This was not the main city parade with floats and bands and the mayor in a convertible. No, this was something a lot closer to home. All the neighborhood kids carefully decorated their bikes in red, white, and blue (the types of decoration limited only by imagination and availability of supplies) and rode around the neighborhood in a large group followed by adults on foot, dogs off leashes, and babies in strollers. I generally favored the standard streamers-in-the-spokes approach (beautifully well executed in the photos below), but with my own flare: my teddy bear dressed in his best red, white, and blue outfit affixed to the handle bars.  The "parade" usually happened in the late afternoon so that you had time afterwards for a cookout and to head on downtown to get the best viewing spot for the fireworks extravaganza.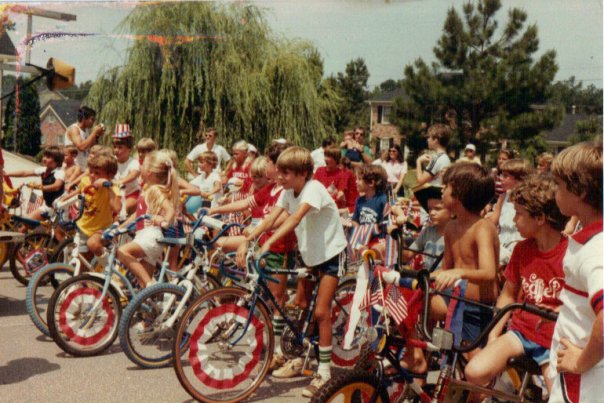 Happily, today's kids (at least some of them) still go to the trouble to deck out their bikes and cruise a patriotic victory lap in celebration of our nation's independence.  Sure, there are some differences.  Most notably, the bike helmet did not exist in the 80s (ok, maybe it existed, but we sure didn't wear them).  The decorations today are more elaborate and the outfits a little more planned (we just can't help ourselves these days).  While in the 80s, we wore whatever we had in the closet that even remotely resembled red, white, and blue.  Tube socks helped in a pinch.  Even with these differences, though, I am thrilled to know that the July 4th bike parade is alive and well.
It is that kind of continuity that gives us all another reason to celebrate this weekend.  Happy Birthday, America!